On Friday, May 18, the Federation hosted its 53rd Annual Conservation Achievement Awards, at Loveless Cafe Barn, in Nashville.
"Tennessee is the most biologically diverse inland state in the nation and we have a long and rich outdoor heritage in our state. No one organization or person can conserve it on their own," said Michael Butler, CEO of Tennessee Wildlife Federation. "When our organization was just 20 years old, we started these awards to celebrate those making a meaningful difference to Tennessee's natural resources. Even after fifty-plus years and more than 600 award winners, we are inspired by the work of this year's honorees."
This year, 16 individuals and organizations from all corners of the state were honored.
J. Clark Akers, III Champion of Conservation Award — Andrea Waitt Carlton
Z. Cartter Patten Award — Don Barger
Conservationist of the Year — Dwayne Estes
Chairman's Award — Nicole Wood
Conservation Legislator of the Year — Representative Charles Sargent
Land Conservationist of the Year — Christie Peterson Henderson
Water Conservationist of the Year — Joyce Coombs
Forest Conservationist of the Year — Tennessee Chapter of the American Chestnut Foundation
Wildlife Conservationist of the Year — Charlie Chmielewski
Conservation Organization of the Year — Wolf River Conservancy
Conservation Educator of the Year — Ron Blair
Conservation Communicator of the Year — Mark Pace
Youth Conservationist of the Year — Alexis Valentine
Hunter Education Instructor of the Year — Terry Gardner
On Target Award — Brian Weas
Dan & Cherie Hammond Sharing the Harvest Award — Representative Jimmy Eldridge
J. Clark Akers, III Champion of Conservation Award
Andrea Waitt Carlton of Nashville, Tenn. with work spanning the state.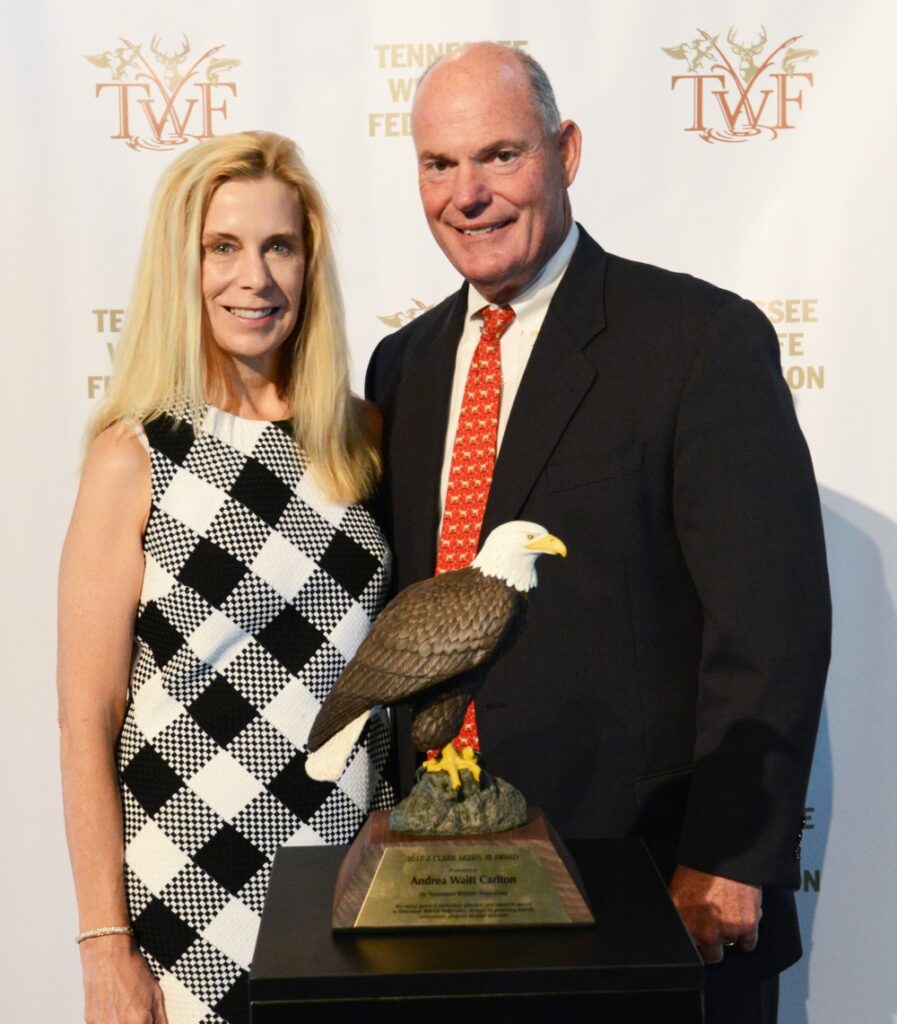 When she arrived in Nashville nine years ago, Andrea had already established herself as a champion of conservation by investing in projects in Iowa and the southwest United States. Since that time, the Andrea Waitt Carlton Family Foundation's grants have provided the support Tennessee Wildlife Federation needed to propel the organization to where it is now, greatly expanding its program offerings, strategic capabilities, and staff capacity—and leveraging those enhanced offerings to ensure the Federation has strong footing moving forward.
Z. Cartter Patten Award
Don Barger of Knoxville, Tenn. with notable work in Anderson, Campbell, Morgan and Scott Counties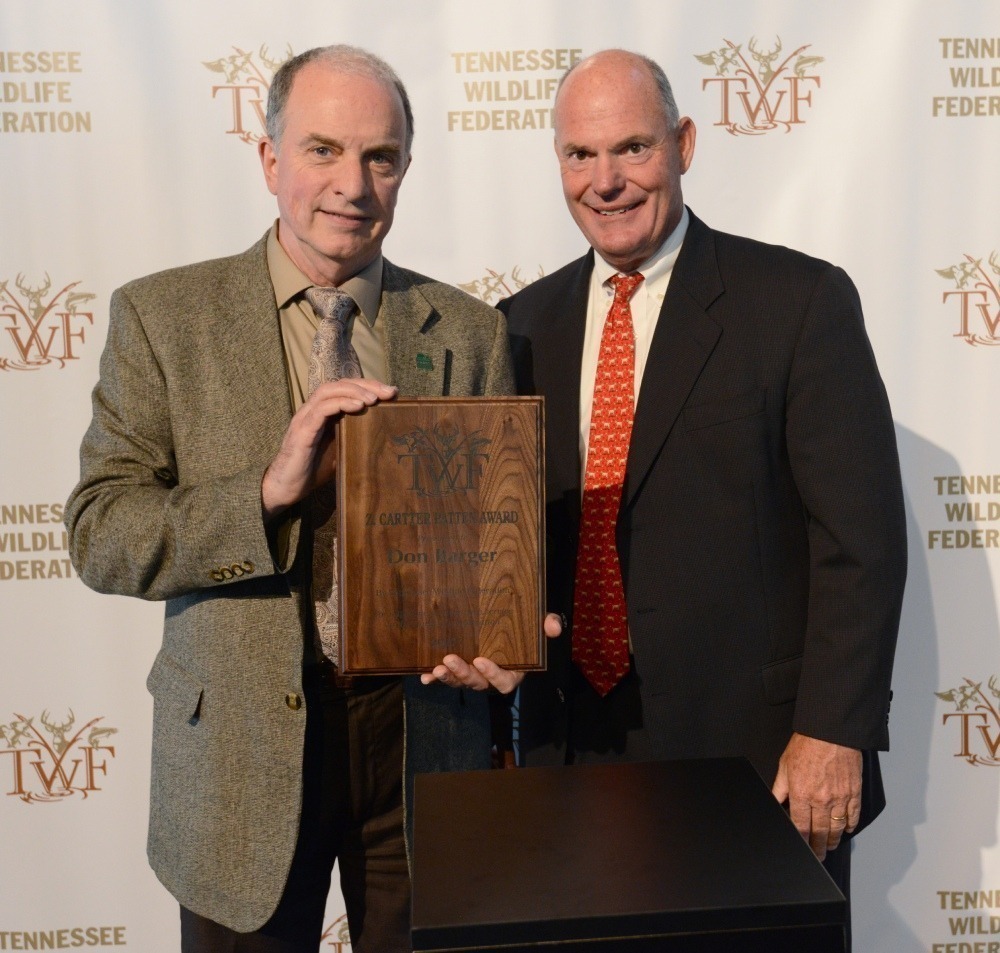 Don has dedicated more than 35-years to the conservation of Tennessee's pristine mountain landscapes. Throughout his career, he has petitioned to have significant conservation areas designated as unsuitable for mining. In 2017, his persistence paid dividends when 75,000 acres of Tennessee's North Cumberland Wildlife Management Area received that designation, safeguarding 569 miles of ridgelines and habitats, including the world's nesting hot spot for the threatened cerulean warbler.
Conservationist of the Year
Dr. Dwayne Estes of Clarksville, Tenn. with work spanning the state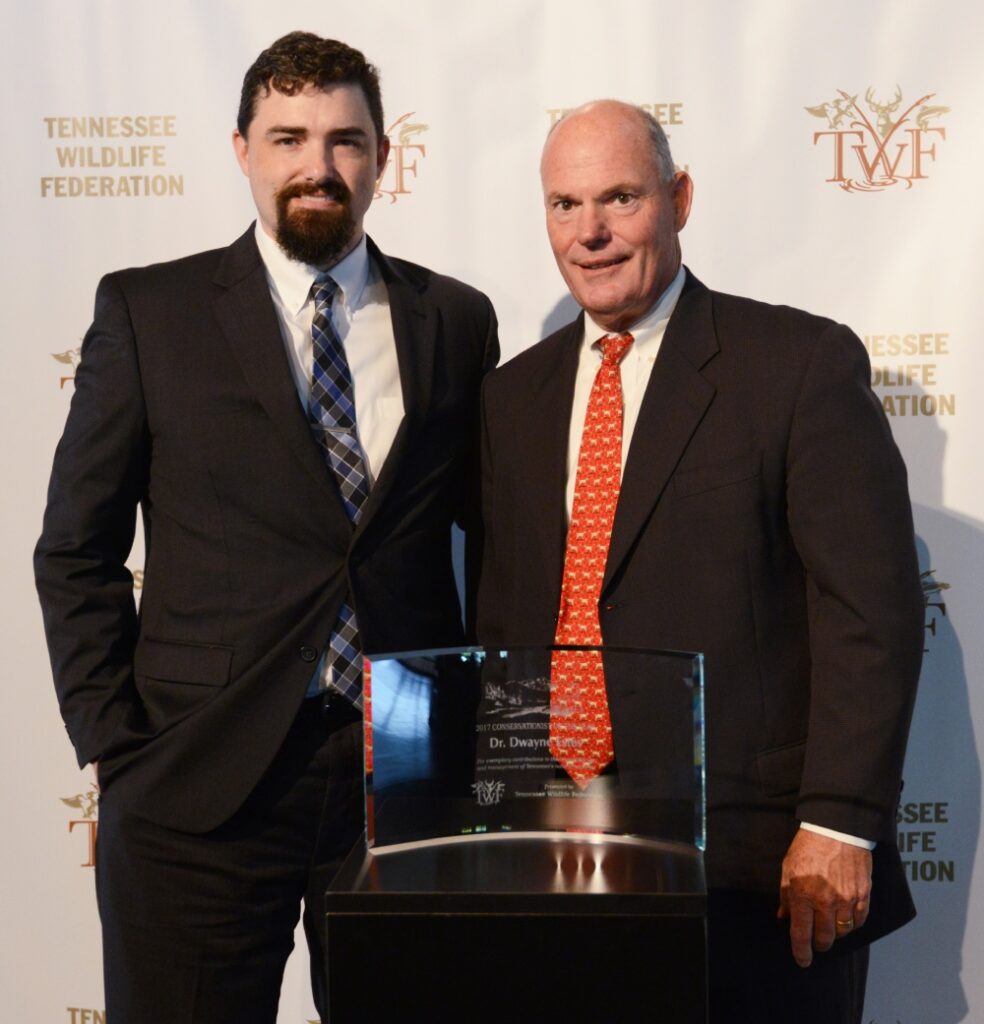 An accomplished professor, Dr. Dwayne Estes, also known as the "Prairie Preacher," works hard to restore native grassland habitats and wildlife species to thriving levels. As such, Estes co-founded and serves as the executive director of the Southeastern Grasslands Initiative. In the past several years, he has helped secure more than $1 million dollars in funding, including grants from the National Science Foundation. In addition to that role, Estes serves as a full professor of biology at Austin Peay State University, principal investigator for the Center of Excellence for Field Biology, and curator of the Austin Peay Herbarium, a plant museum with 120,000 specimens.
Chairman's Award
Nicole Wood of Bonne Terre, Mo.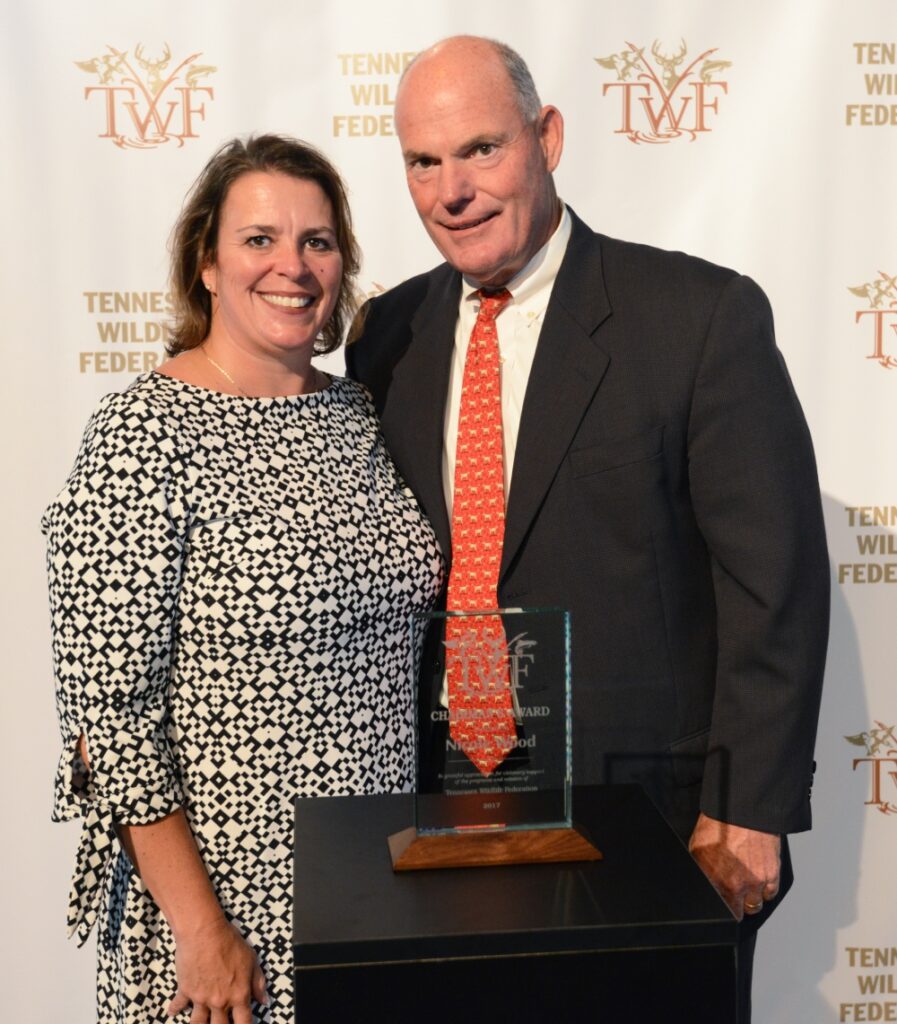 Nicole's conservation ethic runs deep. The daughter of an active Missouri conservationist, Nicole grew up attending and eventually leading Conservation Federation of Missouri annual meetings before propelling herself to a national stage. For most of the past decade, Nicole has served as a National Wildlife Federation board member and has liaised with Tennessee Wildlife Federation throughout her tenure. Nicole has helped the Tennessee Wildlife Federation effectively package and share programs and initiatives with other affiliates, grow the organization, and impart the true meaning of conservation.
Conservation Legislator of the Year
Representative Charles Sargent of Franklin, Tenn.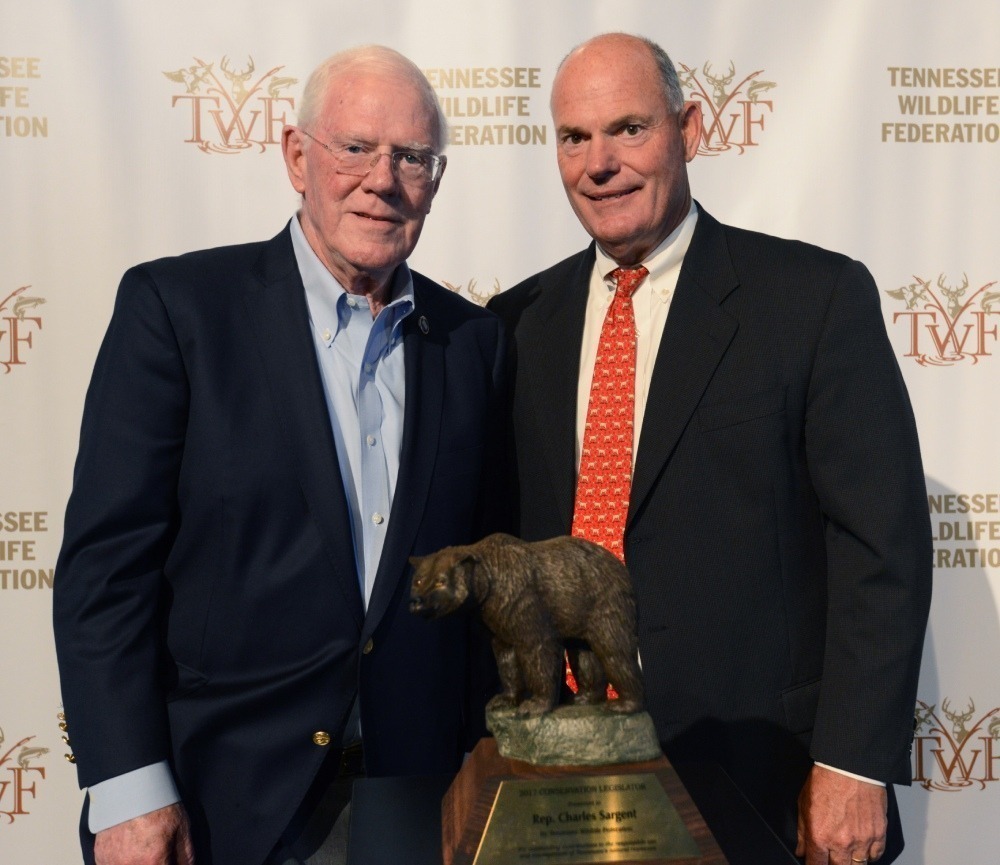 Rep. Sargent is an avid boater and conservation champion in Tennessee. Because of Rep. Sargent's advocacy, $2.33 million of recurring annual funding was directed to maintaining Tennessee waterways. Furthermore, the wetlands acquisition fund has remained protected year after year. Rep. Sargent has also been known to be a strong advocate for Tennessee Wildlife Resources Agency, ensuring support for best practices and urging constituents to actively participate on the commission.
Land Conservationist of the Year
Christie Peterson Henderson of Ashland City, Tenn. with notable work in Lewis County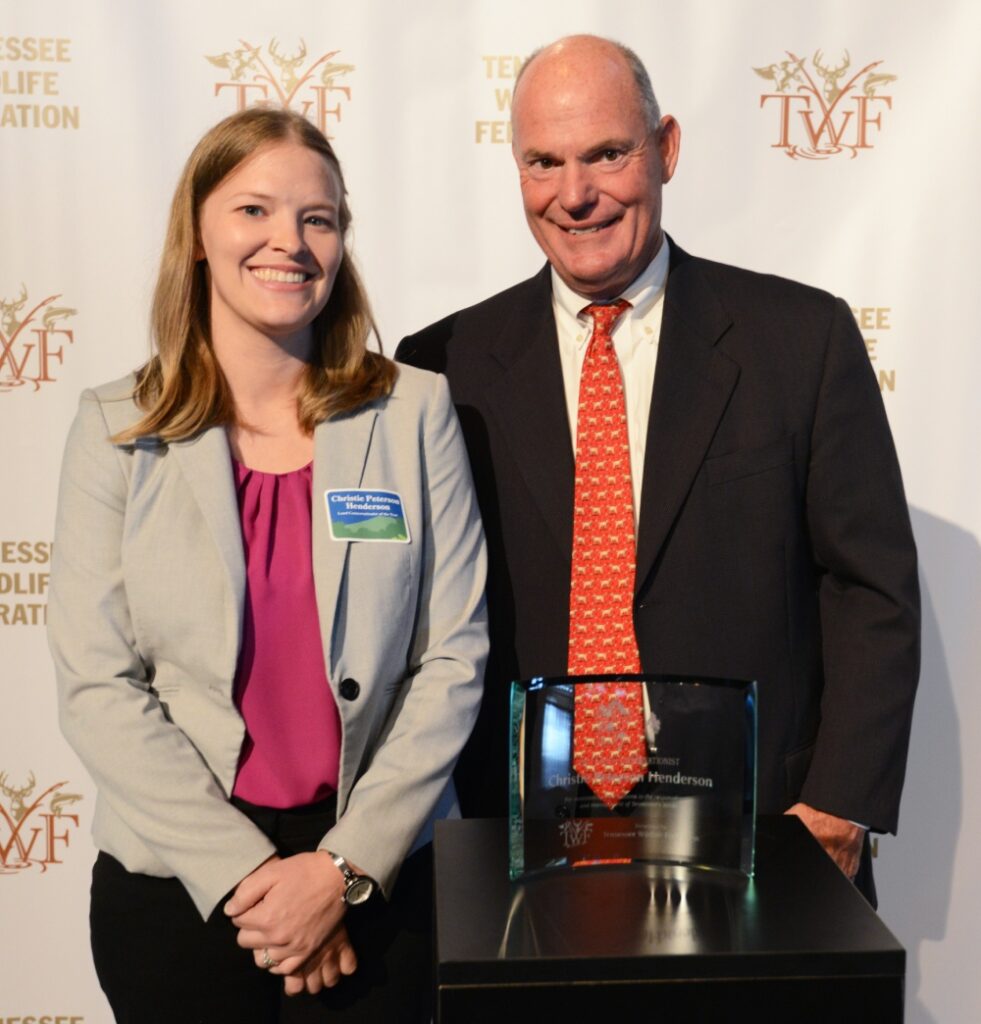 Christie, the director of land conservation at Tennessee Parks and Greenways Foundation (TennGreen) has safeguarded more than 14,000 acres of Tennessee habitats since 2012. In 2017 alone, Christie's efforts resulted in the protection of nearly 4,100 acres, making it the second most productive year in TennGreen's 19-year history. This includes the new Big Swan Headwaters nature preserve in Lewis County. Because of her, Tennesseans enjoy more green, year after year.
Water Conservationist of the Year
Joyce Coombs of Corryton, Tenn. with work spanning Cocke, Jefferson and Sevier Counties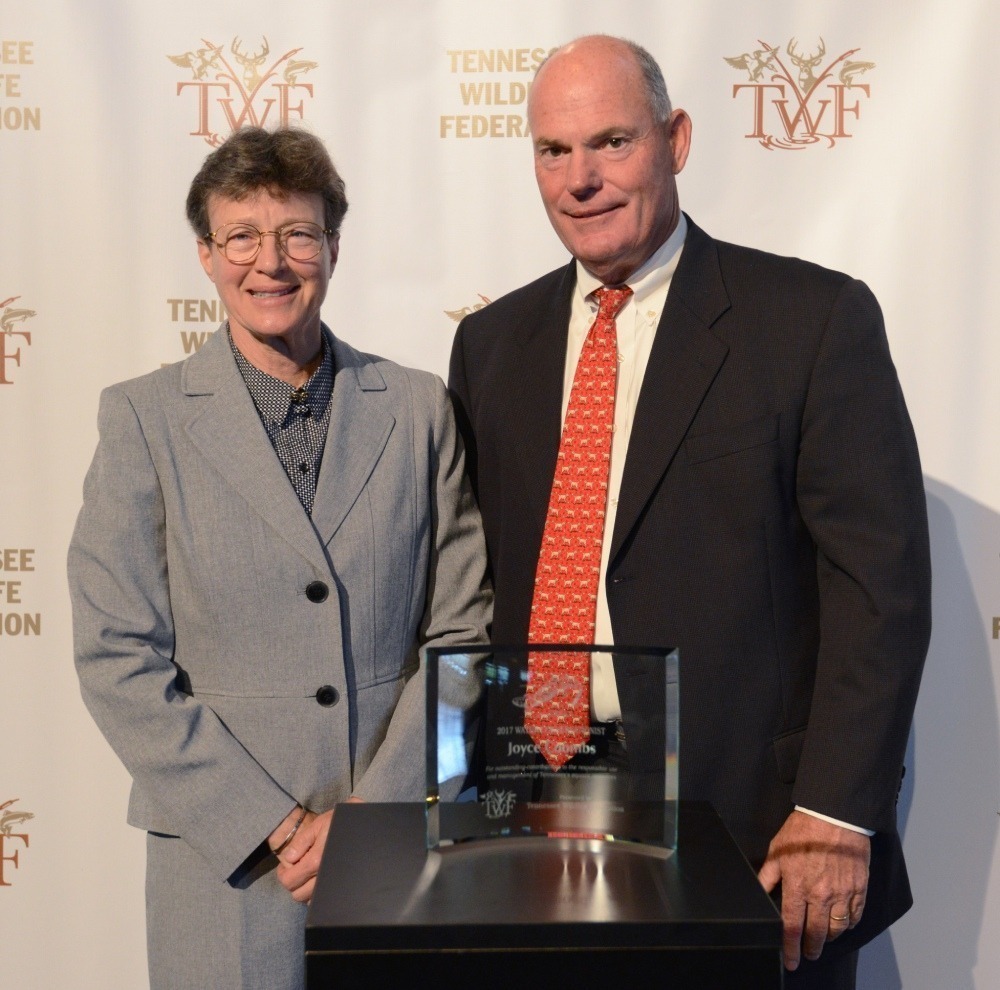 Joyce, also known as the "heart and soul" of the Pigeon River Recovery Project, has ushered the comeback of many native species of wildlife, including fish, mussels, snails, and aquatic insects in Pigeon River. Her very hands-on approach extends to her passion for teaching. When engaging at educational fairs, Joyce has been known to jump in the nearest creek to retrieve samples and give her students a memorable and engaging lesson.
Forest Conservationist of the Year
Tennessee Chapter of the American Chestnut Foundation based in Chattanooga, Tenn. with work spanning the state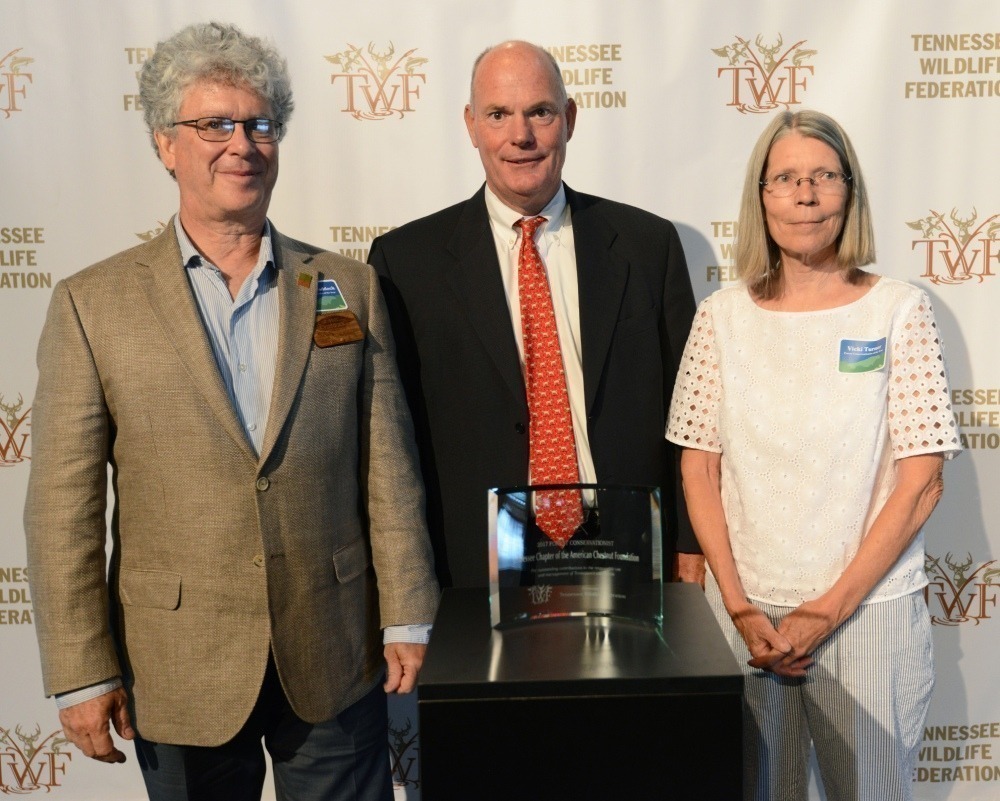 The Tennessee Chapter of the American Chestnut Foundation has cultivated and transplanted more than 4,000 blight-resistant chestnut trees in hopes of restoring native forests to Tennessee. Further, the organization has developed assay testing for blight resistance and
monitoring the health of chestnut tree specimens. These tests are being used regularly by the University of Tennessee at Chattanooga and as a learning tool for other conservation students and professionals.
Wildlife Conservationist of the Year
Charlie Chmielewski of Lenoir, Tenn. with work spanning Blount, Cocke, Knox and Sevier Counties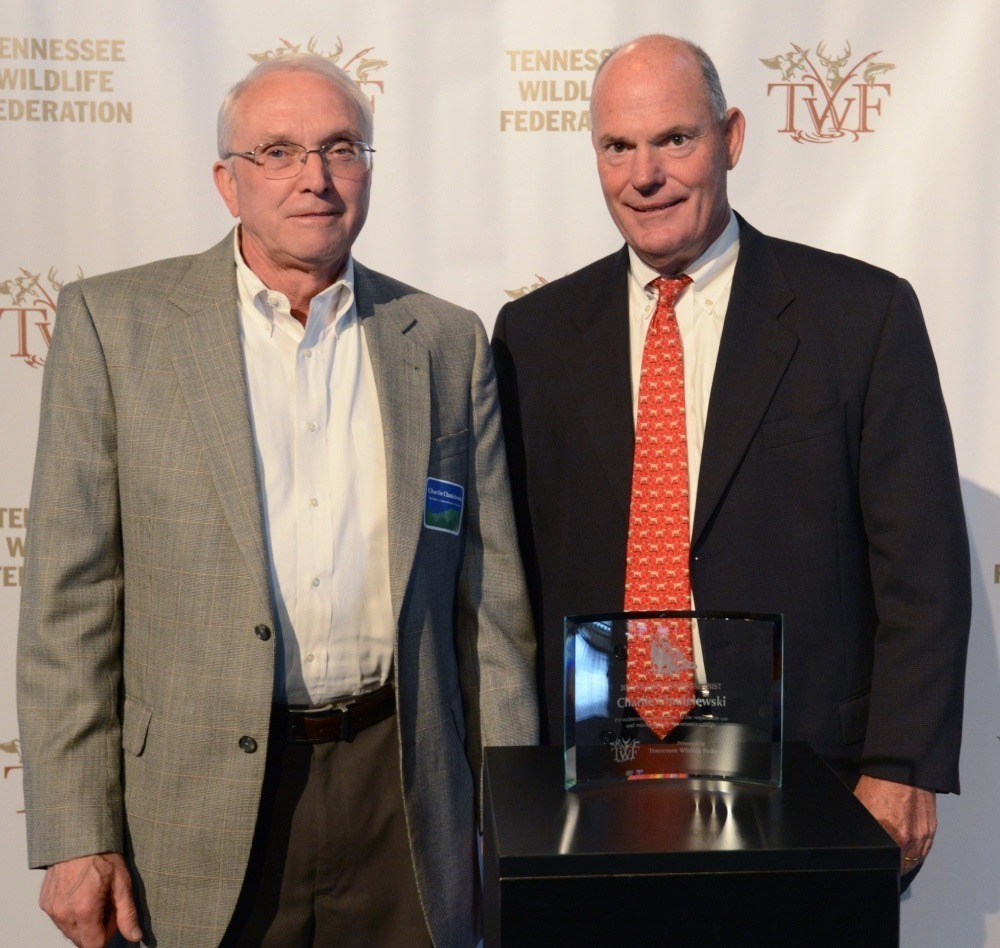 Charlie is an outstanding conservation volunteer. Over the past 25 years, Charlie volunteered more than 2,300 hours and coordinated another 17,000 hours dedicated to monitoring fish and water quality in Great Smoky Mountains National Park. In order to ensure more than 250 water samples were collected each year, some from remote areas, Charlie creatively engaged volunteers to take ownership in the project. Because of Charlie's dedication, data have been provided to multiple state and federal agencies to safeguard wildlife and aquatic habitats.
Conservation Organization of the Year
Wolf River Conservancy, based in Memphis, Tenn. with work spanning Fayette and Hardeman Counties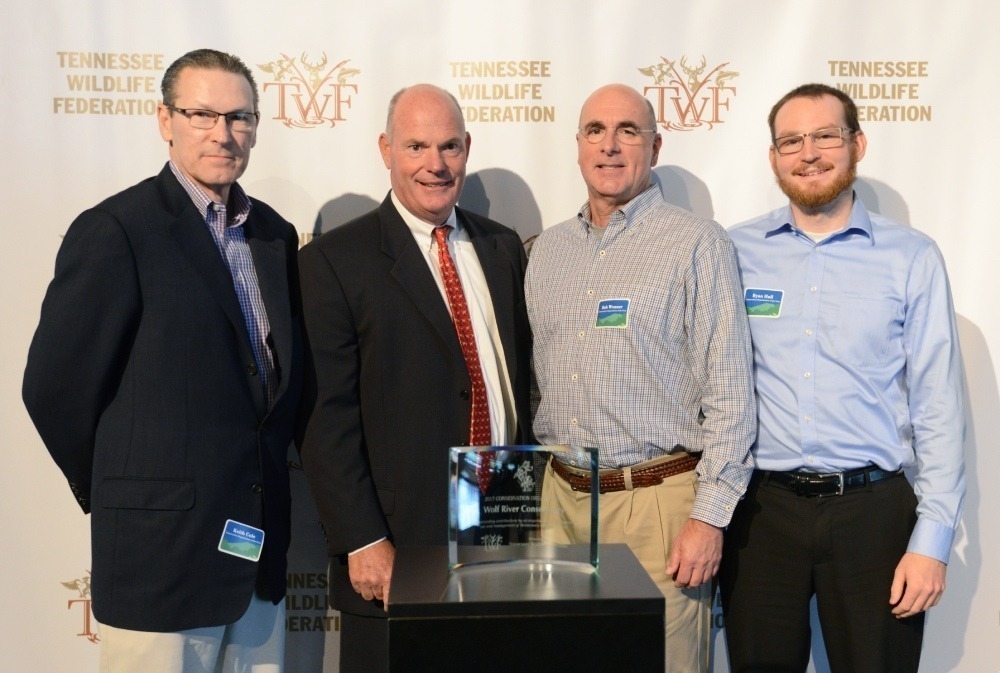 Wolf River Conservancy is dedicated to the protection and enhancement of southwest Tennessee's Wolf River and its watershed as a sustainable natural resource. In this role, the Conservancy has secured thousands of acres of land for addition to the Wolf River Wildlife Management Area and surrounding properties. Accomplishments include successfully conserving one of the last remaining areas of unprotected shoreline frontage. Arguably their most recognized project, the Wolf River Greenway, is under construction and the 21-miles of newly added trail are scheduled for completion in 2020.
Conservation Educator of the Year
Ron Blair of Middleton, Tenn. with work in Henderson County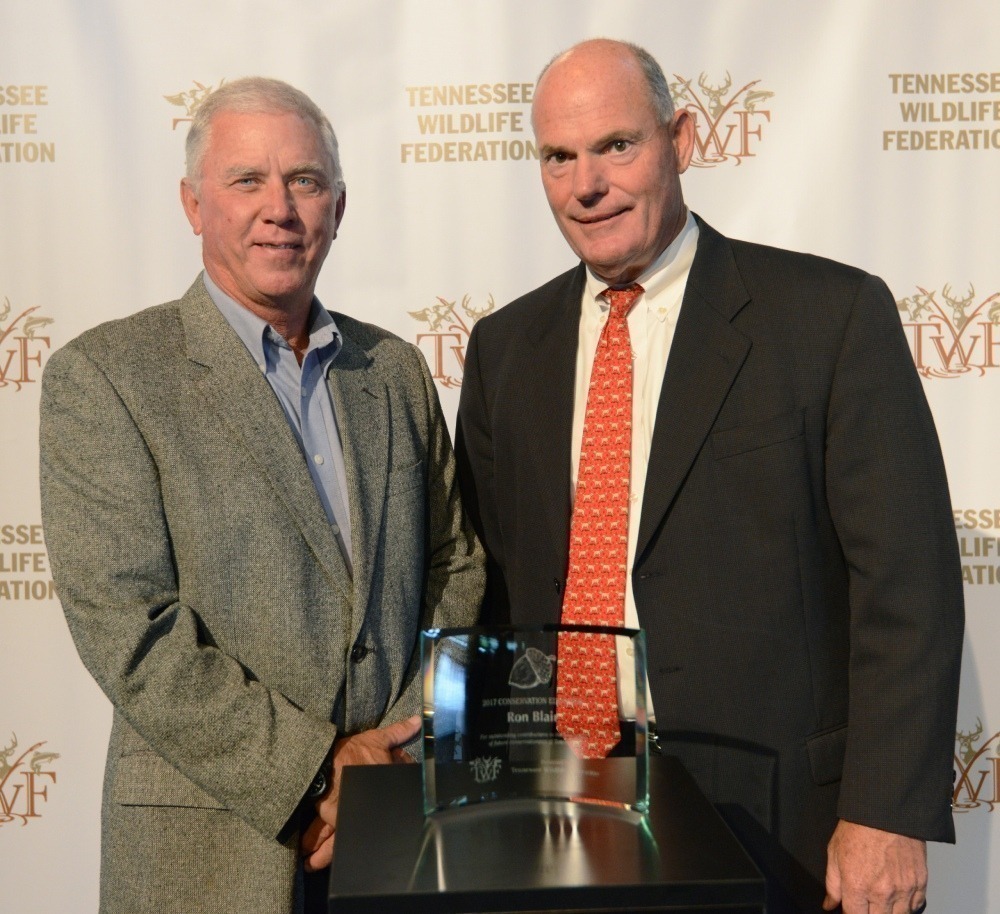 Ron is a consummate educator whose 40 years of dedication to the University of Tennessee Extension has changed lives and made an extraordinary impact. Ron has significantly contributed to multiple conservation programs—designing and implementing programs such as Outdoors, Wildlife, Leadership, and Service (O.W.L.S.), and Outdoor STEM Education at Lone Oaks Farm. Through his hard work, Ron leaves an incredible legacy, including the capacity to directly impact as many as 30,000 students per year.
Conservation Communicator of the Year
Mark Pace of Chattanooga, Tenn.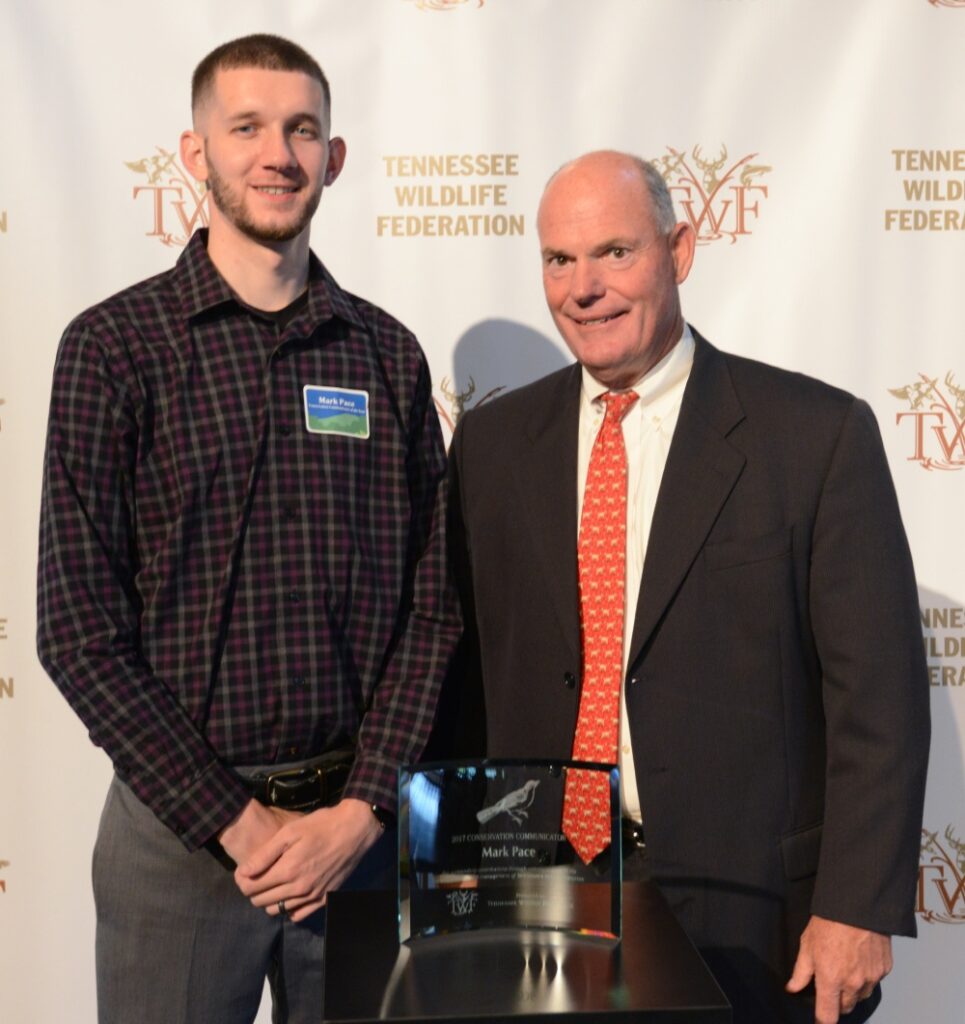 Mark is a young but accomplished journalist who covers the outdoors and environment for Chattanooga Times Free Press. Eager to connect with his readers' interests, Mark's portfolio proves he is comfortable covering everything from outdoor recreation to conservation policy and wildlife management. His enthusiasm for the outdoors is sincerely conveyed through his writing and brings conservation issues to the forefront of the public consciousness.
Youth Conservationist of the Year
Alexis Valentine of Gatlinburg, Tenn.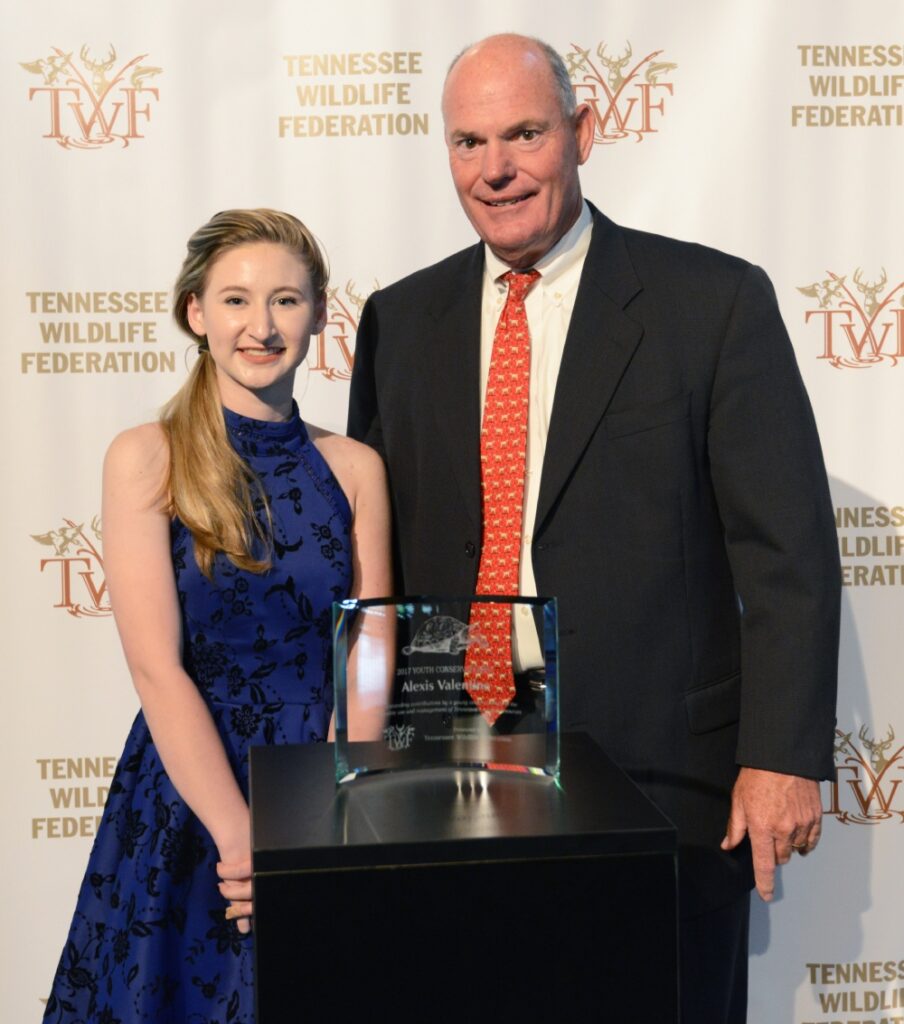 Alexis "Batgirl" Valentine, only a sophomore at Gatlinburg Pittman High School, has already proven she can hold her own among conservation leaders. Alexis has done extensive research on bats and presented her findings at numerous science and conservation fairs at local, state, national, and international levels. In addition to her presentations and publications, Alexis has been awarded the Governor's Excellence Award for Wildlife Research and placed at the International Junior Forester's science competition.
Hunter Education Instructor of the Year
Terry Gardner of Humboldt, Tenn.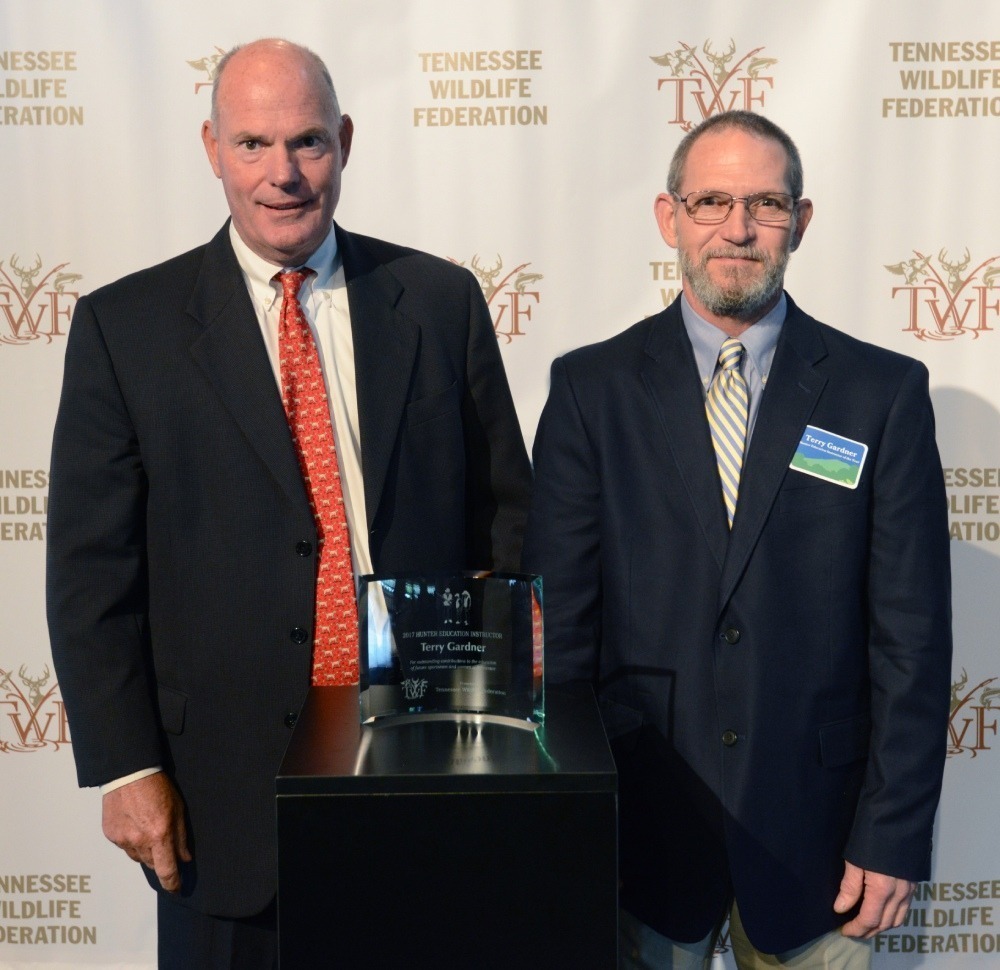 Terry has served as a certified Tennessee Wildlife Resources Agency Hunter Education Instructor since 1996, and in that time, he has certified more than 3,500 students. Not only dedicated to hunter safety and education, Terry has a passion for preserving hunting heritage and imparting that to new outdoorsmen. As a model conservationist, Terry inspires rising conservationists to ensure tradition thrives.
On Target Award
Brian Weas of Dunlap, Tenn. who works with youth in Bledsoe, Hamilton, Rhea, and Sequatchie Counties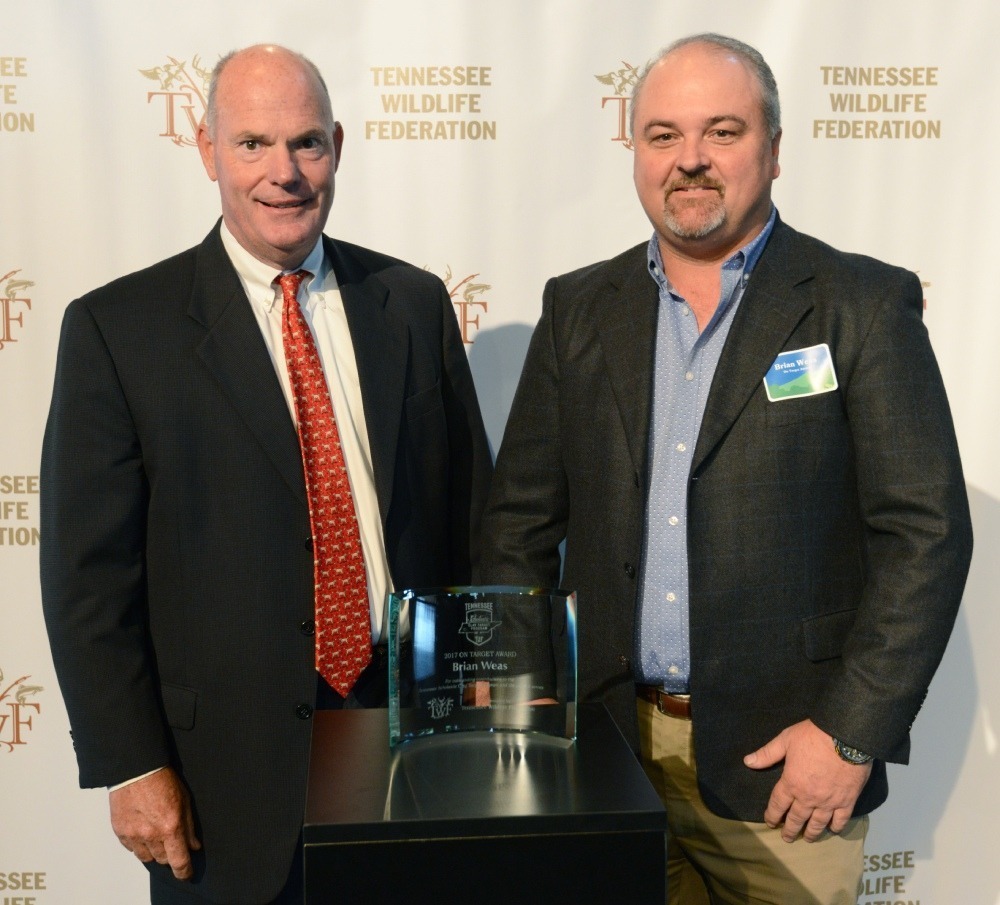 A shooting sports athlete himself, Brian was inspired by his daughter to begin coaching Tennessee Scholastic Clay Target Program athletes. In turn, he has inspired many athletes and mentored them to higher levels of competition. Off the field, Brian is a strong advocate for the sport—finding and creating practice spaces to ensure everyone who is interested has the opportunity to participate.
Dan & Cherie Hammond Sharing the Harvest Award
Representative Jimmy Eldridge of Jackson, Tenn.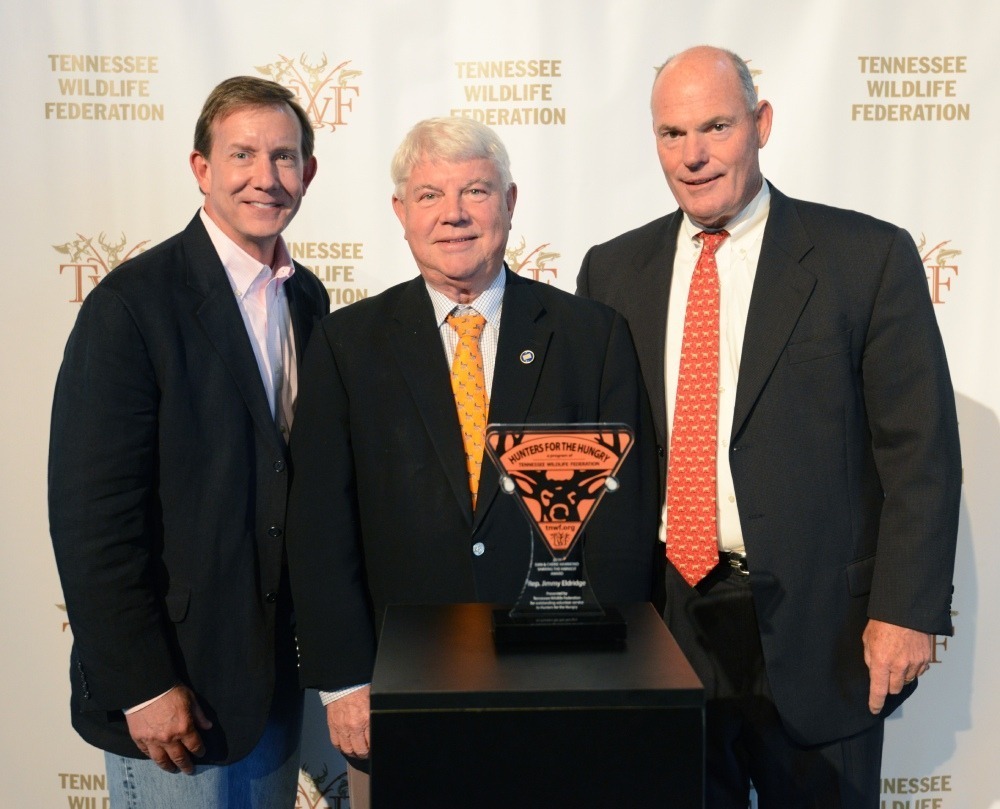 Rep. Jimmy Eldridge has been a true champion for stewardship and conservation on the Statehouse floor and among his peers. Since 2011, Rep. Eldridge has raised more than $12,000 for Tennessee Wildlife Federation's Hunters for the Hungry program and generated venison donations totaling an estimated 48,000 servings for hungry Tennesseans. He has advocated for sound policy and legislation supporting Hunters for the Hungry and conservation in Tennessee.