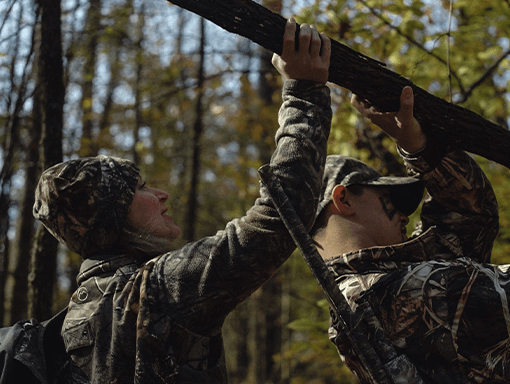 Founded in 1946 and headquartered in Nashville, Tennessee Wildlife Federation is a nonprofit organization dedicated to leading the conservation, sound management, and wise use of Tennessee's wildlife and great outdoors. For more than 75 years, it has been one of the leading voices for sportsmen, wildlife enthusiasts, and conservation.
Its work is diverse, spanning public policy to habitat conservation. The Federation's Conservation Policy program engages in legislative and regulatory matters on the local, state, and federal levels that affect Tennessee's natural resources and the interests of those who care about them. Hunters for the Hungry provides more than a half-million servings of venison annually to hungry Tennesseans. Tennessee Scholastic Clay Target Program promotes the shooting sports and an outdoor lifestyle to nearly 2,000 student-athletes across the state. Hunting and Fishing Academy provides hands-on outdoor experiences to our next generation of sportsmen and women. The Federation's Habitat Conservation program is actively involved in habitat restoration and stewardship initiatives statewide.
Program Administration Coordinator
Tennessee Wildlife Federation seeks a dynamic individual to join its program team in its Nashville office. This full-time position will be responsible for coordinating day-to-day administration, management, and growth of the Tennessee Scholastic Clay Target Program (SCTP), Hunters for the Hungry, and Hunting and Fishing Academy.
The Program Administration Coordinator position helps cultivate a lifelong outdoor lifestyle by increasing growth and momentum within Federation program offerings. This position supports Tennessee Wildlife Federation's shooting sports program, Tennessee Scholastic Clay Target Program (SCTP), by communicating and tracking program and event registration among team coaches and participants and by supporting the Tennessee SCTP Manager in the execution of program events. This coordinator-level role helps provide hands-on instruction in the art of being an outdoorsman or woman to hunters and anglers of all ages, races, and genders within our Hunting and Fishing Academy. Lastly, this coordinator-level position provides assistance to our Hunters for the Hungry program which provides a unique and creative way to provide healthy, much needed protein to Tennessee's citizens in need while helping to manage the state deer herd.
Job Type: Full-time
Location: Based in Nashville with statewide travel
Reports to: Director of Programs
Responsibilities: Reporting to Tennessee Wildlife Federation's Director of Programs, the Program Administration Coordinator is a full-time staff position responsible for day to day coordination and expansion of the Tennessee Scholastic Clay Target Program, Hunters for the Hungry, and Hunting and Fishing Academy.
Duties:
Ensure incoming telephone calls are timely answered and properly routed to appropriate staff
Produce and ensure compliance reporting across programs
Survey data collection and entry along with some statistical analysis
Maintain confidentiality of information, as well as maintain and exhibit professionalism and integrity
Assist with program communication including but not limited to event announcements, newsletters, and event materials
Handle program registration paperwork and payment information with customers
Keep program website calendars up-to-date and assist with website content and social media efforts
Work program and organization events as needed, including:

Assist planning and executing events
Assist executing portions of events as part of a team
Assist managing volunteers and others at events

Coordinate with program staff to identify and fulfill volunteer needs
Manage volunteer activity and schedules within database
Engage in community outreach and recruitment of prospective volunteers
Maintain volunteer calendar of events
Plan and coordinate volunteer orientation and appreciation efforts
Perform various administrative work associated with volunteer programs
Process volunteer background checks
Work with communications and development teams to manage project deliverables
Provide support to Director of Programs as needed
Maintain all program records in an organized fashion
Other duties as assigned by superiors
Travel: On occasion, this role requires day trips, overnight travel, and evening and weekend work hours for business related events.
Key Qualifications: As a prerequisite, the successful coordinator must believe in the core values of Tennessee Wildlife Federation and be driven by the mission. The coordinator will have the following experience and attributes:
Bachelor's degree in a natural resources, management, communications, or business-related field
Proven work experience in at least one (preferably more) of the following fields: biology, agriculture, outdoor events management, youth program management, data collection and statistical analysis, hunting/fishing guiding, volunteer management, non-profit experience highly preferred, knowledge of clay target shooting/SCTP structure highly preferred
Excellent interpersonal skills, including the ability to work effectively with a broad range of people to maintain strong working relationships with all levels of volunteers and staff
Strong time management and organizational skills with attention to detail
Ability to multi-task and communicate effectively
Ability to prioritize work and know when to consult with supervisor
Attention to detail and professionalism in all written and oral communications
Proficiency in Microsoft Office and ability to learn the SCTP event registration system
Ability to work nights, weekends, and long days as needed
Willingness to travel as needed
Personal Characteristics:
Must have a passion for the Federation's mission
Professional and friendly, able to handle the day-to-day ups and downs with efficiency, attention to detail and a sense of humor
Strong work ethic with ability to reject setbacks and enthusiastically persist until goals are achieved
Resourceful and innovative at tackling challenges in a timely manner
Results oriented team-player who leads by example, is accountable for his/her performance, takes absolute ownership, champions all aspects of administration, and applauds the success of fellow employees
Approaches work from a Federation point of view rather than personal
Performance Standards:
Complete tasks accurately and in a timely manner
Keeps detailed time sheets on all work
Practices planning work on a weekly basis utilizing tasks and deadlines
Communicate changes in schedule with Director of Programs and the Federation administration manager with adequate notice prior to changes occurring
Keeps Federation administration manager regularly informed as to schedule, changes in schedule, and whereabouts
Keeps supervisor informed and up to date on all matters pertaining to his/her work
Participates in all regular staff meetings
Participates in all staff retreats
Is attentive to and efficient with expenses
Treats all superiors, peers, and subordinates with respect
Follows all procedures and policies contained within the Federation Employee Manual
Physical Requirements & Work Environments:
Lead outdoor programs for but not limited to one half day to full days and overnights
Ability to perform physically challenging work outdoors
Ability to work outdoors and in summer heat or inclement weather for full days
May be required to traverse rough terrains
Ability to lift and carry 50 pounds for program events and implementation
Ability to work beyond normal hours during inclement weather and emergency situations
Ability to work flexible hours, including evenings and weekends
Ability to sit, stoop, bend, climb and lift objects
Ability to operate a safe mode of transportation for functions/events, transportation of supplies and meetings
Application Instructions:
To apply, send a cover letter, resume, and three professional references to jobs@tnwf.org. Submit each required document separately, as a pdf, attached to your email. The filename of each document must start with your last name and first initial, followed by the name of the document (Ex: DoeJ-Resume)
Candidates who send automated applications using existing profiles will not be considered for the position
Phone calls regarding the position will not be accepted
Ethical Hunting Practices: Federation staff know and respect the game hunted, follow all related laws, familiarize themselves with wildlife in the area and behave accordingly. As an employee of the Federation, all employees are expected to follow all state and federal hunting and fishing guidelines and practice ethical and fair chase practices while executing or assisting with program events or in your personal outings afield.
Tennessee Wildlife Federation offers a competitive benefits package and is an equal opportunity employer committed to workplace diversity. No person will be discriminated against because of race, religion, creed, color, gender, age, national origin, veteran status, sexual orientation, or disability. Each person will be judged on his/her own merit when determining employment and advancement opportunities.
Get the latest conservation news and actions to take!