This year marked the 58th year of the Federation celebrating individuals and companies from across the state who are working to conserve our wildlife and wild places. Seventeen conservation professionals and notable businesses received awards, from university professors to habitat specialists to lifelong volunteers.
As one of the largest nonprofits dedicated to conserving Tennessee's wildlife and natural resources, Tennessee Wildlife Federation understands statewide conservation would not be possible without dedicated individuals, businesses and organizations doing boots-on-the-ground work.
"It is a huge joy to be able to honor so many conservation heroes every year. I am blown away by all the amazing conservation work happening right here in our state, and I think it's important to make that work known and appreciated."

Kendall McCarter, Chief Development Officer, Tennessee Wildlife Federation
The Bill Dance Signature Lakes, a statewide aquatic habitat project, earned the 2023 Conservationist of the Year Award for its significant contributions to the cause of natural resource conservation in Tennessee. The project is an incredible story of the progress that can be achieved when multiple groups and agencies come together to achieve a unified goal.
"We've been giving out these awards for more than 50 years, and we continue to find new people each year doing incredible things to move conservation forward," said Mike Butler, CEO of Tennessee Wildlife Federation." My hope is for these awards to uplift those working in conservation today and inspire the next generation to continue this work."
The Conservation Achievement Awards are sponsored by Bridgestone Americas, Packaging Corporation of America, Davey Resource Group, and First Horizon.
The honorees of the 58th Annual Conservation Achievement Awards are as follows.
Conservationist of the Year — Bill Dance Signature Lakes
J. Clark Akers, III Champion of Conservation Award — Deborah Dunklin Tipton
Chairman's Award — Mike Kelly
Z. Cartter Patten Award — Terry Cook
Dan and Cherie Hammond Sharing the Harvest Award — Mike Flowers
On Target Award — Forrest Michael "Mike" Butler
Hunter Education Instructor of the Year — William "Bill" Yancey
Gedeon D. Petit Memorial Award — Doug Lamb (honored posthumously)
Conservation Communicator of the Year — Dr. David Mercker
Conservation Educator of the Year — Alex Beene
Conservation by Business — Aqua Services
Conservation Organization of the Year — Southern Environmental Law Center
Youth Conservationist of the Year — Stewart Thacker
Land Conservationist of the Year — Peter Claussen
Forest Conservationist of the Year — Dr. Allan Houston
Water Conservationist of the Year — Dr. David Etnier (honored posthumously)
Wildlife Conservationist of the Year — Joe England
Conservationist
of the Year
Bill Dance Signature Lakes
Bill Dance Signature Lakes is the largest-scale, collaborative effort to improve habitat and recreation access at lakes in all three grand divisions of Tennessee. Conceived in the early 2000s, the Lee administration made bringing this project to life one of its focal points during the governor's first term. A unique collaboration, three state agencies are working with fishing legend and outdoorsman Bill Dance to make this project a success—the Tennessee Department of Tourist Development, Tennessee Wildlife Resources Agency, and Tennessee Department of Environment and Conservation's Bureau of Parks and Conservation. So far, more than 8.4 million fish have been stocked in participating lakes, habitat structures have been installed, and boat ramps and parking areas have been improved for easier public access. The project contains an initial 14 lakes from across all of Tennessee, and will expand over time to a total of 18 lakes, making access and enjoyment of these places easy for all Tennesseans.
J. Clark Akers, III Champion of Conservation Award
Deborah Dunklin Tipton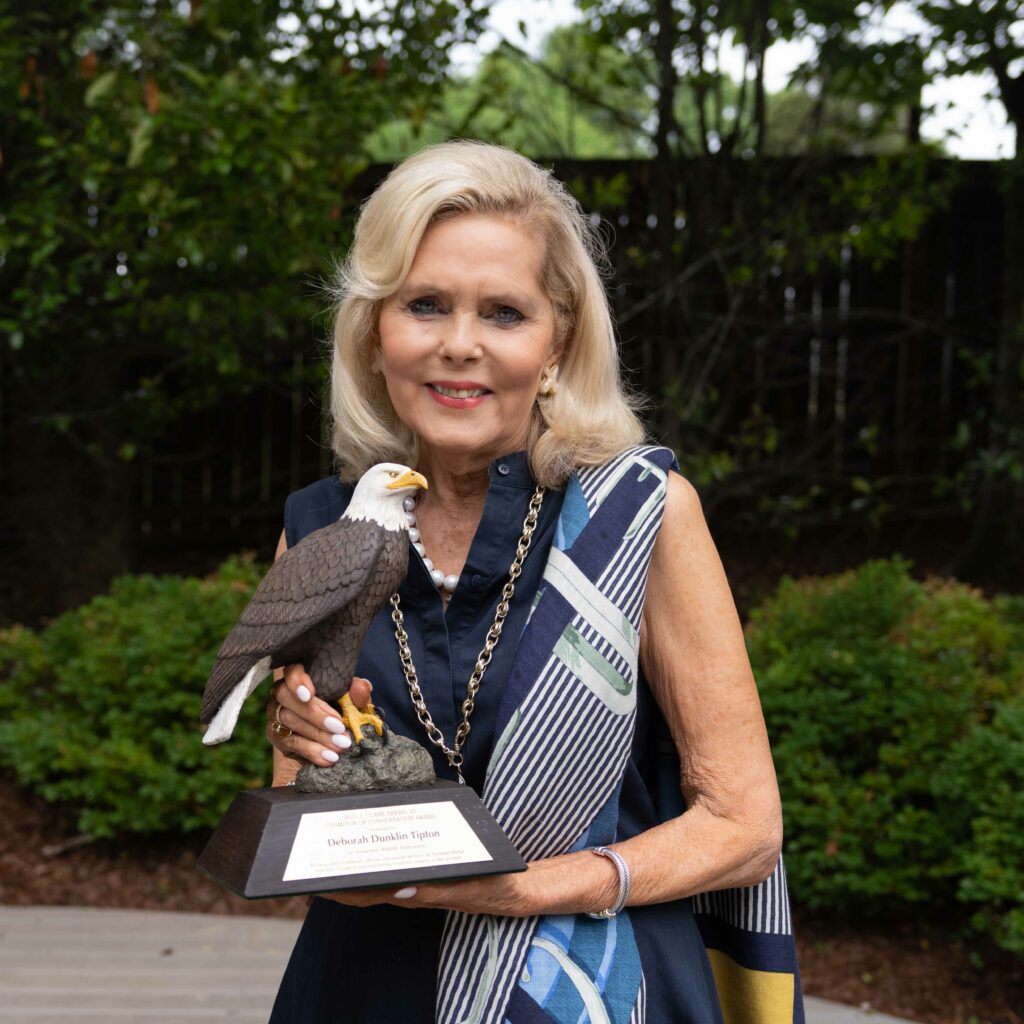 Deborah Tipton was taught early on to have a deep appreciation for the land. She passed her values of conservation on to her children, which led her son, Robert, to participate in Tennessee Wildlife Federation's Tennessee Scholastic Clay Target Program (SCTP). Deborah has established two scholarships for Tennessee SCTP athletes—one in honor of Robert, who tragically passed away when he was in college, and another for the late Dr. Jack Gayden, a longtime friend of Deborah and the Federation. She has truly made a lasting impact on the Federation and conservation in Tennessee through her consistent philanthropic support.
Chairman's Award
Mike Kelly
Mike Kelly, former owner of Jimmy Kelly's Steakhouse, is a prominent member of the Nashville community and has a long history of political knowledge in Tennessee. He has been a member of Tennessee Wildlife Federation's Advisory Board for nearly 10 years, through which he plays a key role in the Federation's conservation policy efforts. In addition to offering advice and support, Mike Kelly has hosted the Federation's annual legislative reception at Jimmy Kelly's for several years, an event which is crucial to maintaining a respected presence at the State Capitol.
Z. Cartter Patten Award
Terry Cook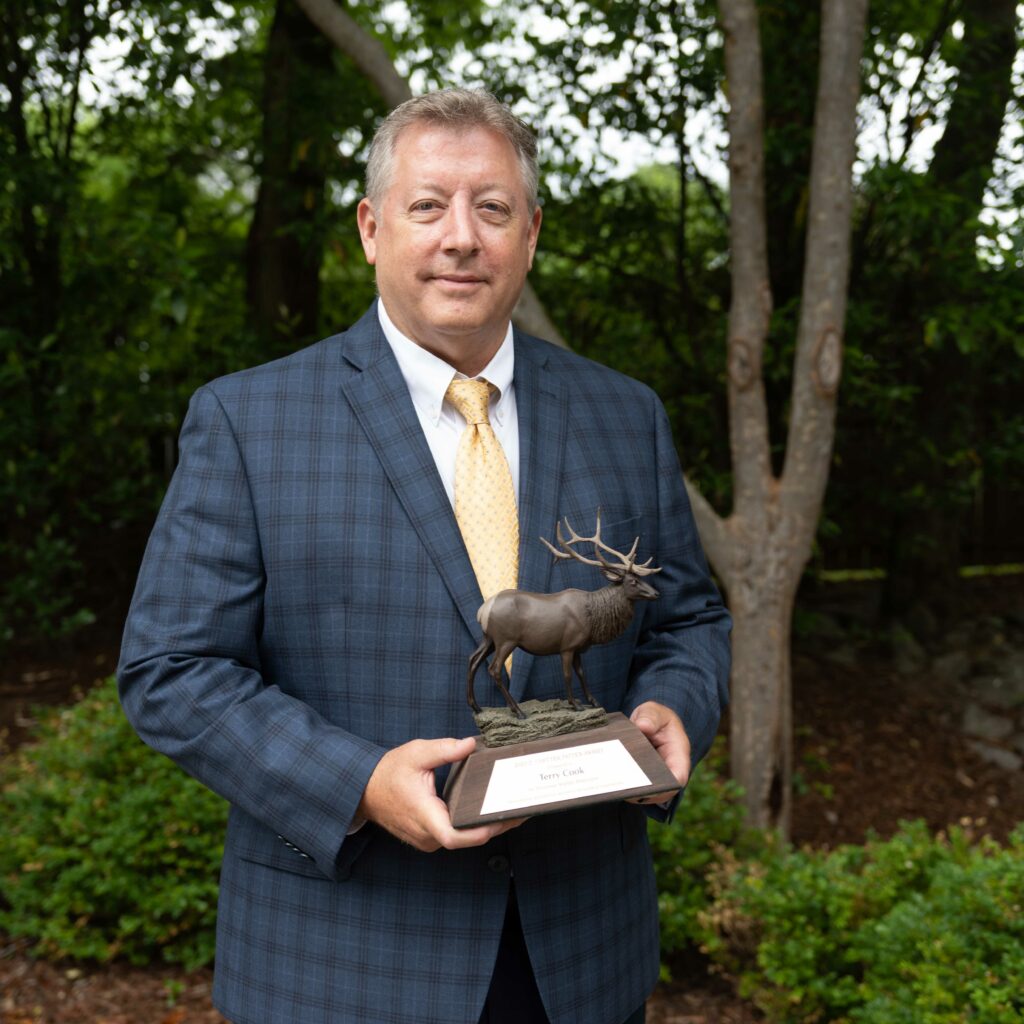 After working at several levels within The Nature Conservancy around the world, Terry Cook became the state director of the Tennessee chapter in 2016. As director, Terry helped launch the Cumberland Forest Community Fund to support nature-based development in East Tennessee, which funded the recent renovations at the Hatfield Knob Elk Viewing Tower. He also helped secure a conservation easement to permanently protect 43,000 acres of land in North Cumberland WMA—the largest easement ever initiated by The Nature Conservancy in Tennessee.
Dan and Cherie Hammond Sharing the Harvest Award
Mike Flowers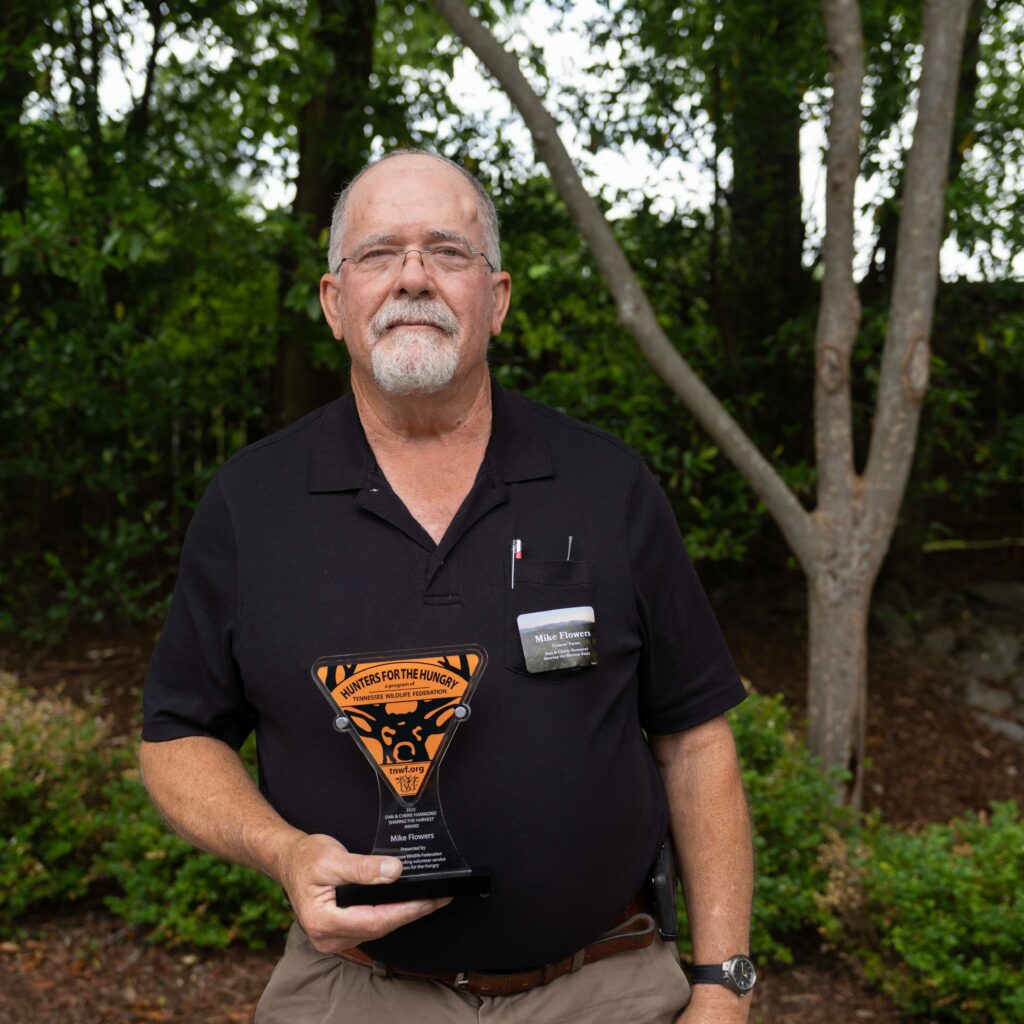 Mike Flowers owns and operates Flowers' Farms, a garden center and deer processing business in Davidson County. He has been with Tennessee Wildlife Federation's Hunters for the Hungry program since its inception in 1998 and is one of the top producing processors each year. Over the past 25 years, Mike has processed and donated more than 1,700 whole deer. Along with pioneering the tradition of taking a pack out of every deer that he processes in his shop, Flowers' Farms has processed 135,000 pounds of venison, which equates to 538,000 servings donated to feed Tennesseans in need.
On Target Award
Forrest Michael "Mike" Butler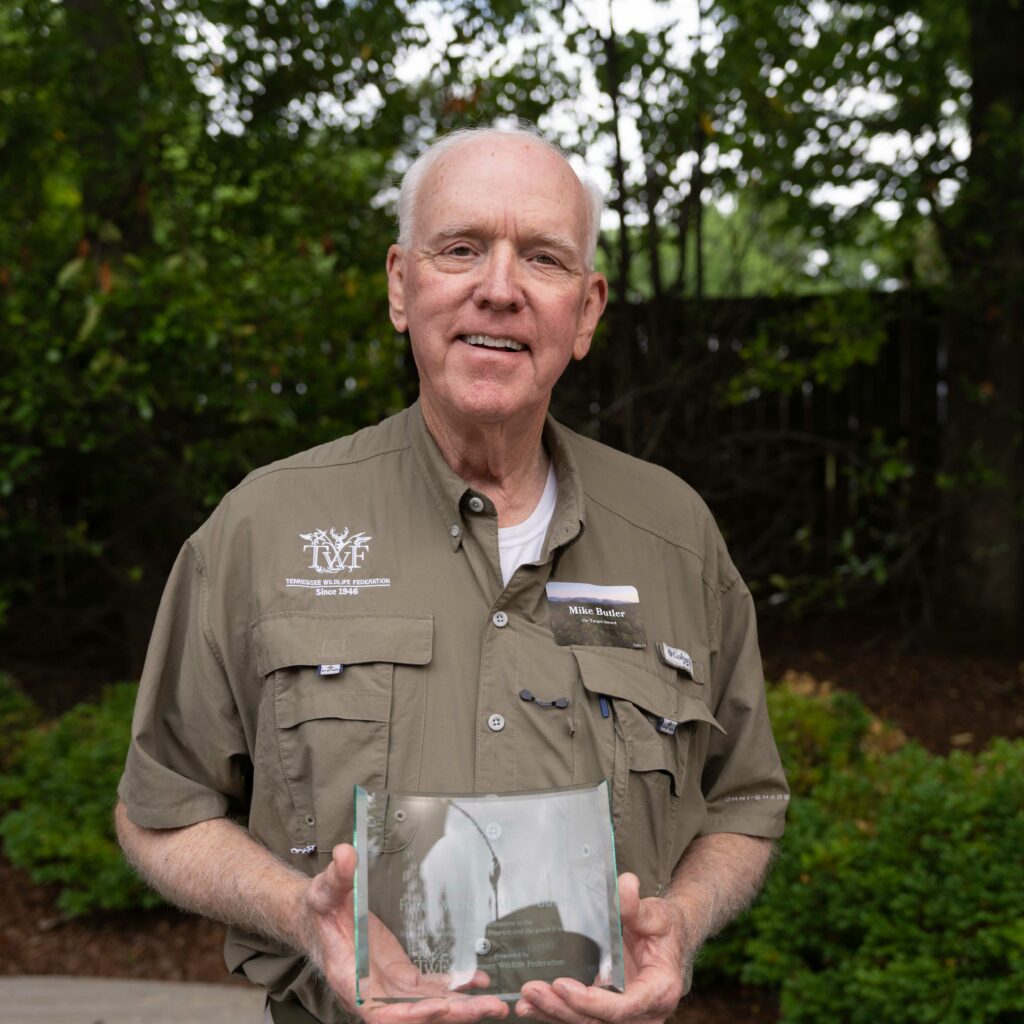 Mike Butler has dedicated his life to teaching younger generations about the outdoors and shooting sports. A lifelong sportsman, and former board member of the Federation in the 1980s, his love for the outdoors started as a child and led him to become one of Tennessee's original hunter education instructors. Mike spent 15 years shooting competitively and now uses his experience and knowledge to coach the Haywood Young Guns—a Tennessee Scholastic Clay Target Program team based out of Brownsville. Under his mentorship, these athletes have achieved success at both the state and national levels, winning a national title in skeet in 2022.
Hunter Education Instructor of the Year
William "Bill" Yancey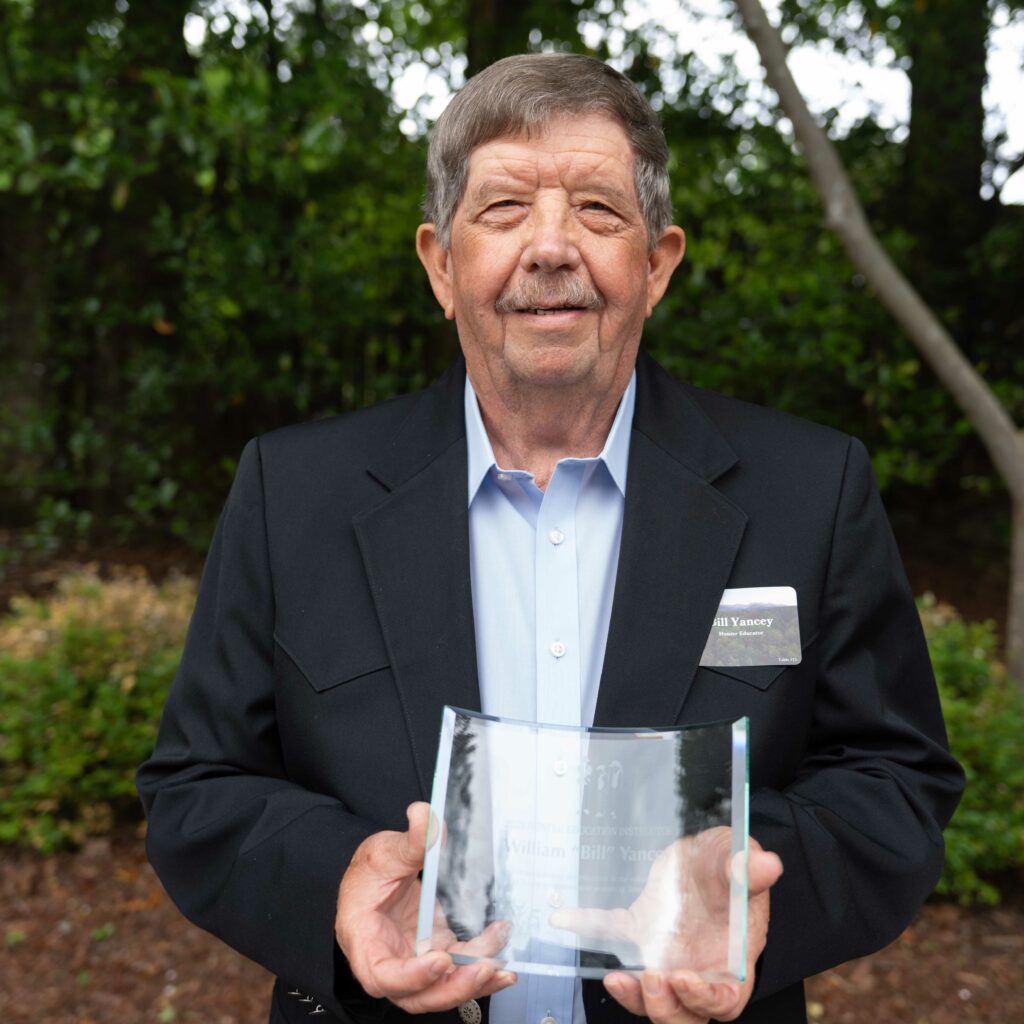 Bill Yancey became a certified hunter education instructor in Maury County in 1997. After taking his two sons through the course, he saw an opportunity to make the classes more engaging for students and to emphasize the importance of safe, ethical hunting as a tool for wildlife management. Because of his countless volunteer hours, what used to be a run of the mill safety test has evolved into dynamic classes that keep young hunters excited about being outdoorsmen and women.
Gedeon D. Petit Memorial Award
Doug Lamb (honored posthumously)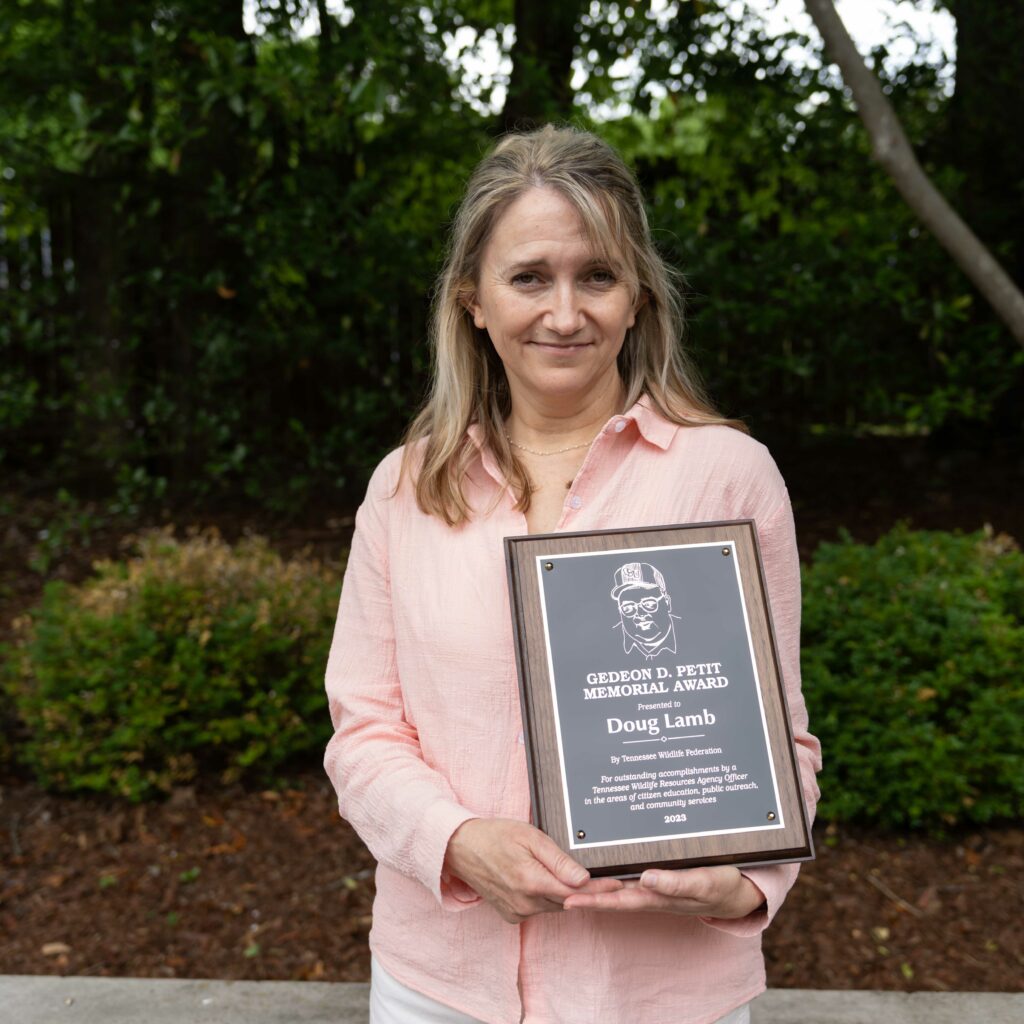 Doug Lamb served as an officer with Tennessee Wildlife Resources Agency for more than 30 years, mostly in Fentress County. One of Doug's greatest accomplishments was his work in public outreach. He was well-connected in the community and regularly participated in programs that involved sportsman, civic, and school groups. He received six "Officer of the Year" awards on district, regional, and statewide levels. Doug passed away in 2022, but is a great example of the dedication, enthusiasm, and skills it takes to be a TWRA officer.
Conservation Communicator
of the Year
Dr. David Mercker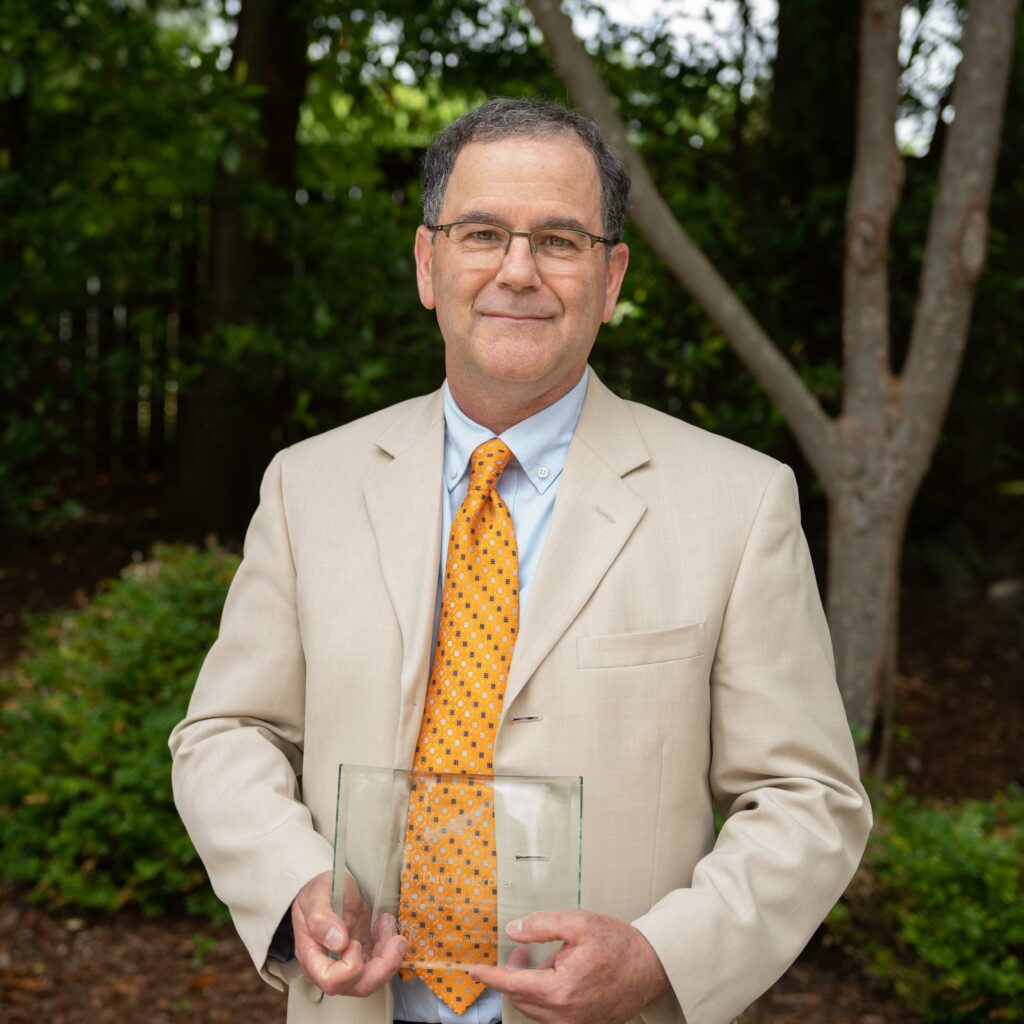 Dr. David Mercker is a certified forester teaching sustainable forestry to more than 300,000 woodland owners in Tennessee. Since his start, Dr. Mercker's main goal has been to teach Tennesseans about responsible forestry. He helped establish County Forestry Associations across the state and launched the Tennessee Healthy Hardwoods Program. Dr. Mercker also created a video series—Back Porch Forestry—to continue reaching landowners during the pandemic. He is a Society of American Foresters Fellow and was awarded Extension Forester of the Year by the Forest Landowners Association in 2020.
Conservation Educator of the Year
Alex Beene
Alex Beene is an award-winning author and educator with the Tennessee Department of Labor and Workforce Development. He has spent several years teaching science-related classes to adults through continuing education programs. Alex helps students apply science concepts at the local level, sparking the conversation about nature and preserving local ecosystems. Alex's students are very appreciative of the pride he instills in them for protecting the land and resources around them for the future.
Conservation
by Business
Aqua Services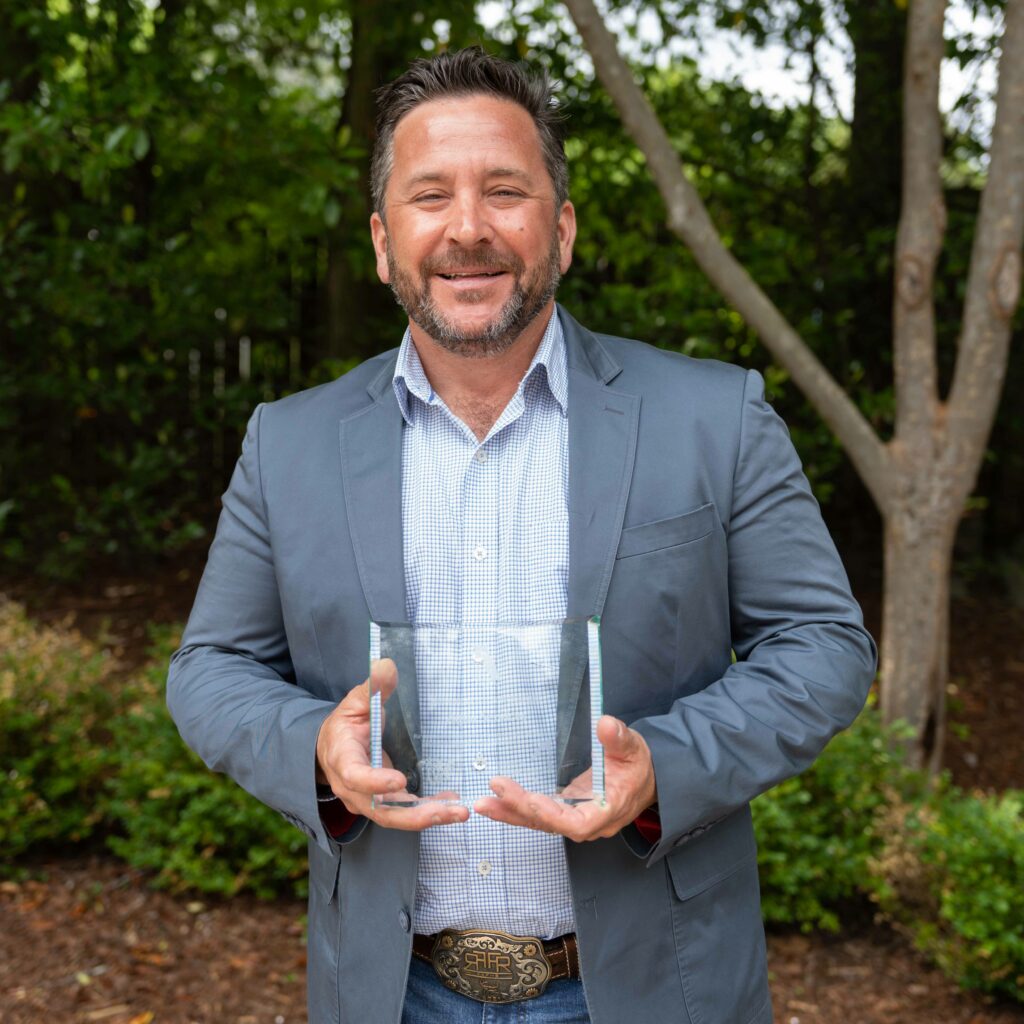 Originally an aquatic herbicide application company, Aqua Services has grown to become a prominent full-scale pond and lake management business. The company covers all aspects of aquatic habitat management and educates landowners about ponds and lakes on their property. Aqua Services regularly works with companies, other businesses, and government agencies—including critical work it does via contract with the Tennessee Valley Authority to control invasive exotic aquatic weeds in the Tennessee River system. It is also one of the many groups collaborating on the recently launched Bill Dance Signature Lakes project.
Conservation Organization
of the Year
Southern Environmental Law Center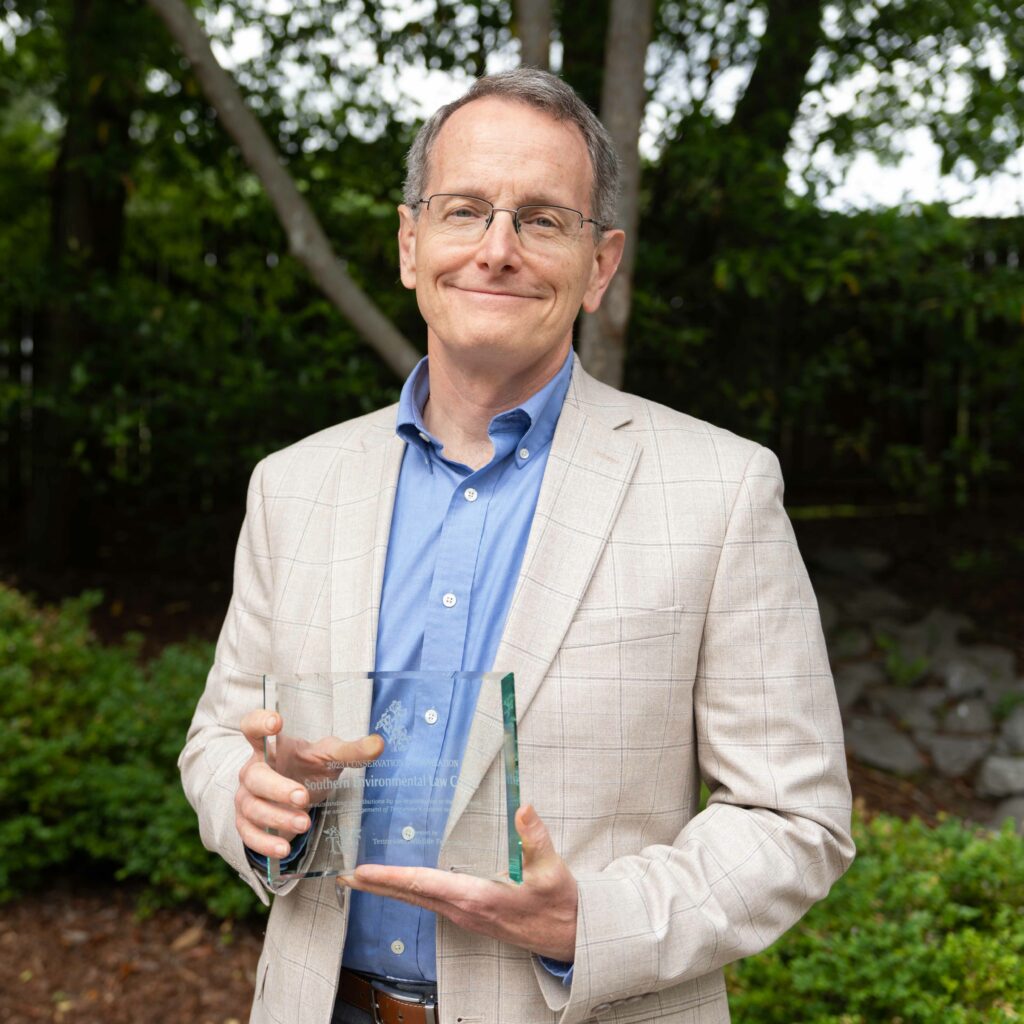 The Southern Environmental Law Center (SELC), founded nearly 40 years ago, is the South's largest environmental organization focused on tackling our toughest environmental challenges through legal advocacy. Tennessee Wildlife Federation has partnered with SELC on a number of conservation issues over the years, including work that kept TVA from selling public lands in the 1990s. Early in 2022, SELC represented the Federation and The Nature Conservancy in Marshall County to maintain specified water withdrawal limits on the Duck River. SELC has more than 100 lawyers working across six Southeastern states and Washington, D.C. to preserve our region's natural treasures and rich biodiversity, and to provide a healthy environment for all.
Youth Conservationist
of the Year
Stewart Thacker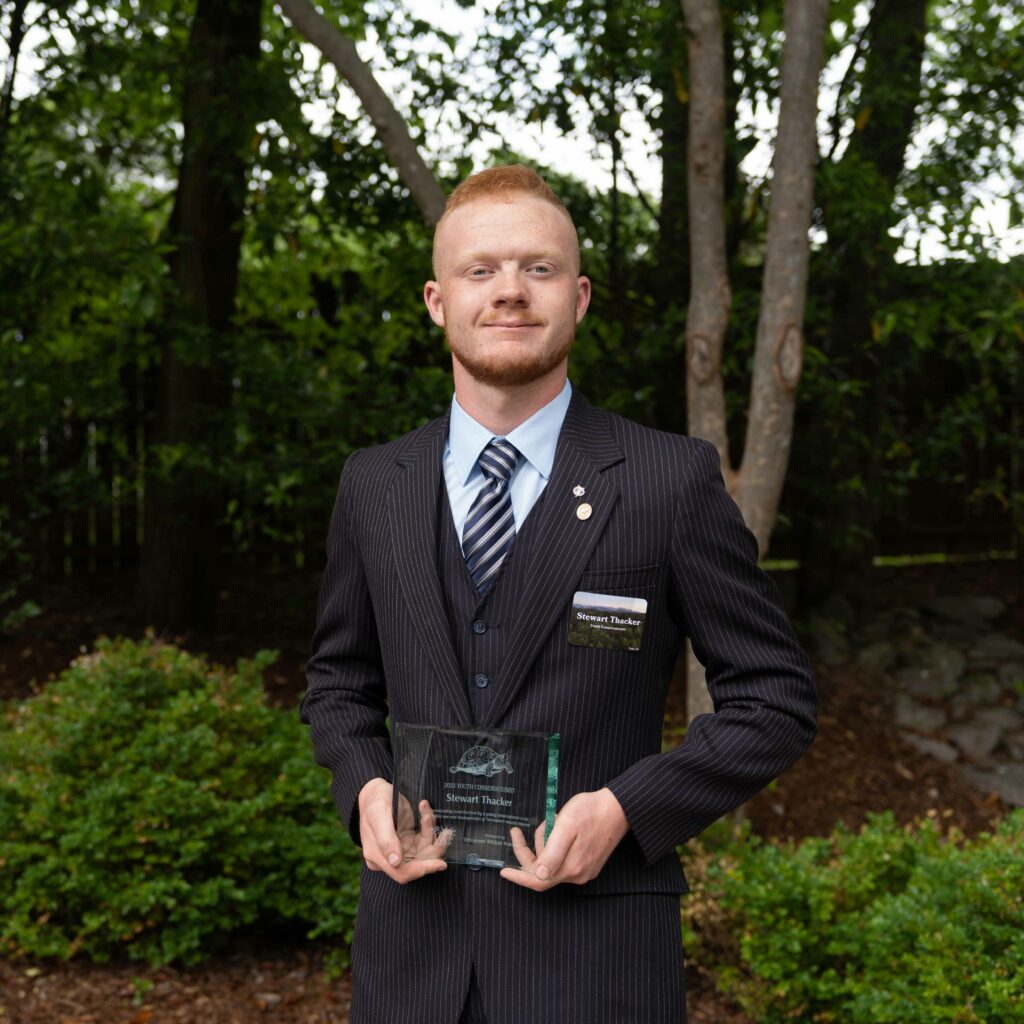 Stewart Thacker has been involved in conservation most of his life. Through Boy Scouts of America, Stewart is certified in several outdoor programs, including Leave No Trace and Outdoor Ethics. He also earned the World Conservation Award in 2019 for a research project studying crayfish biology and behavior. Stewart spent the summer before college volunteering with TWRA, where he helped maintain elk habitat at North Cumberland WMA. He is now studying conservation biology with the goal of becoming a freshwater fisheries biologist.
Land Conservationist of the Year
Peter Claussen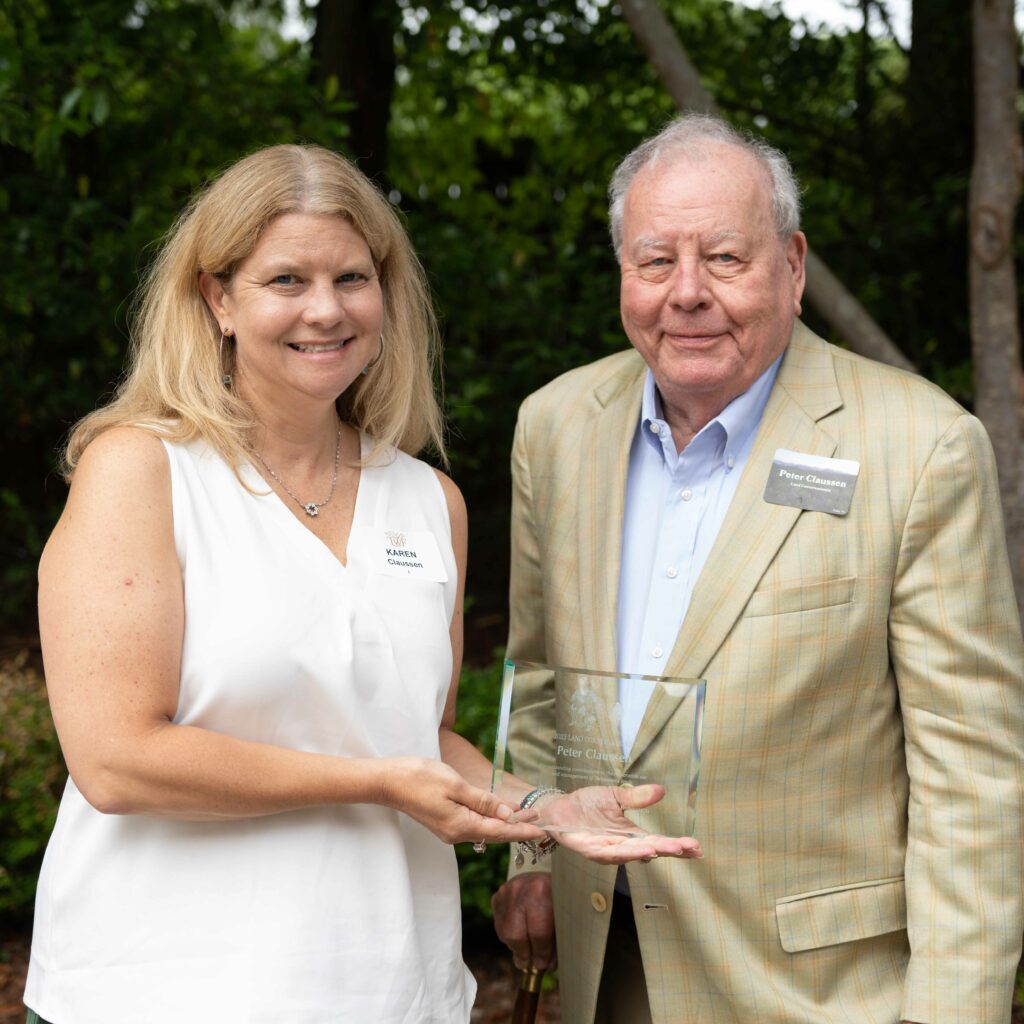 Peter Claussen spent 13 years working in environmental law for TVA and is the founder and chairman of Gulf and Ohio Railways, which operates four railroads in the Southeast. Pete serves in leadership roles with many conservation organizations, including Heritage Conservation Trust Fund, Legacy Parks Foundation, and Zoo Knoxville. Perhaps his biggest contribution to conservation was the donation of 416 acres in Knox County which became the Seven Islands State Birding Park in 2013. Now, the park is home to more than 200 species of birds and is a premier birding destination in East Tennessee.
Forest Conservationist
of the Year
Dr. Allan Houston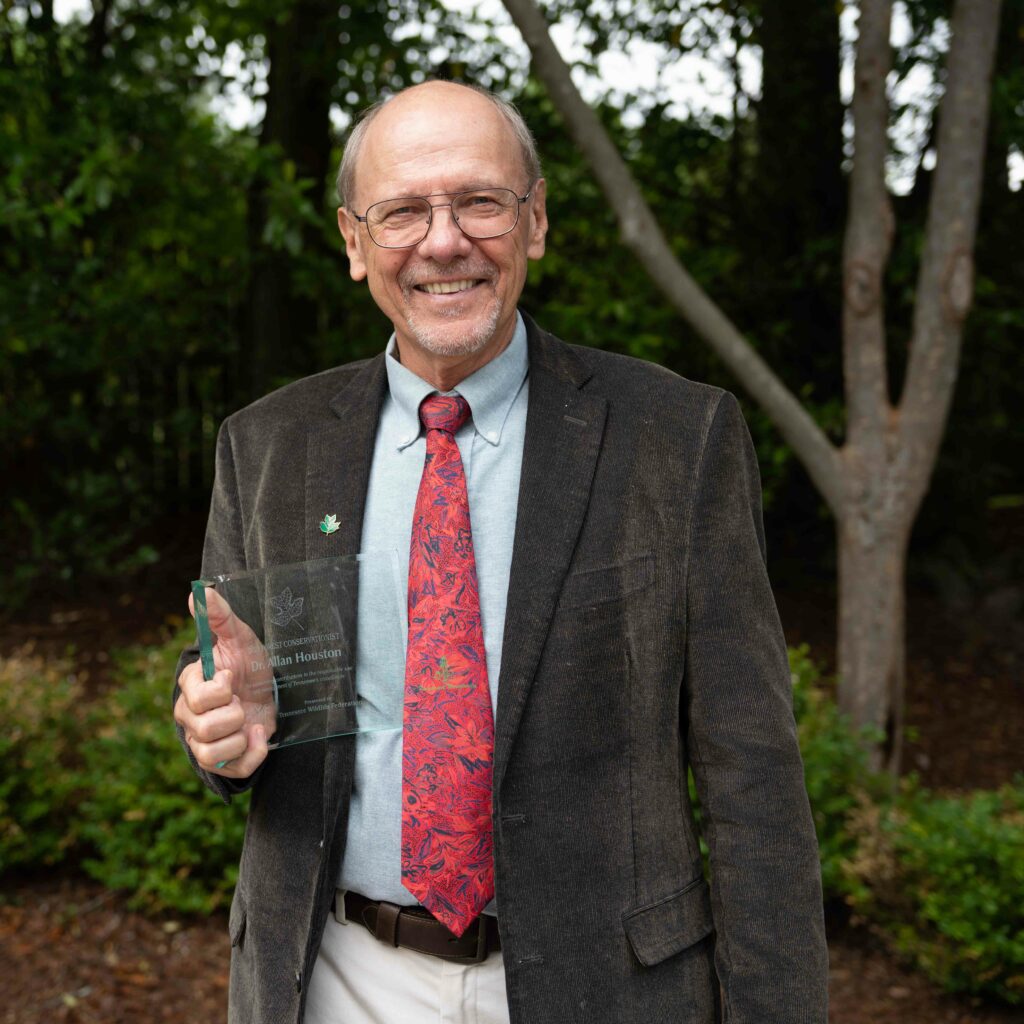 Dr. Allan Houston is the research director at Ames AgResearch and Education Center, a research unit of the University of Tennessee, Knoxville. He has been part of all types of conservation research, including hardwood tree growth, wildlife diseases, and foraging impacts on the forest. Dr. Houston teaches an intensive summer silviculture course at Ames which gives students hands-on forestry experience. He also helped form the Fayette County Forestry Association and has twice served as the chair of the Kentucky-Tennessee chapter of the Society of American Foresters.
Water Conservationist
of the Year
Dr. David Etnier (honored posthumously)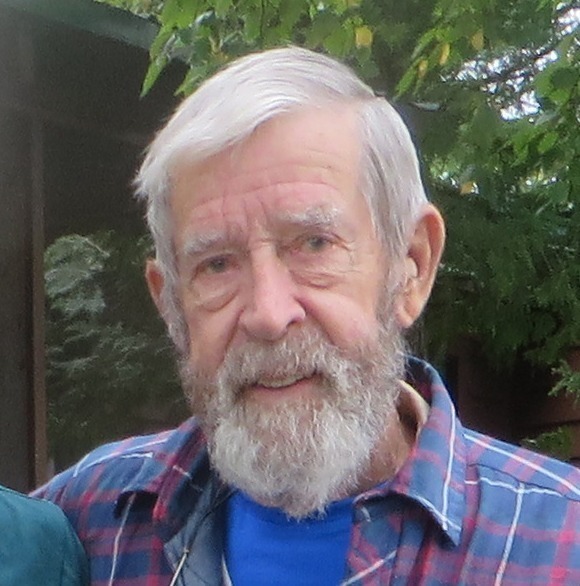 Dr. David Etnier was an emeritus professor at the University of Tennessee, Knoxville, where he taught and researched aquatic species for more than 50 years. His seminal work was co-authoring The Fishes of Tennessee, the authoritative source on identification, biology, and distribution of freshwater species in Tennessee. Dr. Etnier also established the Etnier Ichthyological Collection at UT, which is now the largest fish collection in Tennessee. Through his research, Dr. Etnier helped discover more than 400 aquatic species, including the renowned snail darter.
Wildlife Conservationist
of the Year
Joe England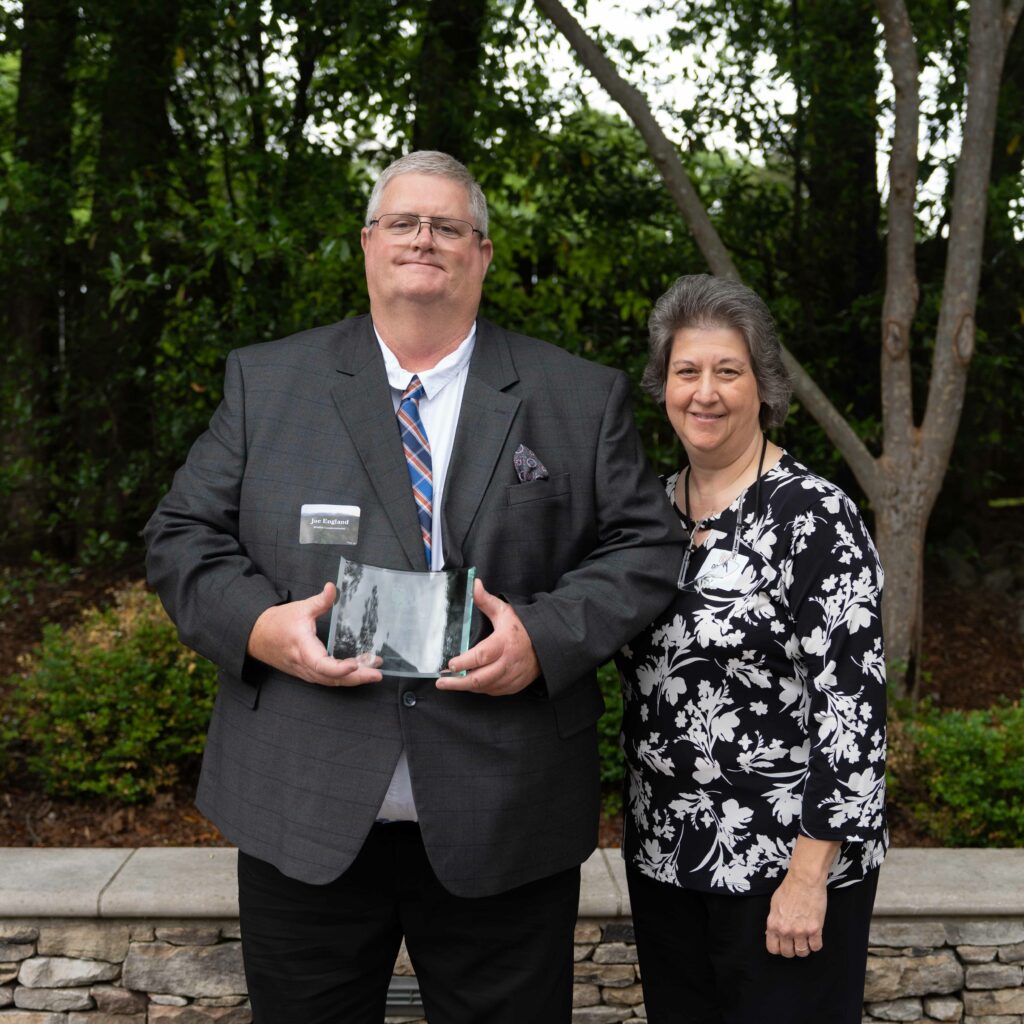 As a wildlife equipment operator for Tennessee Wildlife Resources Agency, Joe England oversees large-scale engineering projects and coordinates with other agencies on habitat development projects, primarily at North Cumberland WMA. He has been heavily involved in the ongoing elk restoration project since he started there, as well as prescribed fire management, equipment safety training, and more. Joe also volunteers with local scouting troops to pass what he has learned to the next generation of conservationists.