"If you can use a hammer, you can learn to fly fish."

Chris Nischan, Experienced Hunting and Fishing Guide and Tennessee Wildlife Federation Board Member
When you peer into the world of fly fishing, that statement seems to oversimplify the art form of fly casting. But it's true!
Casting a fly is not difficult.
It's an art that requires skills that can be learned by all.
As fly fishing has gained popularity, a false narrative has been formed that it's a complicated endeavor and requires years of technique to catch a fish. Even renowned angler Lefty Kreh commented on the topic in his book, Advanced Fly Fishing Techniques. He said, "I feel that many people who are not really versed in the sport have either written or spoken about it, and they have attempted to create a concept that this is a very difficult sport to master. That simply isn't true."
Let the rod and line do the work.
As the fly fisher, all you have to do is understand the importance of "smooth acceleration, stopping the rod at the right time, and keeping the rod tip tracking in a straight line as you move it."
Watch below as Chris demonstrates a common mistake individuals make when not understanding the dynamics of the sport.
In reality, mistakes like the one shown in the above video can be easily avoided!
When learning how to fly fish, here's what to expect:
Practice will be necessary and rewarding. We highly recommend learning to cast on dry land like your backyard or local park before you go near the water. "When you're out fishing, you want to fish and catch fish," said Clint Losee, creator of Fly Fishing Basics. "That keeps your attention and you don't focus on other aspects as much. If you remove that focus grabbing part, you can spend all of your energy drilling the fly fishing basics of casting in. After a while, it becomes second nature." Establishing confidence on solid ground will make you feel much better when you take that first step into the water.
Mistakes will happen but learn from them and try again. Your line will get tangled, branches will be caught, flies will be lost, fish will swim by you and your line will pile up in front of you many times. Mistakes happen to experts and beginners. Remember that nothing in fly fishing should be hurried. Reset your line, take a deep breath, and try again!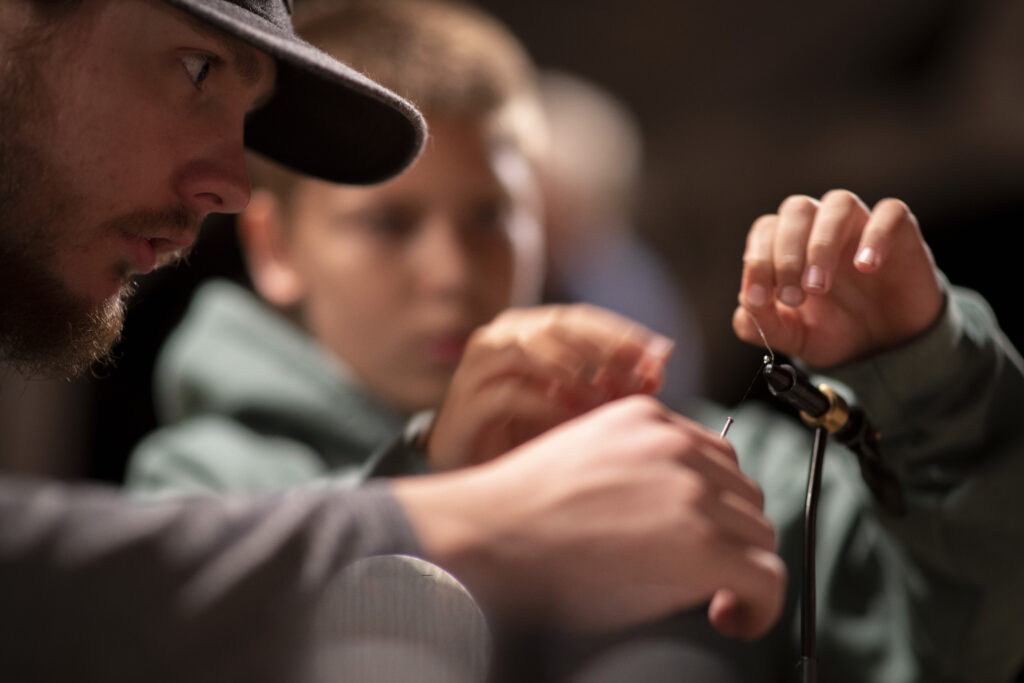 3. Taking small steps will go a long way. As you are prepping for a fly fishing trip, practice the basic two knots you need to start fly fishing: a clinch knot and a double surgeon knot. This will save you time out on the water, especially in the beginning
when you may lose more flies than you'd like to admit. Additionally, stay on top of sharpening your hooks. Whether you're running a wet or dry fly, your hooks will dull over time so be diligent when maintaining your equipment. You don't want a personal best to break off because of worn down tackle.
You can financially invest as little or as much as you want. The beauty of fly fishing is that it can be enjoyed by all and year-round. The differing seasons and topography call for a variety of accessories like waders, vests, polarized sunglasses, etc. However, basic gear consists of a fly rod, fly reel, fly line system (backing, fly line, leader, and a tippet), and some flies. For a fly rod, Chris recommends visiting a local pro shop for their expertise; however fly fishing gear can also be purchased at Bass Pro Shops, Walmart, Amazon, etc.
The Fly Fishing Community
With people fly fishing around the world, there are millions of passionate anglers in the community looking to help beginners. Reach out to local fly fishing clubs or join Facebook groups to network with experienced anglers. Connections like those will be formative as you start adventuring out and learning more.
"Most experienced anglers are more than happy to share tips with newbies, so long as you don't try to poach their spots. Odds are you'll learn new strategies that help you land more fish."

Sage Marshall, Writer for Outdoor Life
To learn more about the basics of fly fishing, watch Fly Fishing 101: In the Field and Stream and visit tnwf.org/academy to stay updated with all of our upcoming in-person workshops and virtual classes.