Tennessee Wildlife Federation has been named Affiliate of the Year by the National Wildlife Federation. The award recognizes the broad work of the organization—from youth engagement to public policy—that has been made possible by our supporters from every corner of the state.
Recognizing Effective Conservation in Tennessee
Tennessee Wildlife Federation is excited to announce we have been named National Wildlife Federation's Affiliate of the Year!
Each year, National Wildlife Federation recognizes one of its 51 state and territorial affiliates for outstanding achievement in conservation. This is Tennessee Wildlife Federation's first Affiliate of the Year win since 1979, and its fourth in the organization's 72-year history.
"Tennessee Wildlife Federation is one of the most effective conservation organizations in our nation. Period. Tennessee is blessed with the greatest diversity of wildlife of any inland state in our great nation—and fortunately, Tennessee Wildlife Federation is leading the charge on restoring wildlife habitat, keeping wildlife and public lands public, and connecting all Tennesseans with wildlife. We love working with the whole team to put points on the board for conservation and we could not be more proud of our 72-year partnership. We are honored to recognize Tennessee Wildlife Federation as our Federation's 2018 Affiliate of the Year."

Collin O'Mara, National Wildlife Federation CEO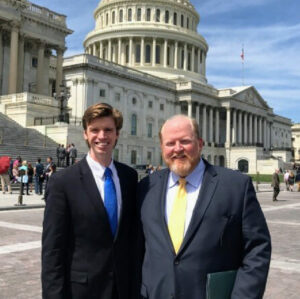 Collin O'Mara, National Wildlife Federation CEO, and Michael Butler, Tennessee Wildlife Federation CEO, in D.C. before visiting with Tennessee's senators and congressmen.
The Federation is honored to share this victory with all our supporters—everyone who has worked with us to further sound conservation and who has invested in our programs.
"Being named Affiliate of the Year really speaks to the work of our Tennessee Wildlife Federation family. While the Federation and its supporters have been characterized by strength and passion since its founding in 1946, we have made significant strides in recent years to better affect change in Tennessee and nationally. We're thrilled to see those efforts bear fruit and be acknowledged," said Kendall McCarter, chief development officer of Tennessee Wildlife Federation.
This honor recognizes many different kinds of work, all of which have contributed to the Federation's well enjoyed reputation as a leader among affiliates, government agencies, and nonprofit conservation organizations in Tennessee and throughout the nation.
In recent years, Tennessee Wildlife Federation has been called to consult with several other National Wildlife Federation affiliates to share program and policy models and materials. This includes our neighbor affiliates such North Carolina, South Carolina, Kentucky, and Florida. As well as those farther away, including Texas, Wyoming, and Arizona.
Tennessee Wildlife Federation also has been instrumental in promoting action on issues with national impact, such as understanding and containing chronic wasting disease, advocating for public lands, as well as creating the Tennessee Alliance for America's Fish and Wildlife to drive grassroots efforts to support the Recovering America's Wildlife Act.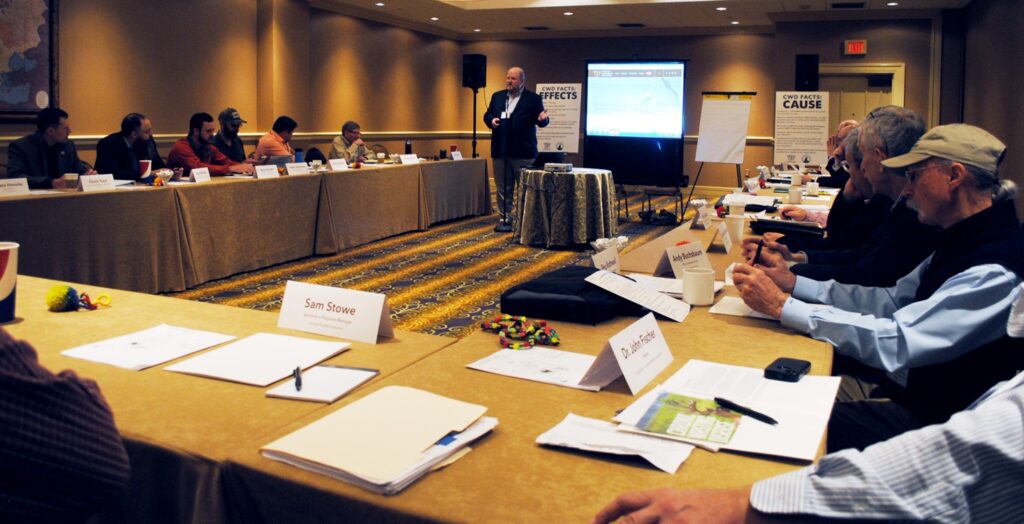 Tennessee Wildlife Federation hosted conservation leaders from across the U.S. to develop a plan to address the spread of chronic wasting disease.
One of the Federation's greatest changes over the past two decades has been to move from our previously singular focus on policy to creating programs designed to engage Tennesseans in the outdoors for the first time and recruit them into a lasting outdoor lifestyle.
Notably, the Federation's Tennessee Scholastic Clay Target Program is among the strongest in the nation and serves as the gateway to engaging youth in hunting activities through our innovative Youth Hunting & Fishing Program. These youth, and all hunters in Tennessee, are encouraged to be good stewards of our natural resources as well as of their communities by feeding hungry families with donations to Hunters for the Hungry.
A team competes at the Tennessee Scholastic Clay Target Program State Championships, just one way the Federation engages youth in the great outdoors.
Additionally, the Federation has transitioned from an organization that primarily consulted on restoration projects to actively working to restore habitats and partnering with regional businesses, universities, and conservation organizations to conserve or restore more than 13,000 acres of land. With ongoing conservation work, the Federation hopes to make lasting and sustainable improvements to habitats throughout Tennessee for all wildlife to enjoy.
"Tennessee Wildlife Federation is honored to receive the Affiliate of the Year award. The Federation has been instrumental to bringing conservation and wildlife issues to the forefront of Tennessee consciousness. We're confident our efforts will persist now and in the future and this is a fitting addition to our legacy in Tennessee."

Michael Butler, CEO of Tennessee Wildlife Federation
Tennessee Wildlife Federation will be recognized during the National Wildlife Federation's annual meeting this June outside of Washington D.C.
Raise your glass and join us in a toast to Tennessee Wildlife Federation and all conservationists in Tennessee who make the work possible.


Featured photo by Dean Klim