Tennessee Wildlife Federation, in partnership with National Wildlife Federation, convened more than 30 conservation leaders from across the U.S. for a two-day Chronic Wasting Disease Summit in Nashville. The Federation organized the summit to begin the creation of a national response to the disease, which will be spearheaded by the nationwide network of state wildlife federations—nonprofits that coordinate under the National Wildlife Federation banner.
"It's important to understand the true impact of CWD. It isn't just an issue facing deer and deer hunters. It threatens our ability as a nation to conserve all species, habitats, and natural resources."

Michael Butler, CEO of Tennessee Wildlife Federation.
Chronic Wasting Disease, or CWD, is a readily transmitted disease that infects deer, elk, and other cervids. It causes weight loss, tremors, repetitive walking patterns, an inability to hold head up, and eventually—but always—death. Recent research has shown a 10% annual reduction in deer population in an area of Wyoming. Studies indicate that older bucks are more susceptible than young bucks, which are more susceptible than does.
It is not thought to be transmittable to humans, but it is recommended that venison from a CWD-positive deer be disposed of and not consumed.
CWD was first identified 50 years ago last month in Colorado. Since then, it has spread to 23 states, including Illinois, Indiana, Missouri, and Arkansas. Infection rates are seen in some regions as high as 1-in-2 deer. Though it isn't in Tennessee, the Tennessee Wildlife Federation sees a cohesive, nationwide response as the only way to stem the disease's further spread.
In nearly all states, wildlife conservation—from game animals to insects—is funded predominately by taxes and license fees paid by hunters and anglers. Approximately 83% of hunters hunt deer. So when CWD dramatically reduces deer hunting opportunities and incentives, it greatly diminishes the conservation funds generated by a primary source of funding: deer hunters.
The existence of CWD significantly shrinks a state's ability to preserve the wildlife that all citizens enjoy on rely upon. And the loss of economic activity in the private sector is equally staggering.
"To date, the response to CWD has largely been on a state-by-state basis but it's a national issue that requires a national response," said Michael. "The nationwide network of wildlife federations and the diverse audiences they serve are arguably in the best position to lead an effective response and address rising confusion and misinformation about CWD."
Tennessee Wildlife Federation welcomed to the summit representatives from 13 states and national organizations, including National Wildlife Federation, Southeastern Cooperative Wildlife Disease Study, TWRA, QDMA, National Deer Alliance, Wildlife Management Institute, Assoc. of Fish and Wildlife Agencies, and Theodore Roosevelt Conservation Partnership.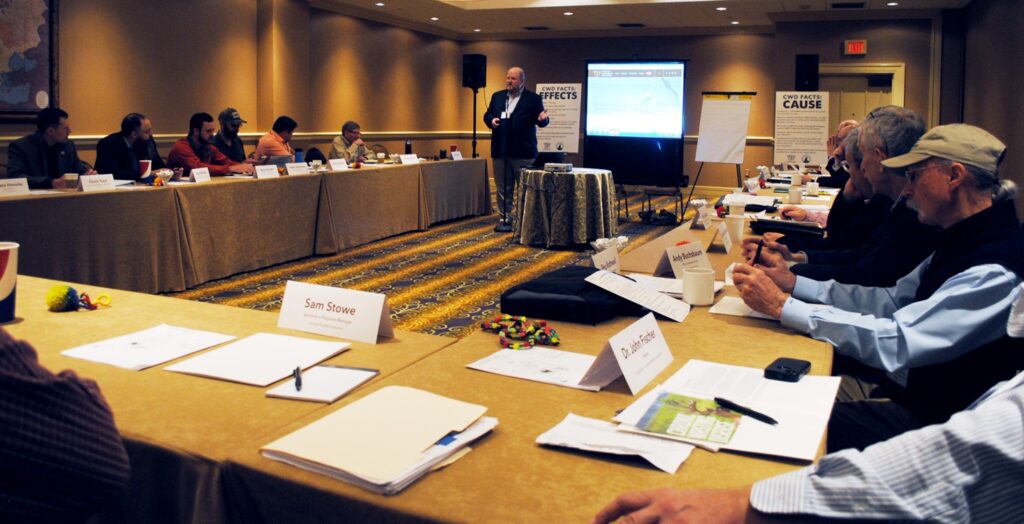 "Simply getting these groups and experts together is of note. In two days, we were able to share and compare points of view and exchange information like never before," said Michael.
The summit created a steering committee that is tasked with driving the national goals established during the summit, which span securing funding for research and implementation, unifying education efforts, and establishing methods for cooperative disease management.
Following the summit, Tennessee Wildlife Federation organized for participant Dr. John Fischer of University of Georgia's Southeastern Cooperative Wildlife Disease Study to speak to the Tennessee Legislative Sportsmen's Caucus about CWD and the impact it could have on Tennessee if not controlled.
"There is much more work to be done but this summit created the framework we need as an organization to form a meaningful response to this threat to North America's wildlife heritage," said Michael.