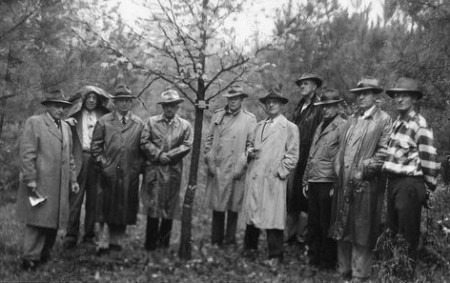 History
In the early 1900s, Tennessee had only 20,000 deer left. Elk hadn't been seen in the state for generations. Turkey existed only in a pocket or two.
Then there was a turning point. A conservation movement started and, ever since, Tennessee Wildlife Federation has been working methodically to bring our wildlife populations back from the brink.
Tennessee Wildlife Federation was founded by outdoor writers, sportsmen, and community leaders who gathered to build a new organization to restore the integrity of all of Tennessee's wildlife and natural resources. Their goal, establish new leadership focused on science-based wildlife management.
Over time, the Federation grew to a diverse group of hunters, anglers, bird watchers, hikers, gardeners, and other outdoor enthusiasts—all united by their concern and passion for Tennessee's great outdoors.
Building Upon A Legacy
Leadership on public policy has been a hallmark of the Federation throughout its history. For 75 years, the Federation has found success by rallying supporters and finding common ground with opponents.
As a result, the Federation has been instrumental in issues regarding air pollution, water pollution, endangered species protection, forest management, resource management, and other legislation that impacts Tennesseans' opportunity to enjoy the great outdoors.
Today, the Federation continues to tackle Tennessee's most urgent conservation issues through public policy and strategic programs that serve our wildlife and community.
The Federation is also on the ground statewide. It engages this generation of conservationists and the next through Hunters for the Hungry, Hunting and Fishing Academy, and the Tennessee Scholastic Clay Target Program. Through its Habitat Restoration program, the Federation is restoring and conserving thousands of acres of wetlands, grasslands, forest land, and streams.
Make Your gift for tennessee's wildlife and great outdoors.
Tennessee's wildlife, water, and wild places are under more pressure than any time in decades. Conservationists like you make all the difference.