You've got the venison in your freezer, now what?
Sometimes preparing harvested protein can seem daunting. That's why the Federation is creating a series of Field to Fork recipes and cooking videos. We will be showing you how to prepare easy, delicious recipes using harvested meat, as well as quick tips for prepping, cooking, and storing wild game.
These venison meatballs are simple and delicious, and once you have mastered this basic recipe, are completely customizable to your own needs and tastes.
Check out the video of our Program Coordinator and incredible hunter, Amy Hall, as she cooks this savory recipe with our board member and friend, D.C. Curry, or
Jump to Recipe
Wild game is a great source of local, natural protein. Like much other wild game, venison is low in fat–typically lower in saturated fat than other red meats. It also contains lots of essential vitamins and minerals such as zinc, iron, and b vitamins. That is why ground venison makes a great substitute in recipes that call for other types of ground meat.
This recipe is a perfect family meal—you can size this recipe up or down based on your needs and the number of people you are serving. These meatballs are also easily adapted for entertaining by making them a bit smaller and using any sauce of your choosing. Because who doesn't love a cocktail meatball? You can also get creative with seasonings and add-ins. Think about adding some bacon for a smoky flavor or a bit of spice…your imagination is the limit.
Not only are these meatballs easy to make, but they also do not contain eggs. Amy Hall crafted this recipe without them due to an egg allergy. She substitutes eggs with ricotta cheese, which adds a wonderful creaminess and melt-in-your-mouth texture.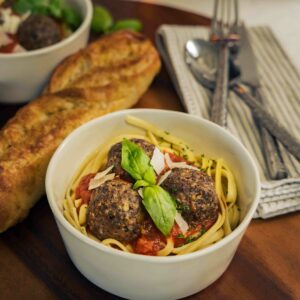 Spaghetti and Venison Meatballs
Substituting venison for regular ground meat in your spaghetti and meatballs recipe is a new way to take a wild game twist on a classic family dish. This venison recipe is a perfect family meal or can be easily adapted for entertaining and served as a cocktail meatball. Whichever way you choose to enjoy your venison meatballs, cooking with wild game meat has never been easier!
Equipment
1 Oven

1 Pan

1 Pot

1 Mixing Bowl
Ingredients
Venison Meatballs
2

lbs

Venison

Make sure venison is thawed out.

1

Yellow Onion

Dice finely.

4

cloves

Garlic

Mince.

2

tbsp

Italian Seasoning

2

tbsp

Basil

Chopped.

2

tbsp

Salt

2

tbsp

Pepper

½

cup

Panko Breadcrumbs

1

cup

Ricotta Cheese
Spaghetti
2

jars

Pasta Sauce

1

box

Pasta
Garnish
Fresh Basil

Optional Garnish.

Grated Parmesan

Optional Garnish.
Instructions
Time to Cook
Saute the onions and add the garlic and seasonings over medium heat on the stove. The mixture is ready once the onions have softened and begun to caramelize or begin to brown slightly.

Mix the onion, garlic, chopped basil, and seasoning mixture in a large bowl with the ground venison, Panko breadcrumbs, and ricotta.

Spoon and shape into golf ball-sized balls onto a greased cookie sheet. This is about two tablespoons of mixture. You can also line your cookie sheet with foil, parchment paper, or a silicon baking mat for even easier cleanup.

Bake the meatballs for 20-25 minutes in the preheated oven.

Add the meatballs to a pot of your favorite pasta sauce and let simmer.

Bring water to a boil for pasta and cook the pasta to desired tenderness.

Spoon the sauce and meatballs on top of the pasta.

Garnish with fresh basil and parmesan cheese, to your heart's content. We highly recommend serving up some garlic bread alongside this recipe for a hearty, warming meal.