Don't let that successful weekend in the blind go to waste.
Sometimes preparing harvested protein can seem daunting. That's why the Federation is creating a series of Field to Fork recipes and cooking videos. We will be showing you how to prepare easy, delicious recipes using harvested meat, as well as quick tips for prepping, cooking, and storing wild game.
Duck poppers are a tasty, crowd-pleasing way to use your harvested duck. If you are looking for an amazing appetizer look no further.
Watch as our Associate Director, Hunting and Fishing Academy, Taylor Martin, cooks these duck poppers on a Blackstone outdoor griddle with the help of Program Communications Coordinator, Caroline Heggeman or
Jump to Recipe
These duck poppers start with beautiful, harvested duck breast marinated in Italian dressing. A vinaigrette makes a great marinade for duck because it helps tenderize the meat while also infusing flavor.
The recipe continues to layer flavors. The duck is stuffed with cream cheese and jalapeno filling and then wrapped in bacon. Whether you're cooking on the grill or in a pan, you'll know the duck poppers are ready when the bacon is crispy. This combination of creamy, spicy, and smoky is a real winner. But, once you've mastered the basic technique, you can use your creativity and try out different fillings.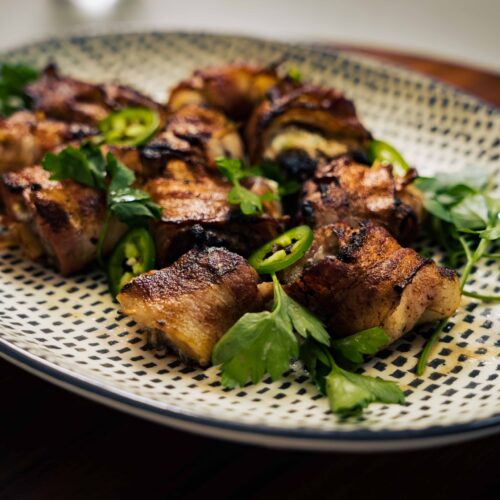 Jalapeno Duck Poppers
In this recipe, we're cooking with a beautiful mallard duck breast that was harvested by one of our own at the Federation. These duck poppers are a tasty, crowd-pleasing way to use your harvested duck. If you are looking for an amazing appetizer and an exciting way to cook your wild game look no further!
Equipment
1 Grill or Grill Pan

1 Mixing Bowl
Ingredients
Duck
3

Duck Breasts

Remove the layer of silver skin on the breasts to improve texture.

1

bottle

Italian Dressing
Stuffing Mixture
6

Jalapenos (Large)

Diced finely. Deseed jalapenos before dicing if you want a milder flavor.

½

Sweet Onion

Diced finely. Optional Ingredient.

1

block

Cream Cheese

Warm your cream cheese before adding in diced ingredients.
Assembling
1

package

Bacon

12

Toothpicks
Instructions
Prep Work
Slice duck breasts into 1-inch strips.

Marinate your strips in Italian dressing overnight or at least 4 hours before cooking.

Mix in your chopped onion and jalapeno with the cream cheese. Set the mixture in the refrigerator until you're ready to assemble the duck poppers.
Time to Cook
Preheat your grill to

400

°F

Lay out a piece of bacon horizontally and layer a strip of duck vertically on top of it, so the pieces criss-cross. Add a small spoonful of your cream cheese mixture on top of the duck and roll it all up.

Roll the bacon over the duck and secure the duck popper with a toothpick. Pick each up by the toothpick to make sure the roll stays together before you begin cooking.

Place on the grill, flipping once, and cook until the bacon is crispy on both sides.

Remove poppers from the grill and enjoy them warm!
Notes
Cooking time depends upon the thickness of the bacon.