If you have ever been hunting, you know what a special connection you feel with nature. But, if not, the Federation is here to take you under our wing. Waterfowl hunting is an incredible pursuit that gets you outdoors, helps support conservation, and can result in local, natural protein for you and your loved ones.
But before you can begin, you will need a federal duck stamp, your hunting license, which is acquired through the state wildlife agency (TWRA), and some gear.
Layers & Waders
Water and wetlands are a duck's natural habitat and once you spend enough time waterfowl hunting in the Mississippi Flyway, it will start to feel like yours too. While waterfowl have thick layers of insulating feathers and oils that shield their bodies from the harsh elements, we each need a pair of waders and some layers to keep us warm and dry in the duck blind.
Depending on the climate and your budget, the three best wader material options are PVC-coated polyester, neoprene, and neoprene plus. Regardless of the fabric, you will need boot-foot style waders that provide strong traction to keep you upright when you are knee-deep in the muck.
There are a number of other layers you will need to keep warm while waterfowl hunting. A base layer should consist of undergarments that are lightweight and breathable. Select wading socks that are either thin-layered, synthetic, or wool-blend to keep your toes from going numb. Following that, choose a pair of pants made with a material that will retain heat but not water. If you can, avoid cotton because it tends to absorb water. On top, add a wind-blocking, moisture-resistant and insulating jacket to ensure your chest area stays warm. A jacket with an attached hood is a great idea, otherwise, you should also wear a beanie or facemask to cover your sensitive ears and head. Lastly, slide on a pair of gloves that provide you with warmth and a good grip on your firearm. All six of these garments should be worn with your waders to help protect you while out in the elements.
Blind Bag
A blind bag is another essential item for waterfowl hunting. It is a versatile, waterproof, or water-resistant, camouflage bag that holds many of the smaller items you will need. They come in backpack and shoulder bag styles. From duck calls to hand warmers to shotgun shells and snacks to hold you over, your blind bag acts as dry bag storage for all of the necessities.
Duck Calls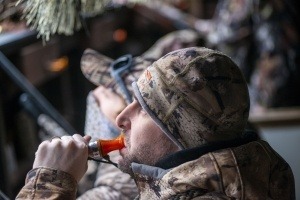 Remember that waterfowl's aerial views give them the home-field advantage. Waterfowl rely most on their senses of sound and sight, so your two agents of deception are duck calls and decoys.
Duck calls, used properly, help attract birds. Producing the right vocalizations can be key to having a limit of mallards (also known as greenheads) or wood ducks (also known as woodies) by the end of the hunt. A double-reed poly-carbonate (poly-carb) duck call is a great starter call to have on your lanyard because of the ease it takes to both master and maintain the instrument.
Decoys & Anchoring Systems
When a duck can both hear and see what it believes to be a group of other waterfowl, you maximize the chances of the birds coming down from the sky. That's where decoys come in. Decoys are typically plastic or wooden replicas of waterfowl.
Driven by their desire to flock together, ducks respond well to decoys and will come further into your shooting range to investigate. Start with a dozen decoys and implement an anchoring system like the Texas rig to make your life and hunt less complicated. An anchoring system in its simplest form is cables and weights that attach to your decoys to keep them from drifting apart and away from your setup.
Firearm & Ammunition
For waterfowl hunting, you will need a shotgun loaded with non-toxic shot. For the hunter, the "shot" produces a spread of pellets which gives you a greater margin of error. For the birds, the hunters' use of non-toxic shot ensures that they won't be feeding on lead if they revisit the hunting spot. It is also illegal to hunt waterfowl of any kind with lead shot.
Outfitting yourself with these basic pieces of gear is just the start of your new waterfowl hunting passion. Waterfowl hunting in the state of Tennessee is an age-old tradition that continues to thrive because of the sound work of conservation which drives thousands of ducks to migrate through here every winter. With both public and private land, Tennessee has an abundance of options and welcomes all who are interested in the sport of waterfowl hunting. Visit tnwf.org/academy to learn about the Hunting and Fishing Academy's waterfowl opportunities.