Really? Elk are native to Tennessee?
Elk are not only native to Tennessee but were hugely important to the way of life of early residents of the state, even helping to shape its landscape.
"Many people don't realize that much of the land that is now forested in Tennessee was prairie and grassland as recently as 200 years ago," says former TWRA Region III manager Clarence Coffee, now retired. "Back in the early 1700s, longhunters reported grasslands—or 'barrens'—populated with bison and elk as far as the eye could see. Tennessee literally looked different back then."
Coffee explains that for centuries, native American Indians in what is now Tennessee used fire not only as a tool for cooking but also as a means for clearing land, moving wild game to desirable hunting grounds, and renewing the forages so important to large grazing species—namely, bison and elk. Controlled burns destroyed woody vegetation that, left unchecked, would become forest. At the same time, the fires stimulated the growth of native warm-season grasses like switchgrass, big bluestem, and Indiangrass, creating a perfect habitat for the grazing wildlife.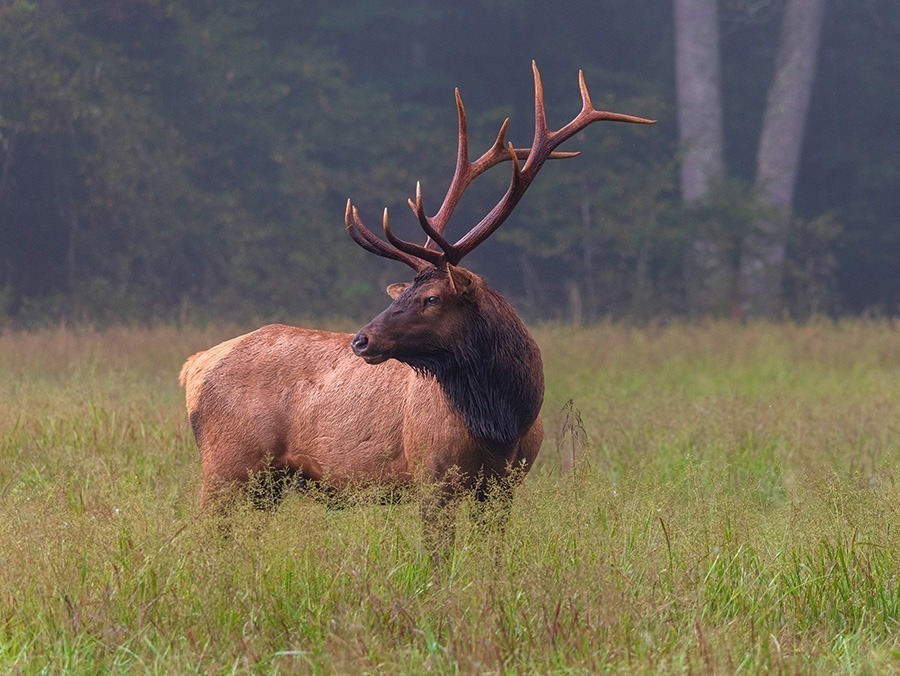 Elk are native to Tennessee, as are bison. Before reintroduction, the last wild elk was harvested in Obion County in 1865. Photo credit: Jenna Crovo.
"There were large prairies all across Tennessee," Coffee says. "One journal entry written by an early settler who climbed Black Mountain [near Crossville] describes his view of 3,000 acres of grass that would 'reach to a horse's bridle.' That, of course, was native warm-season grass."
This ecological pattern of controlled burns and grazing continued until white settlers overtook Native Americans in numbers. Most of these pioneers were agriculturalists who converted the prairies into farms and allowed woody vegetation to overtake native grasses—which don't hold up well to competition—and the Tennessee landscape as we know it today began to take shape, says Coffee.
"This loss of habitat, along with extensive hunting, eventually wiped out bison and elk populations east of the Mississippi," he says. "The last documented wild elk in Tennessee was killed in Obion County in 1865. That particular subspecies of elk is now extinct."
Visit the Elk Viewing Tower

Excerpt from the 2007 article "Native son" originally published in the Tennessee Cooperator. Featured photo by Richard Young