Hatfield Knob
Elk Viewing Tower
The Hatfield Knob Elk Viewing Tower at the Sundquist Unit of the North Cumberland Wildlife Management Area in Campbell County opened in 2005. Since then, thousands of wildlife enthusiasts have been able to consistently view the first wild elk herd to roam Tennessee since the 1860s.
Elk history in Tennessee>>
Visit the Hatfield Knob Elk Viewing Tower
Please remain quiet while viewing the elk to avoid startling the wildlife.
Fees: Visiting the tower is absolutely free. Enjoy!
How do I get there? Go north out of Lafollette on Highway 25W approximately seven miles to the top of the mountain. Turn left at the red gate located at the top of the mountain (just before the road starts to break over the mountain and go down the back side.) Proceed on the gravel road approximately 3.1 miles to a fork in the road. Take the right fork approximately 1.4 miles to the parking area.
Viewing Tower Latitude, Longitude: 36.44899, -84.1227
Hours: Open 24 hours a day, year-round, including camping
During daylight hours of deer gun and muzzleloader seasons, all visitors outside of an enclosed vehicle or outside of camp must wear a minimum of 500 square inches of daylight fluorescent orange on the upper portion of their body and head visible front and back. A hat and vest fulfill these requirements.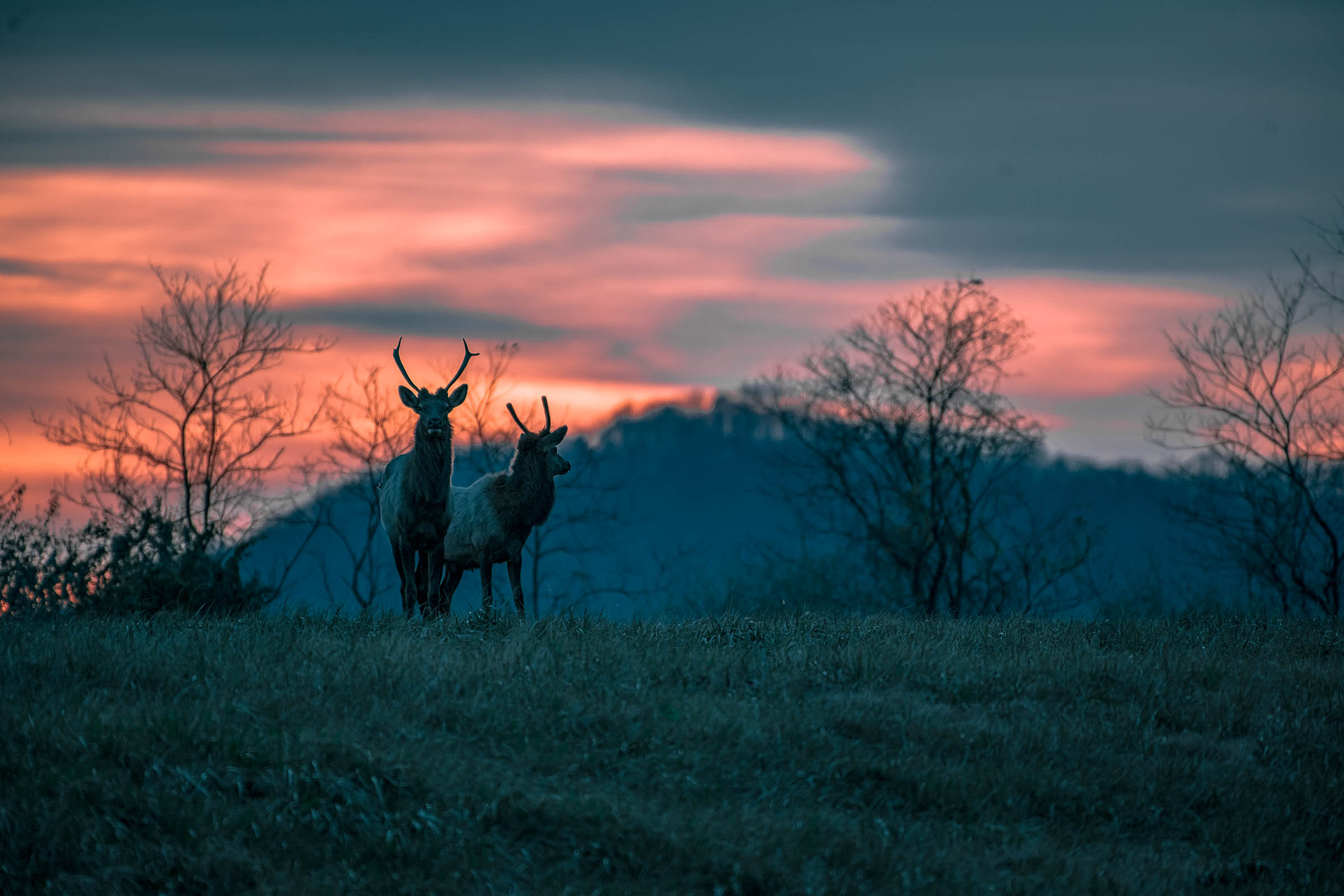 How You Can Help
Want to be a part of Hatfield Knob and wild elk reintroduction in Tennessee? The volunteer group Bugle Corps is dedicated to the maintenance of the Viewing Tower and the surrounding area. Contact us at info@tnwf.org to get involved.
Make Your gift for tennessee's wildlife and great outdoors.
Tennessee's wildlife, water, and wild places are under more pressure than any time in decades. Conservationists like you make all the difference.