It's time to clear the freezer of last year's wild turkey to make room for this upcoming season's harvest.
Sometimes preparing harvested protein can seem daunting. That's where the Federation's Field to Fork recipes and cooking videos come in. Learn how to prepare easy, delicious recipes using harvested meat, and quick tips for prepping, cooking, and storing wild game.
Dipped in sauce or served on their own, these turkey nuggets are a crowd–pleaser!
Watch as our Director of Programs, J.W. Worthen, shows our Associate Director, Multimedia, Kate Hill, his favorite way to cook wild turkey breast or
Jump to Recipe
You can never go wrong with turkey nuggets, whether you're looking for an afternoon snack or an appetizer for a party, these tender bites are perfect for every occasion. Soaking in buttermilk for three days and coated in seasoned flour, each bite of turkey is tender and plump with flavor. Dip a nugget in your favorite dipping sauce, pop it in your mouth and we guarantee you'll want more!
In this video, the turkey nuggets are cooked in a Fry Daddy electric fryer. However, you can prepare these turkey nuggets in a traditional fryer or an air fryer. You'll know they are ready when they have a golden brown crispy exterior.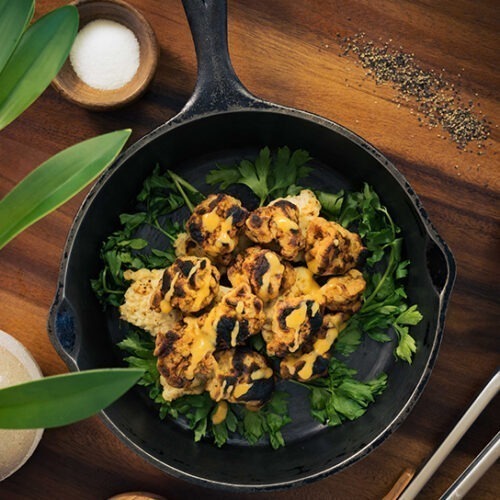 Wild Turkey Nuggets
In this recipe, we're cooking a beautiful turkey breast that was harvested by one of our own at the Federation. Whatever your preferred cooking method is, air fryer or regular fryer, these flavorful bites of turkey work well in both. Dipped in sauce or served on their own, these turkey nuggets are a great finger food addition to any gathering!
Equipment
1 Traditional Fryer or Air Fryer

1 Glass Bowl

1 Batter Bowl Optional

1 Frying Basket

1 Thermometer Optional
Ingredients
Turkey
2

Wild Turkey Breasts

Cut into bit-size pieces.

½

gal

Buttermilk

1

box

Seasoned Flour

1

gal

Canola Oil or Peanut Oil

Use for traditional fryer.

1

bottle

Favorite Dipping Sauce

Optional
Instructions
Prep Work
Let the frozen turkey naturally thaw for 1 day in the refrigerator.

Slice turkey into bite-size pieces.

Place your turkey nuggets in a glass bowl with a lid and let them marinate in buttermilk in the refrigerator for 3 days. Stir or lightly shake the bowl every day to ensure that all of the nuggets are submerged.
Time to Cook
For the Traditional Fryer: Pour about 4 inches of oil and set the fryer to 375° Fahrenheit.

Drain the buttermilk from the glass bowl.

Place around 10 turkey nuggets in the top of the batter bowl and about a cup of seasoned flour in the bottom and mix. If you do not have a batter bowl, place seasoned flour in a large bowl abd toss the nuggets in the flour mixture. Mix until nuggets are well coated.

For the Traditional Fryer: Carefully place nuggets in the oil and cook for 3 to 4 minutes until they are golden and floating. Don't let the oil rise above 410° Fahrenheit or the nuggets will burn.

For the Air Fryer: Coat the nuggets with olive oil and place them in the air fryer at 375° Fahrenheit for 5 minutes. Flip every 2 minutes.

Scoop out the nuggets and place them on a paper towel-lined bowl.

Once the whole batch is cooked, sprinkle the nuggets with a dash of salt and they are ready to go! We recommend serving them with your favorite dipping sauce, but these flavorful bites are great with or without sauce!