You've just caught the largest catfish of your fishing career, or at least that's what you'll tell your Facebook friends, now what?
Sometimes preparing harvested protein can seem daunting. That's why the Federation is creating a series of Field to Fork recipes and cooking videos. We will be showing you how to prepare easy, delicious recipes using harvested meat, as well as quick tips for prepping, cooking, and storing wild game.
Turn up the heat and season with your heart, this delicious blackened catfish recipe will elevate any dinner or dinner party!
Check out the video of Emily Buck, Director of Communications at our friends Tennessee Wildlife Resources Agency, as she blackens these beautiful catfish filets with our Associate Director of Hunting and Fishing Academy, Taylor Martin, or
Jump to Recipe
The simplicity of this blackened catfish recipe is what makes this dish a beautiful centerpiece to any meal. Smothered in an array of spices and herbs, these blackened catfish filets will fill the kitchen and your taste buds with all sorts of aromatics. An overwhelming sound of sizzling will begin as the fish, blackening seasonings and butter come together.
Cooked to crispy perfection, your dinner guests will be impressed with both your cooking and fishing skills after you serve this catfish meal. So while you're out on the water, drop another line down and relax because when you get home cooking your catfish harvest has never been quicker or easier.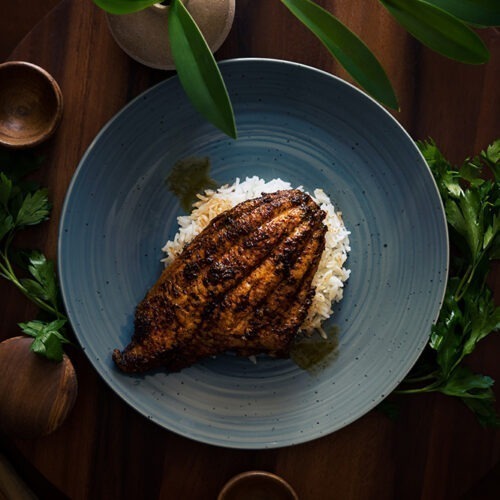 Blackened Catfish
Catfish are one of the most popular fish in Tennessee and a fried delicacy to many. However, we're spicing it up with our blackened catfish recipe. A heavy layer of your favorite seasonings coats the catfish filet providing you with the perfect combination of a crisp, flavorful crust on the outside and a tender filet on the inside. Turn up the heat and season with your heart, this delicious blackened catfish recipe will elevate any dinner or dinner party!
Ingredients
Catfish
2

Catfish Filets

1

tbsp

Butter
Blackening Seasoning
1

tsp

Cayenne Pepper

Use sparingly if you want a milder flavor.

1

tsp

Parsley

1

tsp

Paprika

1

tsp

Onion Powder

½

tsp

Oregano

½

tsp

Thyme

1

tsp

Salt

1

tsp

Pepper
Instructions
Prep Work
Mix together the cayenne pepper, parsley, paprika, onion powder, oregano, thyme, salt and pepper in a bowl to create your blackening season. 

Heat your pan to medium/high heat and place your butter in the pan to melt down and coat the surface. If the pan starts to look dry, add a little more butter to the pan.

With your mixture of seasonings, pack a heavy layer to coat the top and bottom of the catfish filet. Add more seasoning to each filet if you want more flavor.
Time to Cook
Once the pan is hot, place the filets in and cook each side for approximately 3 minutes until the spices are browned and the fish is opaque and flaky. Blackened catfish is supposed to have a darker and crispy texture so don't be afraid of a little smoke to let the fish cook to achieve this blackened look.

Once the fish is done cooking, remove it from the pan and enjoy this flavorful dish. We recommend pairing our blackened catfish with a side of mashed potatoes to cut through the heat and create a delicious, texturizing meal.