This past weekend, Tennessee Wildlife Federation's Scholastic Clay Target Program (Tennessee SCTP) held its first event of the year, the 2023 Ironman Competition.
Selling out in under four minutes, the competition is one of the most successful events in the program's 22-year history.
"It was a record-breaking weekend altogether," said Ashley Tone, Tennessee SCTP manager. "As our program continues to grow, we look forward to providing opportunities for more of our athletes to compete and it's great to see that they are eager to do so."
The shooting event which typically hosts around 180 athletes, upped its capacity to host 226 athletes who represented 40 different teams from across the state. With more athletes present, the number of targets being thrown increased to over 67,800 which is 14,000 more than last year's competition.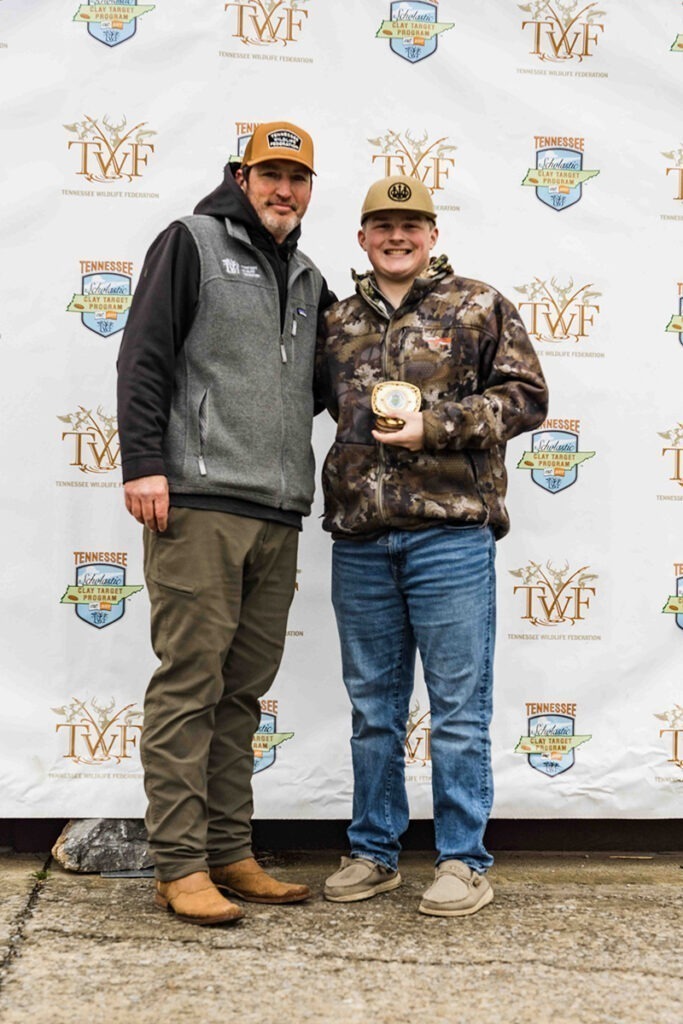 "The most attendance in history and all aspects of the event were smooth," said Kevin Brogdon, head coach for the South Gibson County Shooting Sports team. "Thanks to the staff of [Nashville Gun Club] NGC and [Tennessee] SCTP for making this possible. [We're] proud to be a part of the [Tennessee] SCTP."
Despite the cold and rainy weather conditions, many athletes were at the top of their game and shot well over the two-day competition. Let's recognize the weekend's top scorers.
2023 Ironman Awards
Ironman HOA Grand Champion: Charles Cherry, Henry Co. No Fly Zone
Team Champion: HSSC Crush
Team Runner-Up: Str8 Shooters
Team Second Runner-Up: Santa Fe Sharpshooters
Collegiate Champion: Riley Oman, Southern Shooting Sports
Collegiate Runner-Up: Nicholas Ewton, Str8 Shooters
Collegiate Second Runner-Up: Will Gardner, William Blount Shooting Team
Varsity Lady Champion: Ashley Sellers, William Blount Shooting Team
Varsity Lady Runner-Up: Gabby Worthen, Dickson Clay Commanders
Varsity Lady Second Runner-Up: Morgan Hilliard, McKenzie Shooting Sports
Varsity Men Champion: Jacob Sullivan, St8 Shooters
Varsity Men Runner-Up: Luke Johnson, Middle Tennessee Christian School
Varsity Men Second Runner-Up: Clay Mitchell, Giles Co. Clay Dusters
Intermediate Lady Champion: Taylor Hilliard, McKenzie Shooting Sports
Intermediate Lady Runner-Up: Abby Tower, Cumber Co. Youth Shooting Sports
Intermediate Lady Second Runner-Up: Isabella Carr, Warriors
Intermediate Men Champion: Cody Stanford, Clarksville Christian School
Intermediate Men Runner-Up: Ian Fife, St8 Shooters
Intermediate Men Second Runner-Up: Will McDaniel, Henry Co. No Fly Zone
Rookie Champion: Channing Garrett, Middle Tennessee Christian School
Rookie Runner-Up: Peyton Hilliard, McKenzie Shooting Sports
Rookie Second Runner-Up: Samuel Holmes, Cumberland Co. Youth Shooting Sports