Habitat conservation and restoration is a top priority for the Federation, and director of conservation Chris Roberts is excited to have multiple projects in the pipeline. By conserving lands and waters, Tennessee Wildlife Federation is creating vibrant, high quality wildlife ecosystems and, in certain cases, improving access for sportsmen and women for generations to come.
Stream and wetland habitat restoration projects are the primary focus of the program. Most of these projects are funded by fees collected when developments impact watersheds. These funds must be used to restore watersheds in the same region where impacts occurred. Typically, for every acre of impacted wetland, two must be restored.
Tennessee Wildlife Federation is currently managing eight aquatic habitat restoration projects that will restore or improve more than 700 acres of wildlife habitat. Two of those are beginning active construction and are located in Hardin and Putnam counties.
In Hardin County, Chris is working with Mark Mascolo, a landowner who has supported other work of the Federation by hosting dove hunts for the Youth Hunting & Fishing Program. This project will restore 50 acres of low-productivity agriculture land to a vibrant wetland along the banks of the Tennessee River. It will also protect an additional 190 acres of property from future development, which is made possible by a USDA grant.
Restoration Pays Great Rewards for Decades to Come
Restoration of the wetland will begin in fall 2017 and will include land grading that will allow water to saturate the soils and become a healthy wetland rather than quickly draining into the river. The project also involves planting nearly 20,000 tree saplings of various species, similar to the mix of species already occupying the neighboring property.
The goal of the plantings is to "accelerate what the habitat would look like three or four generations from now. We are jumping over many of the colonizing plants to get to a more mature ecosystem," said Chris.
The result will be a refuge for wildlife—particularly amphibians and birds—and a variety of flora.
In Putnam County, developments have negatively impacted the Cane Creek Watershed, an exemplary waterway that requires very specific site selection for mitigation.
"There have been more negative impacts to aquatic habitats in this area than anywhere else in the state in recent months due to a recent increase in development," said Chris. That same development threatening habitats also creates challenges for finding meaningful restoration projects.
After close work in the community, Chris located a property where wetland enhancements can be made. The project will span multiple pieces of land but create one cohesive wildlife habitat.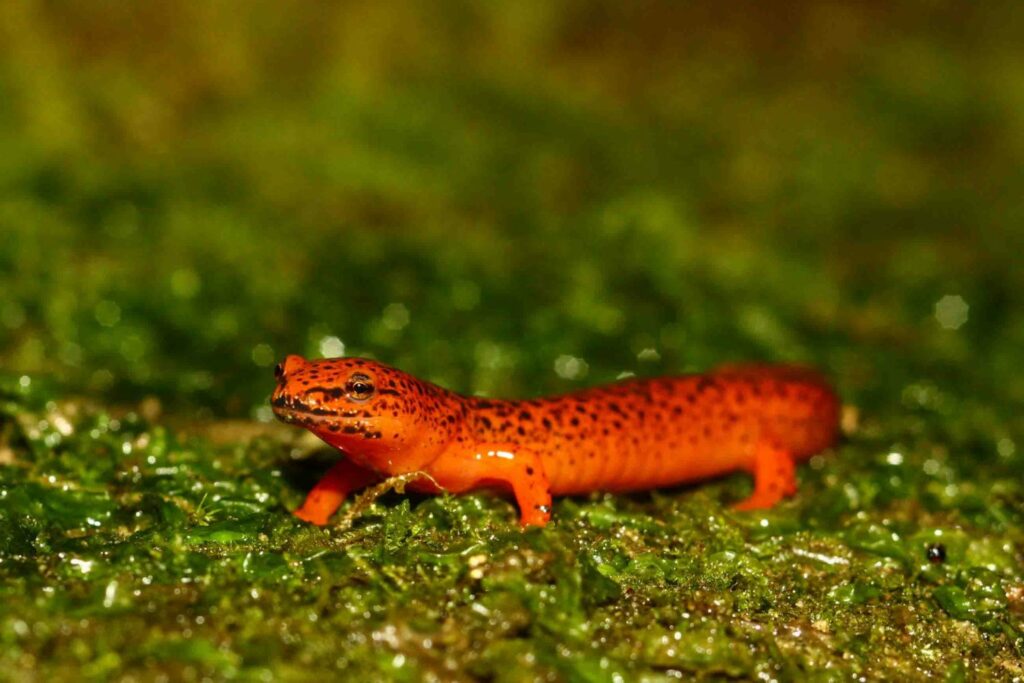 Current wetland restoration will create a refuge for wildlife such as this Northern Red Salamander photographed by Michael Anderson. Tennessee has more than 50 salamander species, making it the salamander capitol of the world.
Long after construction ends on habitat conservation projects, Chris' job at these sites continues. Restored habitats are monitored typically for at least five years to ensure viability and success. This is in addition to monitoring development trends in Tennessee, surveying impacted lands, identifying appropriate restoration projects and willing landowner partnerships, and managing ongoing projects.
While smaller projects are both necessary and gratifying, Chris said, "We're interested in larger scale projects that will have meaningful impact for wildlife and outdoor recreation. These projects often present large challenges but pay great rewards for decades to come."


Featured photo by David Sloas