Each year Tennessee Wildlife Federation takes pride in recognizing athletes from its Tennessee Scholastic Clay Target Program (SCTP) who achieve high marks both on and off the range.
This year 108 athletes were named to the 2023 Academic All-State Team and were honored on Saturday, September 16th with a banquet and fun Shoot at Maury County Gun Club.
Despite the rainy weather, everyone's spirits were high as the event brought the 2022-2023 season to a close. The Academic All-State Banquet and Fun Shoot is an annual tradition for the Tennessee SCTP community that serves as both a conclusion to the previous season and a celebration, highlighting all of the dedicated student-athletes accomplishments.
"It feels really great to be able to work hard and have something to show for it. [This accomplishment] is something that I can use in the future on college and job [applications]."

Ellie Huddleston, Zion Christian Academy Clay Target Team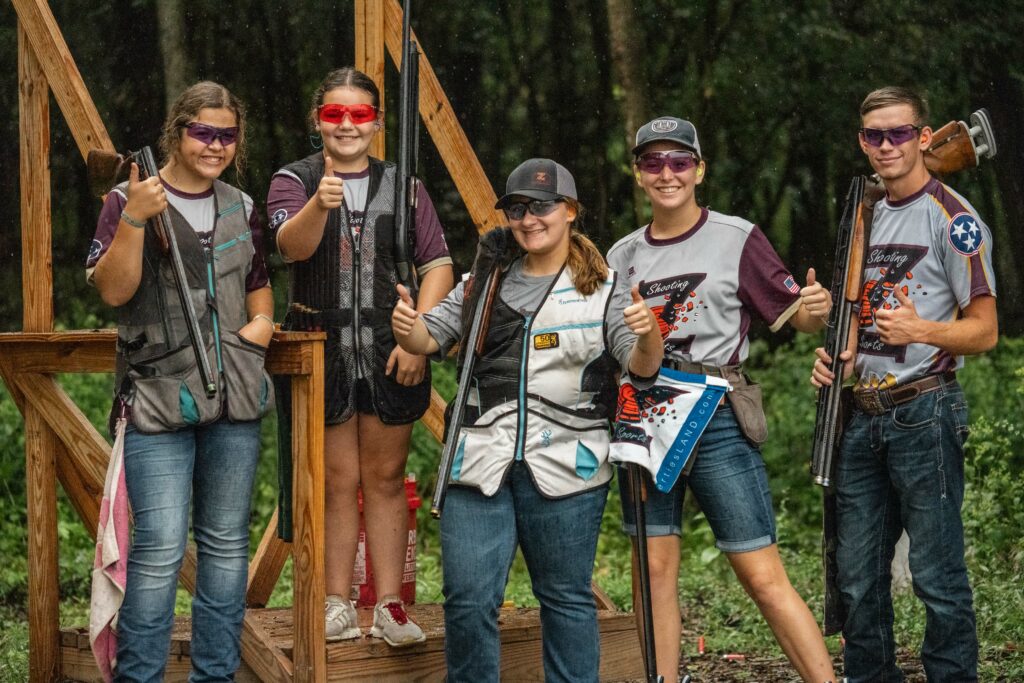 Individuals like Ellie (pictured second to the right) distinguished themselves from their peers by demonstrating outstanding sportsmanship, character, and athletic and academic ability. To see the 2023 Academic All-State roster, click here
Qualifications
To qualify for the 2023 Academic All-State Team, these hardworking young athletes had to meet certain minimum standards, including:
Participation in the 2023 Tennessee SCTP Regional and State Championships and/or the Tennessee and National Junior Olympics.
Serving as ambassadors for Tennessee SCTP, showcasing exemplary behavior and sportsmanship.
Maintaining a minimum 92 percent annual grade average for the current school year.
Achieving a minimum average score from regional and state competitions in at least one discipline.
To then be considered for this recognition, coaches were required to submit a comprehensive nomination package for each athlete, including a completed athlete application form, the athlete's academic records, a team Academic All-State report, and a letter of recommendation from the head coach. Click here to read the complete list of requirements and details.
"These all-around athletes represent the spirit of the program," said J.W. Worthen, director of programs, Tennessee Wildlife Federation. "We're always encouraging them to embrace their competitive spirit and give their best. The Academic All-State Banquet and Fun Shoot is our way of rewarding their commitment."
Tennessee Scholastic Clay Target Program provides youth ages 9 through the 12th grade and college an opportunity to participate in the three main shotgun shooting disciplines—trap, skeet, and sporting clays—with peers from across the state. To learn more visit tnsctp.org.