Tennessee is lined with countless streams and rivers that run into more than 1,000 lakes. The square mileage of water accounts for a little more than two percent of the state's total surface area. And where there is water, there are fish. Tennessee is home to an estimated 280 native fish species.
The choices are endless, so we decided to narrow it down to 20.
"Tennessee is consistently at or near the top among all states in fishing license sales. This just shows how much good fishing is here. I'm blessed to be able to fish all over the U.S., and I know there's no better fishing than right here in Tennessee."

Chris Nischan, Head Guide and Owner of Rod and Gun Guide Services and a Board Member of Tennessee Wildlife Federation
Chris helped us put together a list of just a few of the best places—organized by region and in no particular order—to cast a line in Tennessee along with a little information about each. The choices are endless, so we decided to narrow it down to Chris' top 20.
Northwest and West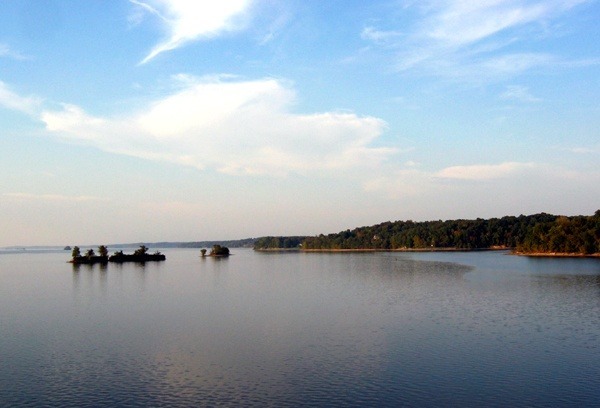 Kentucky Lake is located along the Kentucky and Tennessee border. You'll find largemouth and smallmouth bass, crappie, bluegill, catfish, and sauger in these waters. Due to the creation of the Kentucky Dam, Kentucky Lake is the largest manmade lake in the eastern United States. It sits at 184 miles wide with miles of shoreline surrounding it. Plus, if the fish aren't biting, reel in the lines and you can power the boat all the way down to the Gulf of Mexico. The lake has a lot to offer to its visitors so it is no surprise that Kentucky Lake is named one of the top 10 lakes in the country.


Gibson County Lake is around 500 acres, significantly smaller than Kentucky Lake, but has just about as much to offer. Reports of 11-pound bass being pulled were recorded at the lake. There is more than just bass in the waters of Gibson; anglers can catch crappie, redear sunfish, blue and channel catfish, and bluegill.


In spring, the waters of Reelfoot Lake are shallow which makes for some good fishing, especially for crappie and bluegill. It's also home to largemouth bass, catfish, and carp.


Lake Barkley is the slighter smaller, 134 miles-wide, sister reservoir of Kentucky Lake, but is an angler's dream. Barkley is home to a flourishing population of crappie, largemouth bass, catfish, sauger, and bluegill. In the spring, the crappie move to shallower waters to spawn, making them easy targets for anglers.


Pickwick Lake is located along the Tennessee and Alabama border. This lake is excellent for both largemouth and smallmouth bass and is famous for stripers, crappie, and catfish.
Middle Tennessee and North Central
There is no better place to spend the cool summer evening than on the deep, clear waters of Center Hill Lake. Anglers can expect to receive plenty of action from largemouth, smallmouth, and spotted bass. Most night fishing takes place in the lower two-thirds of Center Hill.


Percy Priest Lake is another fishing hotspot during the summer months. It just so happens that Percy Priest is located right in the heart of Tennessee and is a popular destination for a variety of recreation. Percy Priest hosts hundreds of fishing tournaments because it consistently produces great numbers and sizes of fish. It is home to just about all of Tennessee's native fish.


Dale Hollow Reservoir is also located on the Kentucky and Tennessee border and is an excellent fishing location during the fall months. Its clear waters hold a vast variety of fish, including walleye, largemouth, and smallmouth bass. Dale Hollow is currently the world record holder for the largest smallmouth bass.


Old Hickory Lake is located just 30 minutes north of Nashville and is an exceptional fishing location for the spring. The 474 square miles of water and shoreline combined allows room for plenty of fishing. There is an abundance of catfish, crappie, and bass, and the lake boasts one state and two national record catches. When you want to take a break from fishing, head over to Old Hickory Lake's famous beach-like shoreline for a nice lounge in the sun.


Cordell Hull Lake is located on the upper Cumberland river. The most common catches of Cordell's tributaries are bluegill, catfish, and bass. Below the dam, an abundance of bluegill, catfish, and rough can be caught. Cordell has bountiful fish to offer year-round although, during the winter, saugers abound in this lake.
East Tennessee
The best thing about fishing in Southeast Tennessee is the diversity of fish environment, from streambeds, tributaries, and reservoirs to the tailwaters of the Tennessee River.
Chickamauga Reservoir is situated along the Tennessee River and takes its name from a tribe of Native Americans that broke away from the Cherokee Nation in the 1700s. Its waters are home to a flourishing population of fish, including largemouth and smallmouth bass, crappie, bluegill, catfish, and striped bass. It's fishing forte? Largemouth bass. It wasn't a surprise when the state record for the largemouth bass was pulled in the spring of 2015. It weighed in at 15 pounds, 3 ounces.


Fort Loudon Lake is a reservoir located in East Tennessee with an expanse of about 20 square miles of water surface and 379 square miles of shoreline. While Fort Loudon Lake is known for its bass fishing, especially black bass, anglers are also likely to catch some crappie, both white and black. It is also a prime location to catch some sizable catfish. Bald eagles are also known to cruise the waters of Fort Loudon.


Cherokee Lake produces striper, black bass, sauger, walleye, crappie, and sunfish.


Melton Hill Reservoir is located on the Clinch River in East Tennessee. The reservoir predominantly holds striped and largemouth bass, white crappie, skipjack herring, sauger, and stripers. Two popular fishing spots in the reservoir—the warm water discharge from the Bull Run Steam Plant and the tailwaters below the dam—are known for attracting sizable populations of game fish species. In the winter, these waters attract bass and crappie to spawn.


Hiwassee River is an excellent fly fishing destination. The constant water temperature allows for year-round trout fishing and fishermen can also expect to hook some stripers.


Woods Reservoir is a unique destination with quiet waters completely surrounded by Arnold Air Force Base. The Tennessee Wildlife Resources Agency manages the reservoir and has rated it one of the top three crappie lakes in the state based on per-acre production. Along with crappie, the 4,000 acres of surface water houses populations of largemouth and smallmouth bass, muskie, walleye, and catfish. The best location for largemouth bass is in the upper half of the lake.


Calderwood Reservoir is a small, 514-acre reservoir that has a lot to offer for anglers. The primary game fish are trout, largemouth and smallmouth bass, black crappie, and rock bass—the most abundant in the Calderwood waters. As winter begins to hit Tennessee, virtually no one visits the little lake but on Calderwood, the trout fishing heats up as the temperatures drop.


South Holston Lake is home to fish species including black bass, bluegill, crappie, walleye, rainbow trout, and catfish. The South Holston River, which empties into the lake six miles southwest, is home to an annual spring migration of white bass. According to locals, "When the serviceberry and dogwood bloom, the white bass run."


Watauga Reservoir is a 6,430-acre TVA reservoir located in northeast Tennessee near the North Carolina border. The Cherokee National Forest adjoins much of the reservoir and the Appalachian Trail runs along its northwestern edge. The reservoir was formed by the impounding of the Watauga River in 1948 and is popular for boating and other types of recreation. There are approximately 106 miles of shoreline and water levels can fluctuate as much as 44 feet between the summer full pool and the winter draw-down period. An abundance of public land makes Watauga an excellent reservoir for bank fishing and camping. Smallmouth, walleye, and trout are the most popular game fish for Watauga anglers. Gizzard shad, alewife, bluegill, and assorted minnows make up the forage base.
General
Tennessee and Cumberland River Systems
Below the dams, the oxygenated waters contain striper, crappie, sauger, trophy catfish, and largemouth and smallmouth bass. The Cumberland River is rarely viewed as a fishing hot spot; however, it offers endless opportunities for angling. It is home to healthy populations of catfish that sometimes weigh in excess of 30 pounds. The lower ends of major creeks that feed the Cumberland also offer good sauger-fishing prospects. Whether you are fishing with a view of downtown Nashville or Knoxville, the Cumberland and Tennessee River Systems offer healthy populations of game fish.
Learn More
Featured photo by Jeremi Hough