Tennessee Scholastic Clay Target Program athletes enjoy a fun week of competition at the State Championship.
This June, the Tennessee Scholastic Clay Target Program 2021 State Championships drew almost 2,400 athletes to Nashville. Athletes competed in three main disciplines including trap, skeet, sporting clays, as well as doubles trap, doubles skeet, and extended yard line trap.
This was the University School of Jackson's (USJ) second time attending the state championships.
Just two years ago, there was no USJ team.
That all changed with Angie Box. An avid outdoorswoman, Angie wanted to help create a new shooting sports team at USJ so kids could get engaged in the outdoors.
After speaking with a few parents and students about the possibility of starting a team and hearing from other Tennessee SCTP athletes, such as Emily Ferguson, Angie was ready to make this team a reality.
"The Federation played a large part in guiding us and letting us know how to do this and what's to come."

Angie Box, Avid Outdoorswoman
News of a USJ shooting sports team spread quickly and before long attracted the interest of many parents and students.
"It all started with Ms. Angie Box, she was the main one behind this that really got this approved by the school. Then interest started flooding in," said USJ head coach Drew Moore.
Coaches, parents, and volunteers all came together to make it work through organizing, recruiting, fundraising, and more. In 2020, USJ had its first season as a team with more than 30 athletes competing—an incredibly strong start for a new team.
Giving Back to the Community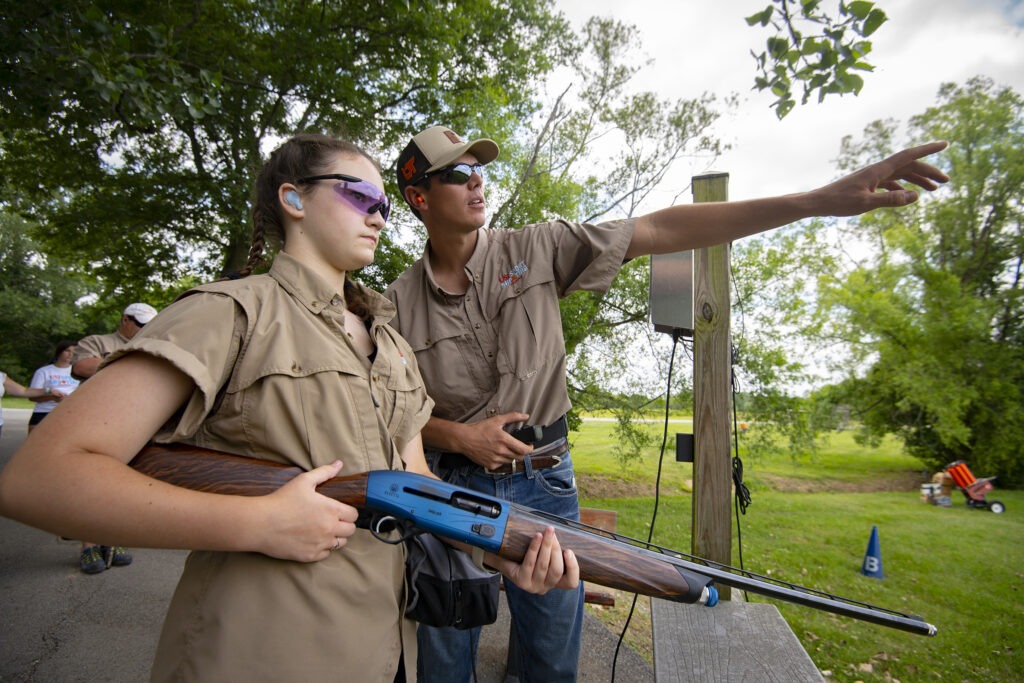 "Everyone really came together as a USJ family," said Drew.
Drew has been around hunting his whole life and was looking for a way to give back to the school and his community.
"I'm always teaching safety first. So when this opportunity arose, I knew this was my calling to teach kids safety, sportsmanship, and help get them outdoors."

Drew Moore, Head Coach for the USJ Shooting Sports Team
Being able to help athletes succeed is something Drew looks forward to every competition.
"To see these kids smile is priceless. I played sports my whole life. You name it, I've done it. To see the way these kids smile at this sport is way beyond any other."
USJ ended their second season on a high note, placing 14th in the intermediate advanced division for trap, at this year's state championships.
"We're always happy to help those who want to get involved in the Federation's programs," said J.W. Worthen, director of programs for the Federation. "USJ's parents and school showed leadership and partnered together—they are a model for how to give kids a strong start on a strong team."
If you're interested in starting or joining a team visit tnwf.org/explore.