Thank you to everyone who entered Tennessee Wildlife Federation's 2021 calendar contest and to the thousands who cast votes.
Tennessee's diverse wildlife and beautiful landscapes were showcased in more than 3,400 submitted images.
A panel of judges selected the cover image, monthly feature photographs, and honorable mention images for the calendar. The Federation would like to thank Academy Sports + Outdoors and Patagonia for sponsoring prizes.
Only 50 photographs were selected to compete for this year's People's Choice Award. Those images were open for public voting in September on our website. More than 17,000 votes were cast!
Tennessee Wildlife Federation is excited to announce our People's Choice Award winner:
Sunset After Rainfall by Kelly Zehnder of Roselle, Illinois
Kelly Zehnder, of Roselle, Illinois, is a junior in college pursuing a degree in biology and environmental science at Indiana University- Purdue University Indianapolis. "I aspire to be a wildlife biologist after I graduate." She enjoys spending time in nature, hiking, and traveling. Within the last couple of years, her love for photography has grown tremendously. "I hope that my picture above the mountains encourages others to get out into nature and see the true beauty of the world." See more of Kelly's work on Instagram at @wildlifebykelly.
Kelly will receive a Patagonia duffel bag; a Tennessee Wildlife Federation tumbler; a $50 gift card from Academy Sports + Outdoors; and a 2021 calendar.
People's Choice voters who submitted their information were entered to win a Federation swag package. Congratulations to this year's lucky winner, Chloe Capuder.
Judges also selected the top three landscape images of Tennessee's picturesque trails, waterfalls, mountains and more.
Want to learn about Tennessee wildlife every day in 2021? Make your $50 tax deductible donation to support conservation in Tennessee and receive your calendar!
Calendars will begin mailing in late November.
Congratulations to all our photo contest winners!
Landscape Photo Winners
1st Place Landscape Winner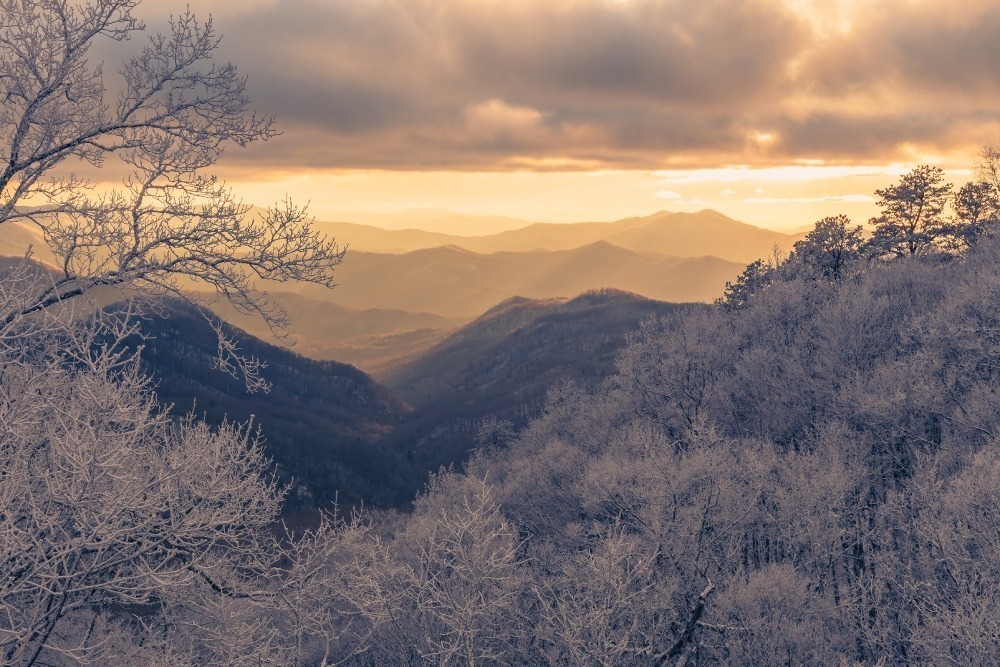 Frosty by Brandon Johnson
Brandon Johnson is a resident of Tellico Plains and specializes in landscape and wedding photography. "It's been an incredible journey these past three years in photography. I've been truly blessed to capture some amazing images." To see more of Brandon's work, visit his pages on Facebook and Instagram at @strikingartphotography and @strikingartlandscapes.
Brandon will receive a Patagonia Duffel Bag; a $50 gift card; a custom-designed, handbuilt, and fire-branded Tennessee Wildlife Federation bluebird house; and a 2021 wildlife calendar.
2nd Place Landscape Winner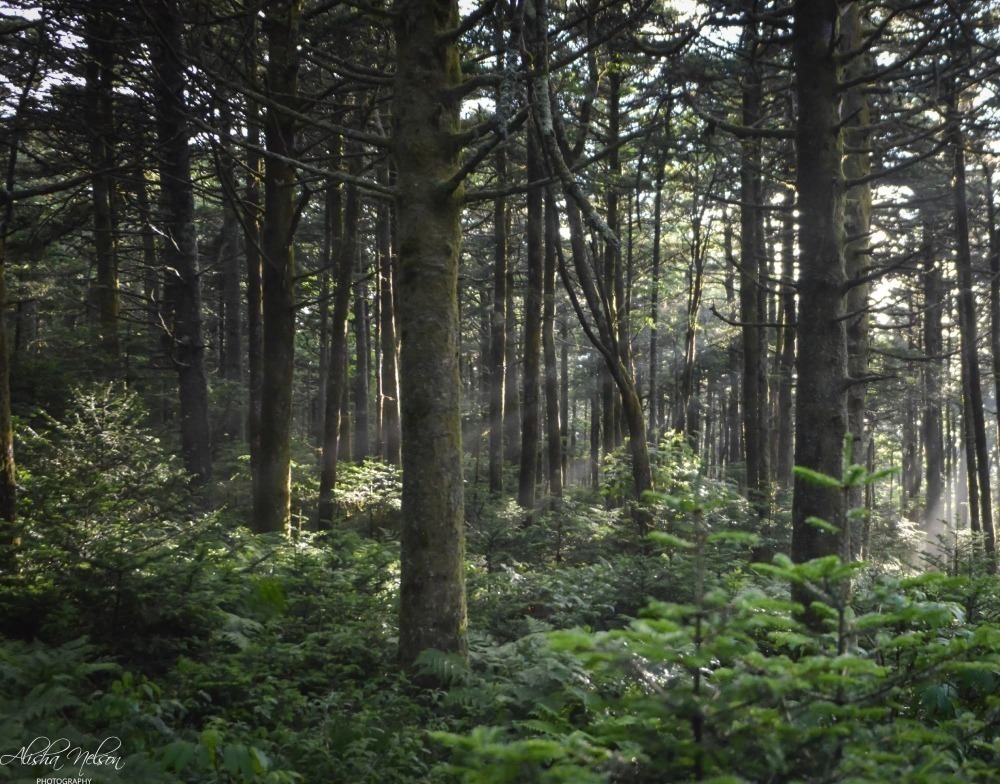 Sunset Through the Pines by Alisha Upton
Alisha Upton is a resident of Tellico Plains and a science educator by trade. She loves connecting with nature through photography, hiking, and camping and has even started her own nature school. "My goal is to provide experiences for youth to learn about the great outdoors through discovery while fostering a sense of stewardship." Learn more about Alisha's nature school at whatsupinscience20.com/nature-school.
Alisha will receive a custom-designed, handbuilt, and fire-branded Tennessee Wildlife Federation bluebird house; a Tennessee Wildlife Federation tumbler; and a 2021 wildlife calendar.
3rd Place Landscape Winner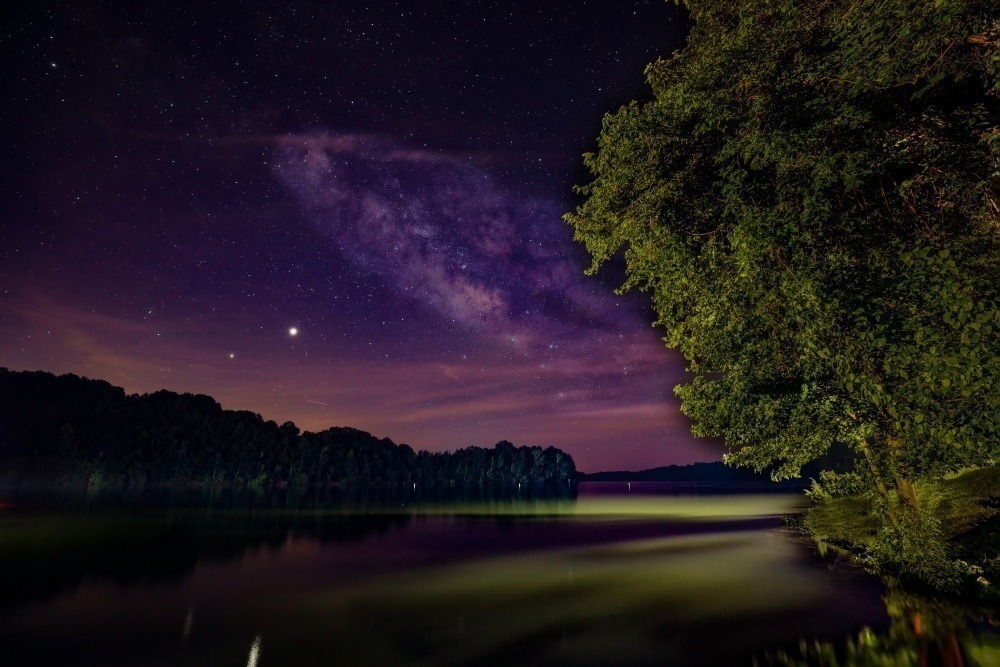 Milky Way over Tim's Ford Lake by Jamie Gilliam
Jamie Gilliam, of Winchester, loves to capture images of the Volunteer State. His work has been featured by Sports Illustrated, Billboard, The New York Times, ESPN, and Southern Living, among other publications. To see more of his work, visit bandboxcreative.com or find BandBoxCreative on Facebook and Instagram.
Jamie will receive a custom-designed, handbuilt, and fire-branded Tennessee Wildlife Federation bluebird house; and a 2021 wildlife calendar.
Calendar Cover Photo Winner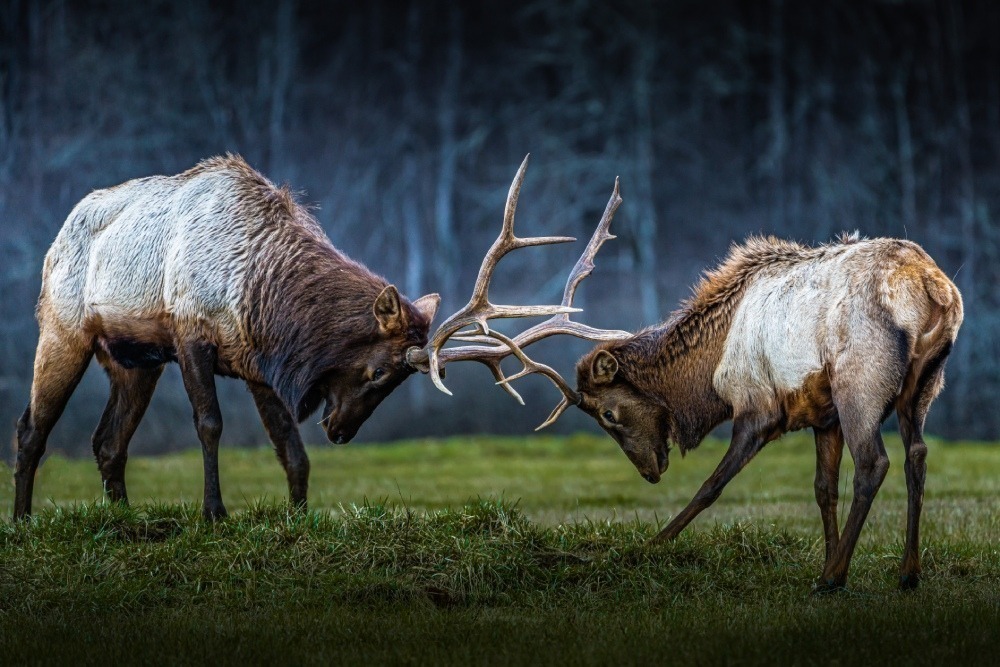 Richard Young, of Madison, started photography in the 1970s, but he only recently began using photography as a form of art expression. "My hope is to convey the beauty and excitement that I see in nature and the wild." View more of his work at 1ricophotography.picfair.com and on Instagram at @serduvelo.
Richard will receive a $250 Academy Sports + Outdoors gift card; custom Tennessee Wildlife Federation apparel; and a 2021 calendar.
Monthly Feature Winners
Matt Carey, Ring-Neck Row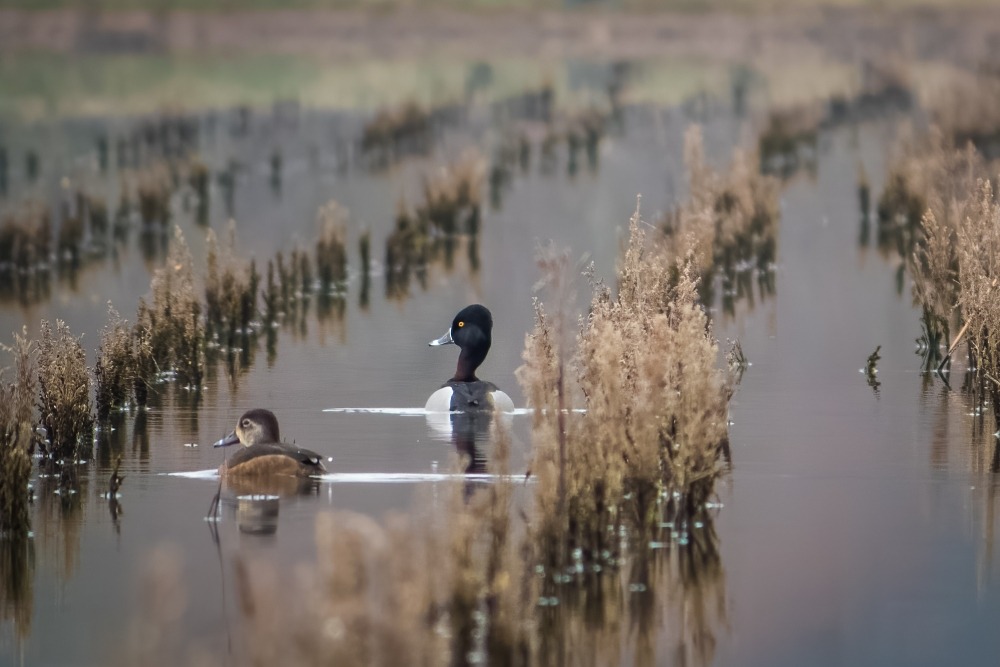 Matt Carey is a wildlife outdoor lifestyle photographer based in Nashville. His love for photography was born from a desire to continue to "shoot" even when it's not hunting season. When he's not photographing wildlife, Matt captures the lifestyle of outdoorsmen and women in hopes of inspiring those who have never tried it. Find more of Matt's work on Instagram via @of_the_field.
Denise Neuendorf, Crane Flight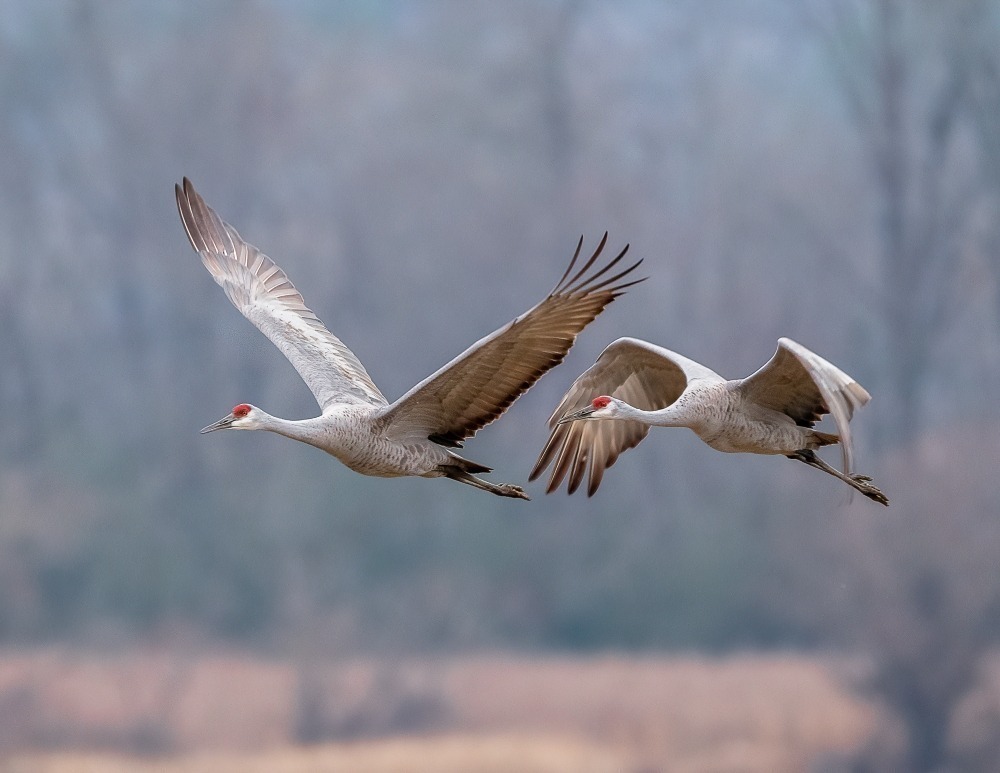 Denise Neuendorf, a former teacher and resident of Cleveland, found her passion for photography while enjoying the outdoors with her family. She enjoys showcasing the natural beauty of our world, whether it be a tiny bird or a sweeping vista so that "others may see delight in the gifts we've been given." See more of her work at flickr.com/photos/denisenphotography.
Bryce Gibson, Longear Sunfish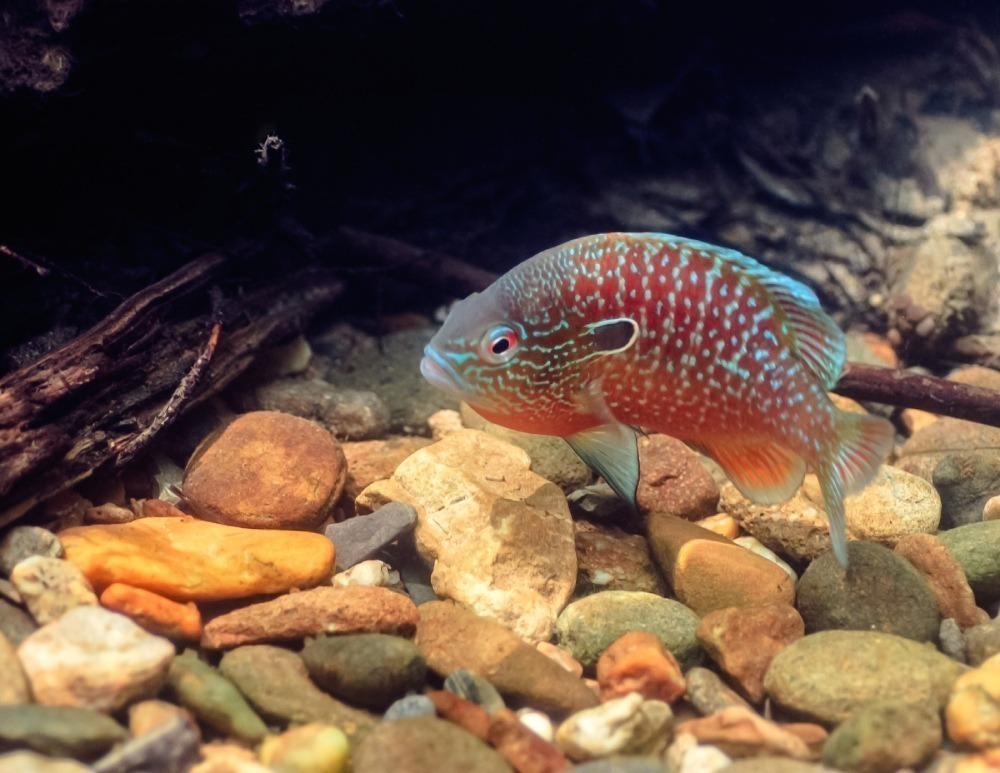 Life as an underwater photographer for Bryce Gibson, of Knoxville, began during the days of film in 1986. Over the years, his subject matter transformed to mostly native freshwater fish. While snorkeling or diving in East Tennessee streams, he typically shoots non-game species but is always on the lookout for anything eye-catching. See more of Bryce's work on Instagram at @brycegibsonuwp.
Braam Oberholster, Lift Off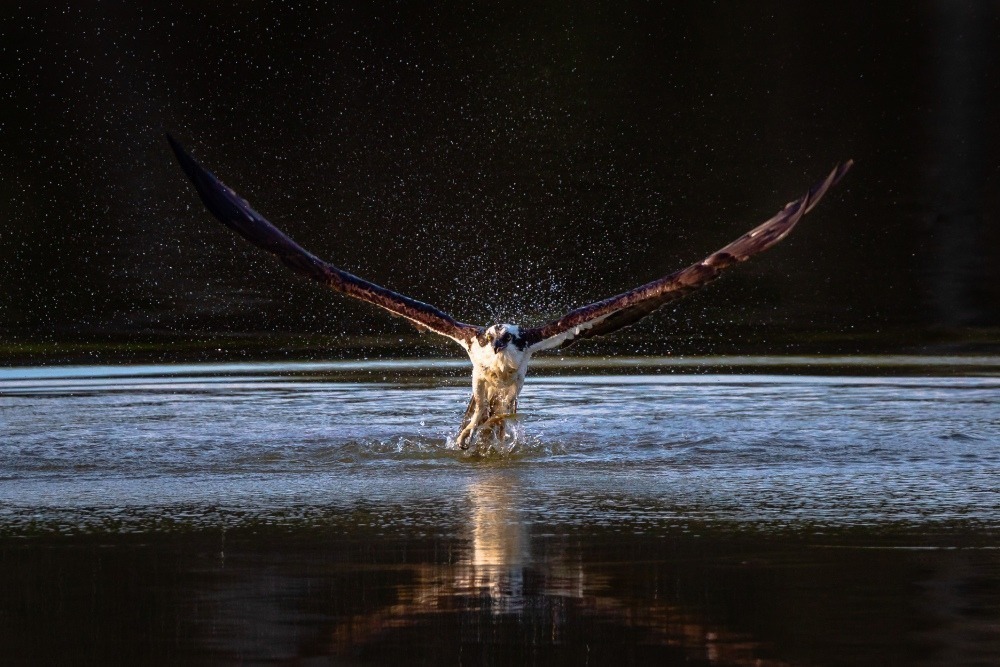 Braam Oberholster is a nature and wildlife photographer based in Ooltewah. His interest and skill in capturing nature through photography has evolved over 40 years, starting with bird life in South Africa as a young person. Braam is active in several Tennessee-based photographic clubs and interest groups. See more of Braam's work at momentsofprovidence.com or on Facebook at @MomentsOfProvidence.
Toby Cantrell, Mirror, Mirror on the Frog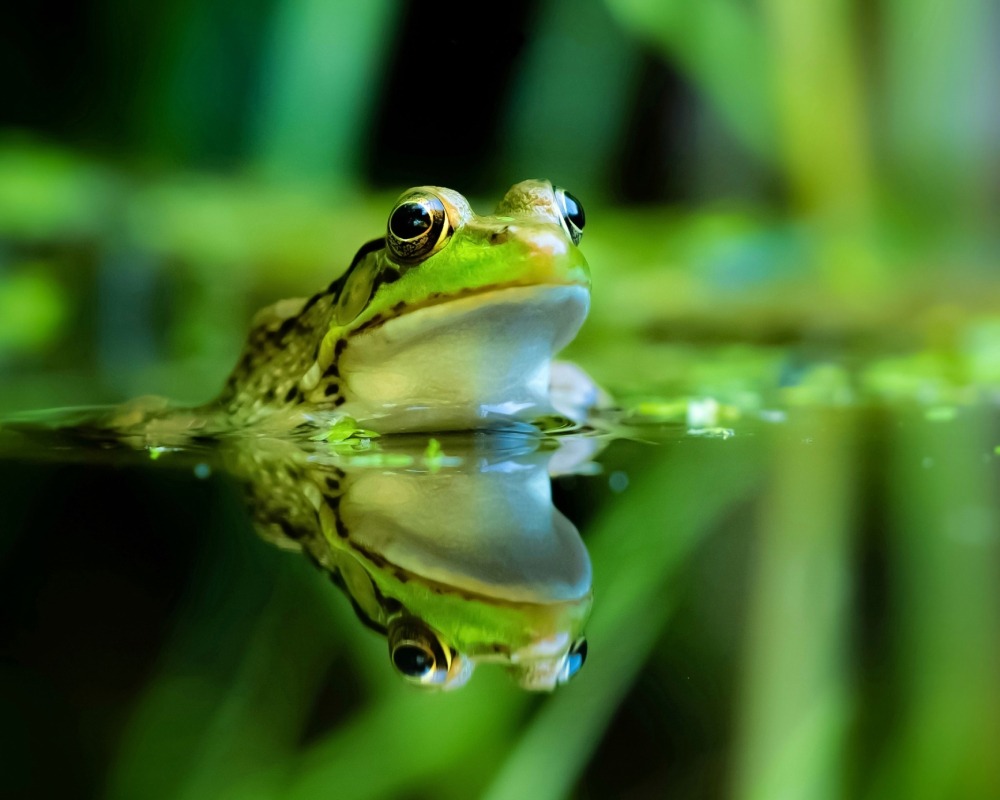 Toby Cantrell resides in White House and has enjoyed nature and wildlife as far back as he can remember. When Toby was 10 years old, his mother bought him a Kodak disposable camera. From that point on, he was hooked on photography. Follow Toby on Instagram at @cantrellusphotography to see more of his work.
Brian Anderson, Spring Bluebird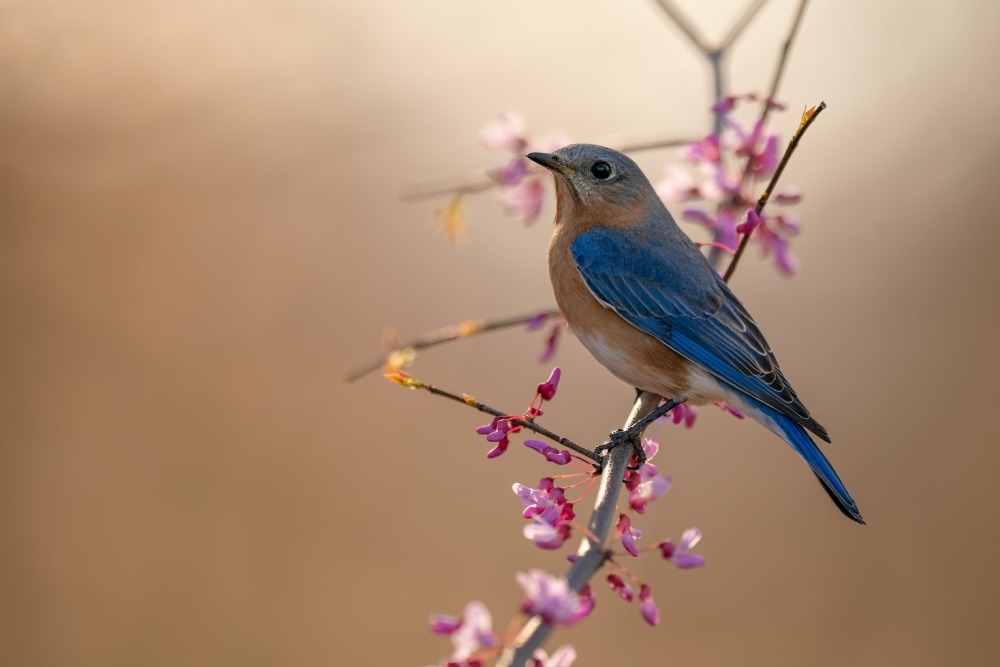 Brian Anderson, of Kingsport, is a nature and wildlife photographer based in the Blue Ridge Mountains of East Tennessee. His passion for photography is directly related to his adventurous personality and outdoor hobbies. He believes that by capturing the beauty of the outdoors through his lens, he can inspire others with a shared sense of wonderment for the outdoors.
Joy Adams, Raccoon Nursery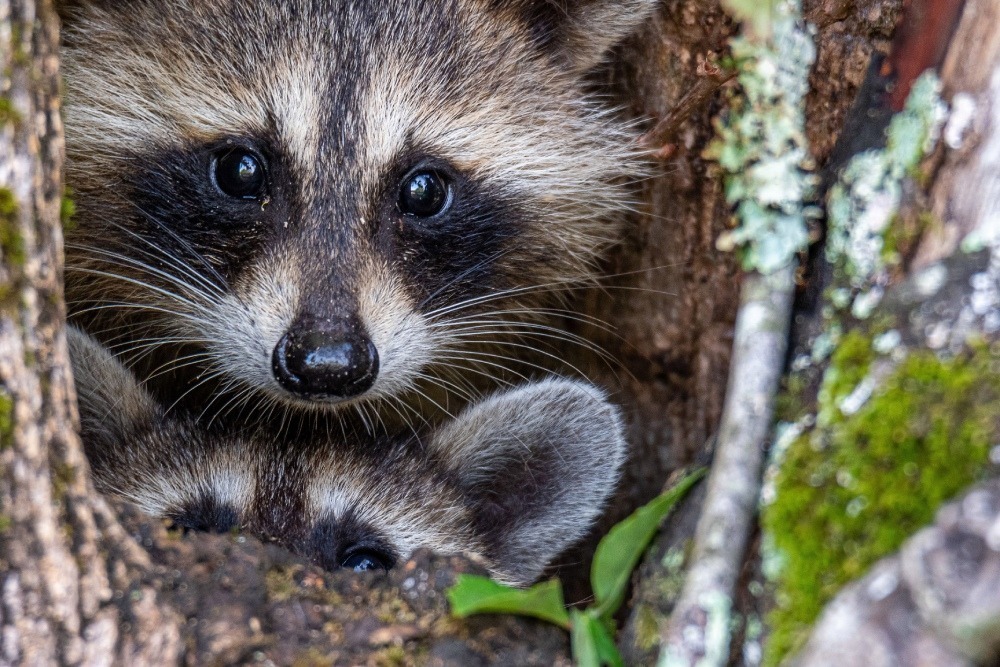 Joy Adams resides in Ooltewah with her husband Mike and took up photography two years ago. "I love taking pictures of anything and everything, but wildlife and birds are my favorite subjects! I truly believe that this is my gift from God. I love sharing His beauty through my lens.
Karen Fox, Hoverfly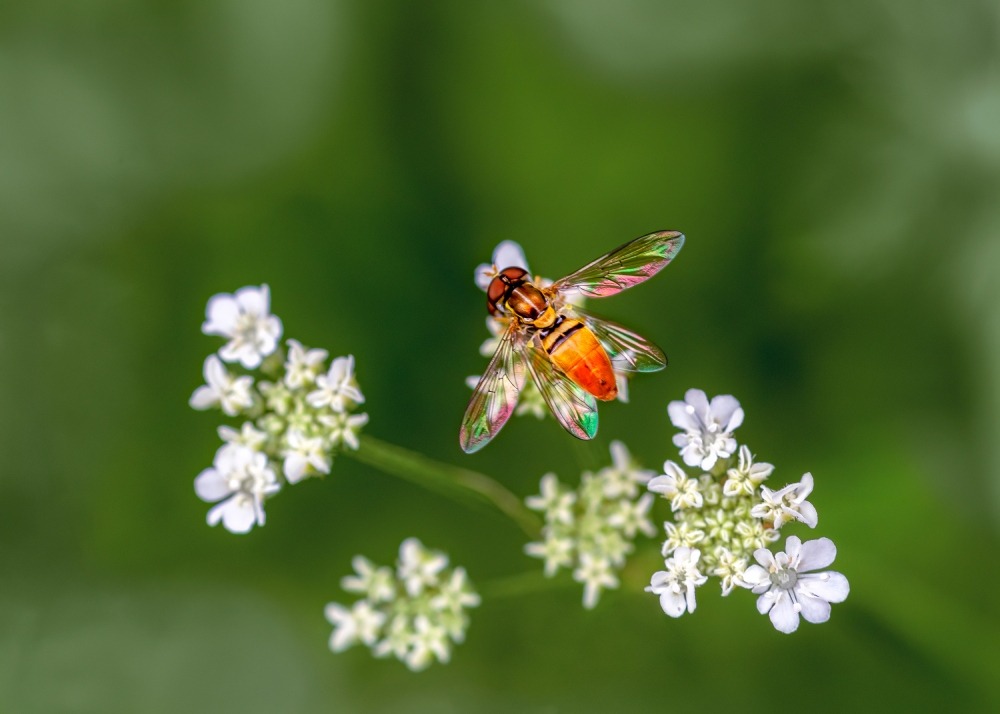 Karen resides in Lyles with her husband, children, and a variety of pets and farm animals. She has been interested in photography since receiving her first camera in the mid-70s. She prefers to shoot nature and landscape with a fine art perspective. You can view more of her work at karenfoxphotography.com, on Facebook @meemsFX, or on Instagram at @karenfoxphoto.
Timothy Loyd, Down the Hatch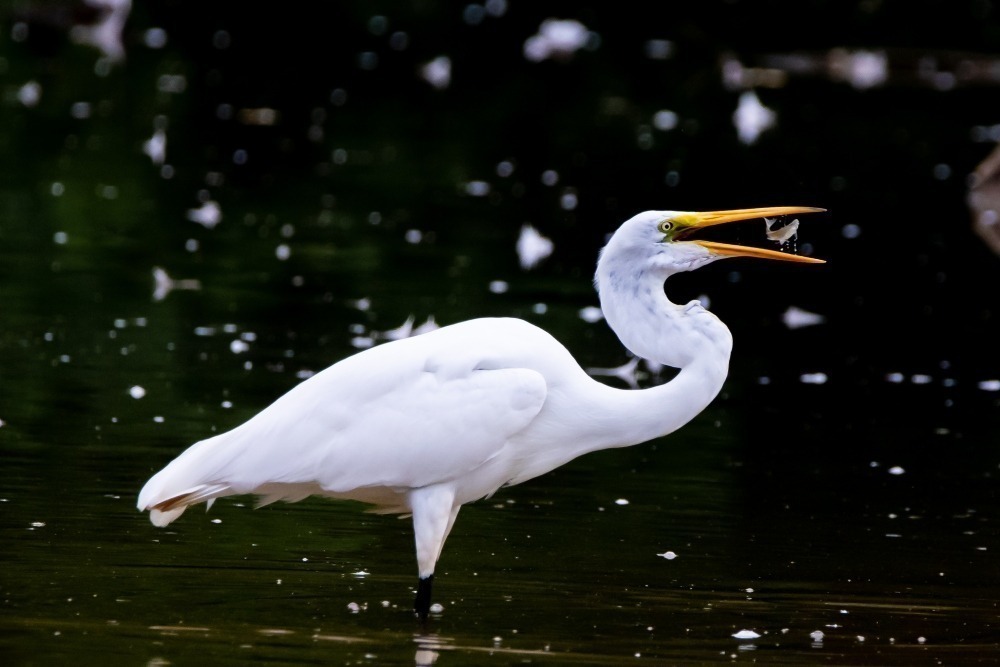 Timothy is a resident of Hendersonville. "I recently started walking and took an interest in photography. I take pictures of birds and other wildlife I encounter and share the pictures on my Instagram." See more of Timothy's work on Instagram at @thefeatherchannel.
Chris Cannon, Screech-Owl Overlook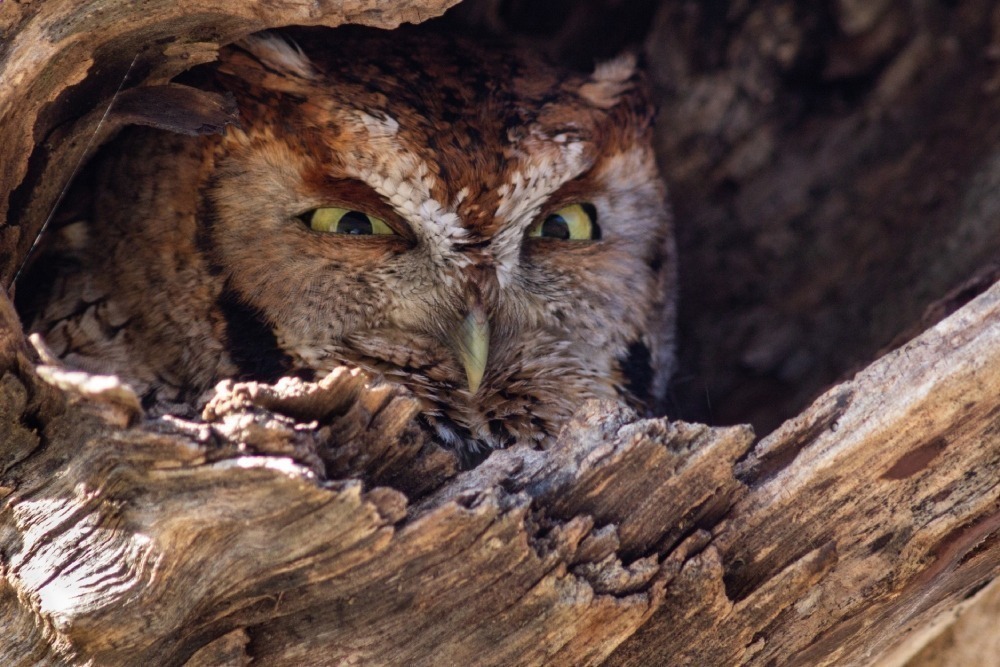 Chris Cannon is an Oak Ridge native who was raised in the foothills of the Smoky Mountains in LaFollette. Chris' love for the Great Smoky Mountains National Park grew into a passion for wildlife, nature, and macro photography. He shares his hobby and love for the outdoors on Facebook and Instagram via @christophercannonphotography.
Denise Hilley, The Kiss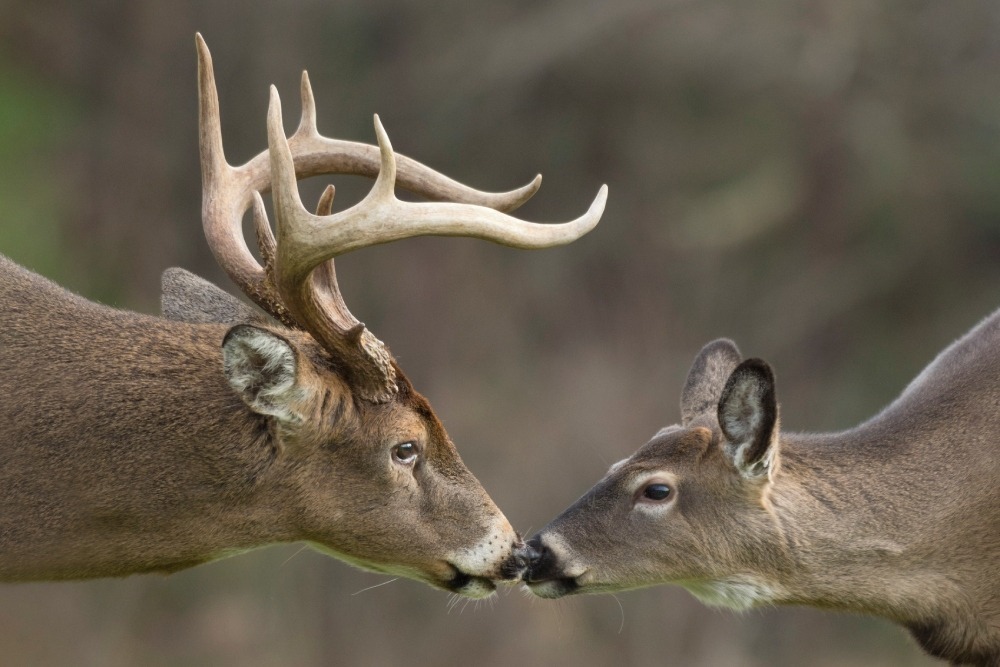 Denise Hilley resides in Sevierville and began photography in 2014. She quickly realized wildlife photography was the genre she was meant to pursue. "Spending time outdoors surrounded by wildlife in their natural habitat gives me so much joy as an avid animal lover." See more of Denise's work at denisehilleyphotography.com and on Facebook at @DeniseHilleyPhotography.
Dr. David Sloas, In the Air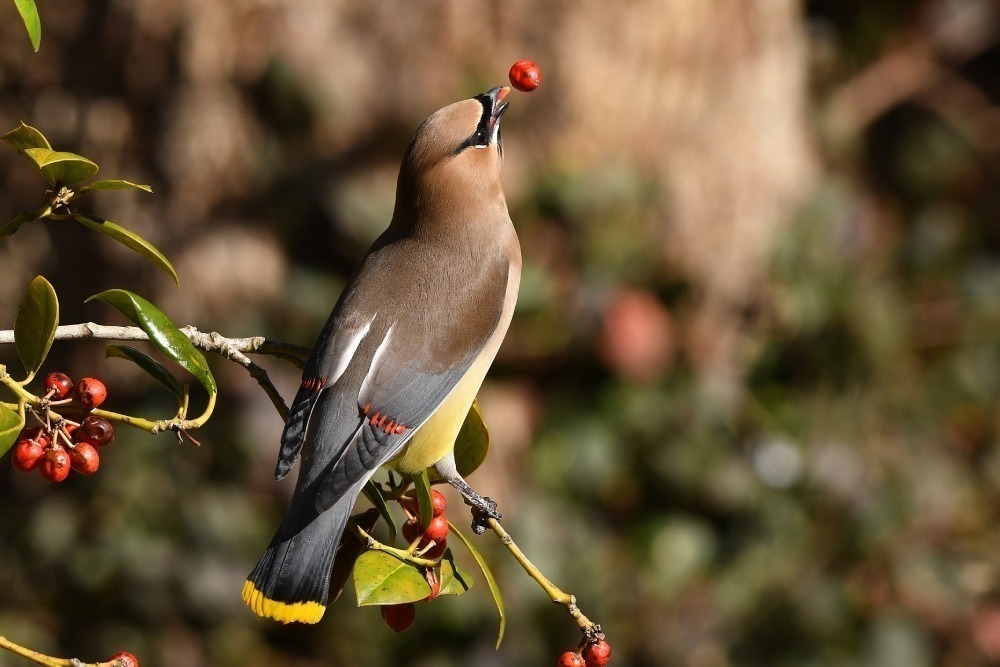 David Sloas, M.D. and his wife Sarah are residents of Cordova. A self-taught photographer, Dr. Sloas started taking photos to bring joy to his patients. Dr. Sloas was selected as one of Nikon's 100 photographers and named one of 20 to watch on Instagram by Business Insider. See more of his work on Instagram at @a_man_with_a_nikon.
All monthly feature photographers will receive a $25 Academy Sports + Outdoors gift card, Federation apparel, and a 2021 calendar.
Honorable Mentions
Laurie Anderson
Faye Armour
Roger Ashley
Bob Choate
Clyde Cole
Pam Conley
Richard Falin
Bob Howdeshell
Melody Huggins
Michael Kaal
Jared Lesniewicz
Christopher Nelson
Steven Smith
Robert Summitt
Melissa Travis
Leanne Walker
Terry Weaver
Marcy Wielfaert
Jim Williams
Mary Glynn Williamson
Ty Wilson


Featured photo by Kelly Zehnder